School of Engineering
Dr. Francelina "Lina" Neto has been chosen as Cal Maritime's first dean of the School of Engineering. Dr. Neto has served as the Director for Semester Conversion at Cal Poly Pomona since 2014. She took on the additional position of Director of Undergraduate Programs in January 2017. She has served in a number of administrative roles since 2009 including chairing Cal Poly Pomona's Civil Engineering Department until 2014. She is a 2017 graduate of Harvard's Management Development Program, a 2013 Bentley Educator of the Year awardee, and a 2011 graduate of Higher Education Resources Services.
Dr. Neto earned her Ph.D. in Photogrammetry and a Master of Science in Remote Sensing from the University of London. She earned a bachelor's degree in Geospatial Engineering from the University of Porto (Portugal). She has extensive experience in working in shared governance settings at the CSU.
"Dr. Neto's experience in working collaboratively to develop and implement strategic plans will be an invaluable skill as the first dean of Cal Maritime's Engineering School," said Provost Susan Opp. "The growth of our programs will require someone with her knowledge of program development and history of working with stakeholders both on and off campus."
"I am thrilled to accept this position, and I'm looking forward to my role in helping Cal Maritime realize its vision for the future. " Dr. Neto states. "This opportunity is very dear to my heart. My father graduated from a maritime academy and served in the Navy, as a commercial mariner, and as a coastal pilot – although not in the U.S. I grew up in this environment and look forward to supporting the growth of Cal Maritime's engineering programs."
---
School of Letters and Sciences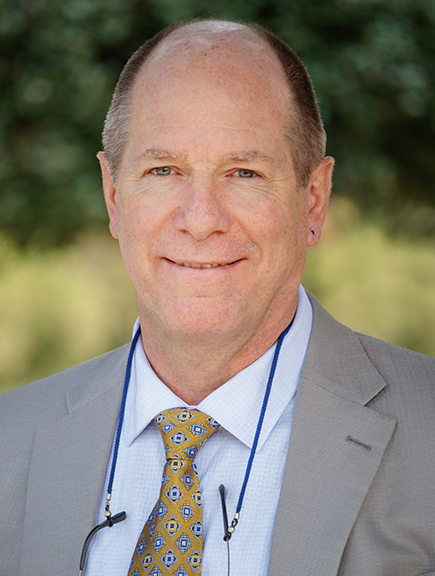 (Vallejo, California – May 9, 2018) – Dr. Kevin Mandernack, professor and chair of the department of Earth Sciences at Indiana University-Purdue University, Indianapolis (IUPUI) has been appointed the first dean of Cal Maritime's School of Letters and Sciences.
Mandernack is involved in research in the field of subsurface microbiology and biogeochemistry. He earned his bachelor's degree in Zoology and Geology from the University of Wisconsin and a Ph.D. in Marine Biology from the Scripps Institute of Oceanography at UC San Diego.
"Having been an ocean-going fisheries biologist, trained as an oceanographer with several ocean research cruises, and serving as a program director for the National Science Foundation's Ocean Drilling Program, I have developed a very deep appreciation for all individuals in the maritime industries," said Mandernack. "I love the sea and working on the ships that sail them. Without the collective support of all people employed in the maritime industries, I could not have had the rich opportunities I've enjoyed throughout my career. I am very proud to now serve the future generations of outstanding Cal Maritime students who are pursuing their own careers in the maritime industries. For me, it is a very gratifying way to pay it forward."
"Dr. Mandernack will be a valuable addition to our academic leadership team," said Cal Maritime Provost and Vice President of Academic Affairs Dr. Susan Opp. "His background and research interests demonstrate a significant alignment with Cal Maritime's strategic vision and goals."
At IUPUI Mandernack has been active in improving diversity in earth science undergraduate programs and building formal partnerships with international universities. His research has included several large field-based projects in marine and terrestrial systems, including those on ocean research and drilling vessels. His research has been supported by the National Science Foundation, NASA, the U.S. Department of Agriculture, USGS, and others.
---
School of Maritime Transportation, Logistics & Management
Dr. Donald Maier, dean of the Loeb-Sullivan School of International Business & Logistics at Maine Maritime Academy, has been named the first dean of Cal Maritime's School of Maritime Transportation, Logistics, and Management.
At Maine Maritime, Maier was directly responsible for the creation of the online graduate program and accreditation efforts for the School. Under his leadership, the School designed a Logistics Lab to provide students more hands-on learning opportunities.
Prior to joining Maine Maritime, Maier launched his full-time academic career at the University of St. Francis in Illinois in 2004. In 2009, he received the University's Excellence in Teaching Award and the Alumni Board Presidential Award.
His professional career included roles in logistics and supply management teams at FedEx, Office Depot, Penske Logistics, Monsanto, and Merisant, as well as consulting for Alliance Shipper's on the U.S. EPA SmartWay Transport Partnership Program. At Merisant's only U.S. facility, he was instrumental in the strategic design and leadership of the North American logistics operation both domestic and international.
"Dr. Maier's extensive experience in industry, higher education, and specifically at Maine Maritime Academy will be invaluable as we reorganize and seek to create synergies between our Marine Transportation and Business Administration majors," said Dr. Susan Opp, Cal Maritime's Provost and Vice President for Academic Affairs.
"In today's competitive college market, students have many institutions to choose from," said Maier. "Yet, Cal Maritime offers programs in very niche areas that provide students more opportunities for careers in high demand. Every company needs professionals to manage their business and logistics operations. Plus, since 80% of goods are transported by sea, combining the marine transportation and logistics programs creates even more opportunities for our students."