In late August Professor Jenny Murphy found herself doing a task students in her marine biology lab usually take on. She built and deployed six "settling plates," attached them to a rope, and suspended them from the floating dock next to The Cub.
"It's nothing too hi-tech," she explains. "They're simply small PVC squares attached to a brick with a zip-tie. They sit in the bay for about three months and we're basically interested in seeing the organisms that end up attaching to them." She calls it a fundamental activity that introduces students to the scientific method and allows them to develop and test a hypothesis during a semester long experiment.
Under normal circumstances, the students in marine biology lab (OCN100L) would have launched the experiment themselves, building the plates in groups of three and then dangling them in the water. But since Murphy didn't want to skip this important learning exercise, she did the initial work knowing the students would be able to participate virtually later in the semester.
In November, she returned to retrieve the plates so she could examine the organisms that have colonized them. Using a dissecting microscope, she took photos and made videos of a few different organisms and shared them on a dedicated webpage with the 24 students in her class – all of who are studying virtually. This allows students to develop an understanding of the biology of these creatures, Murphy says, even if they were unable to touch them in person.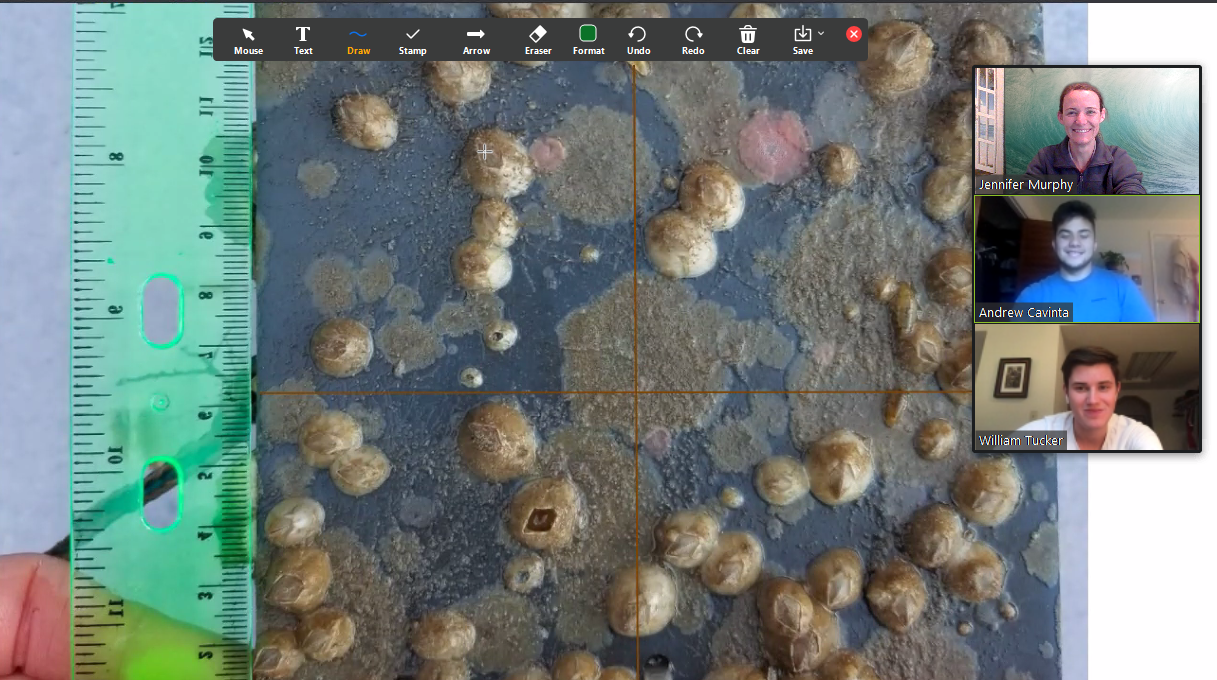 One of the advantages of examining our plates over Zoom is the use of the drawing tools, which allow us to divide the plates into sections and mark off the organisms as we count them.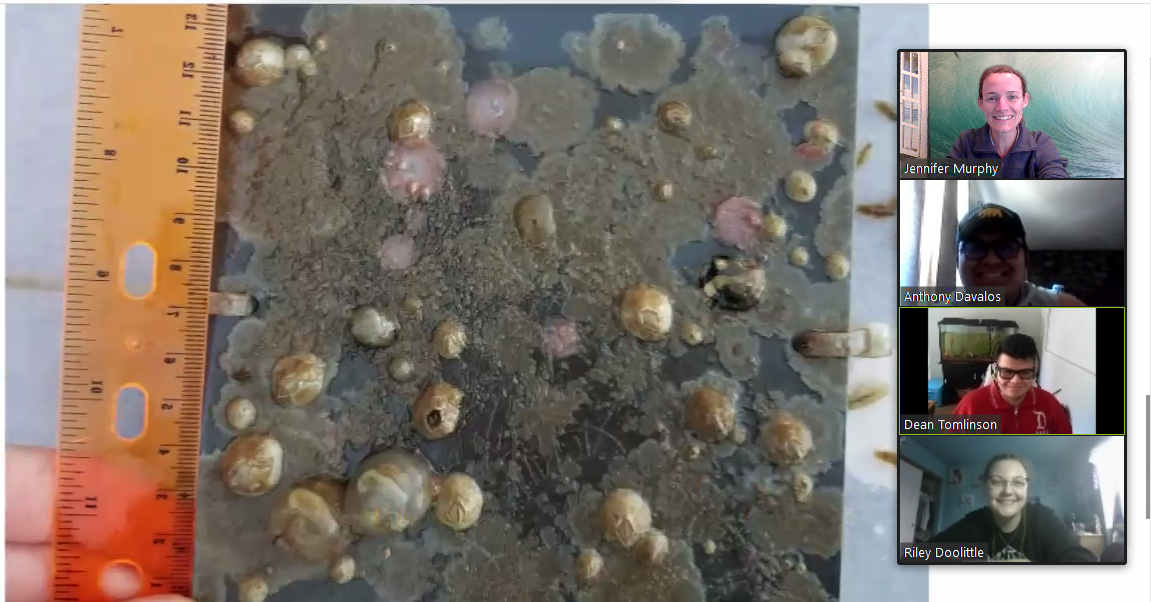 We may be in different states and locations, but we can all come together to examine the results from our 3 month long settling plate experiment.
In a virtual lab this week, the students examined video and photos Murphy had posted. Split into groups, they identified and counted organisms and recorded their data onto a group spreadsheet. Next they'll write a lab report. Murphy allows that it's not ideal but will have to do.
"Yes, the students don't get to physically build the plates, they don't get their hands wet when they pull the plate up and find a bunch of isopods attached – but it was still important to me to run this lab. We are making the best of this situation," she offers.
"Oceanography is a hands-on experience and that's what we pride ourselves on at Cal Maritime," according to Murphy. "We'll be back!"
Learn more about the Oceanography program
ABOUT CAL MARITIME
Established in 1929, California State University Maritime Academy is the only degree-granting maritime academy on the West Coast. Located in Vallejo, California, the campus serves nearly 1,000 students and offers undergraduate degrees preparing students for careers in engineering, transportation, international relations, business, and global logistics. The new oceanography degree program launched in the fall of 2020. Cal Maritime also offers a master's degree in Transportation and Engineering Management, as well as a number of extended learning programs and courses.