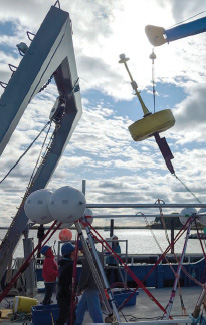 Loading the R/V Connecticut.
Cal Maritime's Oceanography degree program launches this fall, but the study of Oceanography and Marine Science at Cal Maritime dates back more than two decades. And researchers from Cal Maritime are already taking part in important work.
Alejandro Cifuentes-Lorenzen, assistant professor of Oceanography, Kate Randolph, assistant research scientist, and Cadet Martin Shimada traveled to University of Connecticut and Woods Hole Oceanographic Institute's Martha's Vineyard Coastal Observatory to set up a comprehensive field campaign to fulfill objectives on two separate but collaborative projects funded by the National Science Foundation and NASA this fall.
Cifuentes-Lorenzen's research includes investigating the role of waves in the transfer of momentum and kinetic energy across the air-sea interface, with a particular focus on wave-driven turbulence. The experiment, a multi-institution, NSF-funded effort, is designed to explore the transfer of energy from the atmo-sphere to the sea, mediated by waves.
The NSF project provides context for the NASA funded work Randolph is pursuing. She has deployed a system of radiometers and a float with optical and acoustic instrumentation to explore the relationship between breaking waves, bubble plumes, turbulence, and hyperspectral reflectance (ocean color).
Learn more about the Oceanography Program
Story originally from the Cal Maritime Winter 2020 Magazine
ABOUT CAL MARITIME
Established in 1929, California State University Maritime Academy is the only degree-granting maritime academy on the West Coast. Located in Vallejo, California, the campus serves nearly 1,000 students and offers undergraduate degrees preparing students for careers in engineering, transportation, international relations, business, and global logistics. The new oceanography degree program launched in the fall of 2020. Cal Maritime also offers a master's degree in Transportation and Engineering Management, as well as a number of extended learning programs and courses.