"Cal Maritime is a special place," said CSU Chancellor Joseph Castro in a virtual open forum with cadets, faculty, and staff during his daylong visit. "The wonderful value of a small, specialized education really resonated with me today."
The smallest and most unique member of the 23-campus California State University system, Cal Maritime hosted the recently-appointed Chancellor for a virtual visit on Thursday April 29th, introducing him and his wife Mary Castro to cadets, faculty, staff, administrators, alumni, as well as members of the Vallejo community. In a day packed with meetings with constituents, Chancellor Castro listened and learned about Cal Maritime, while community members shared points of pride as well as concerns. The visits are designed for the Chancellor to get to know each campus and raise the visibility of the nation's largest public four-year university system.
Castro had been on campus for President Cropper's investiture in 2013 and shared that he recognized at the time Cal Maritime's unusual offerings and unique setting, but that he understood the institution even better because of the visit.
"Today I've learned even more. I've learned about where students come from where and what kinds of great jobs that you get after you leave here, but most importantly -- just the quality of education here…You have a powerful story to tell."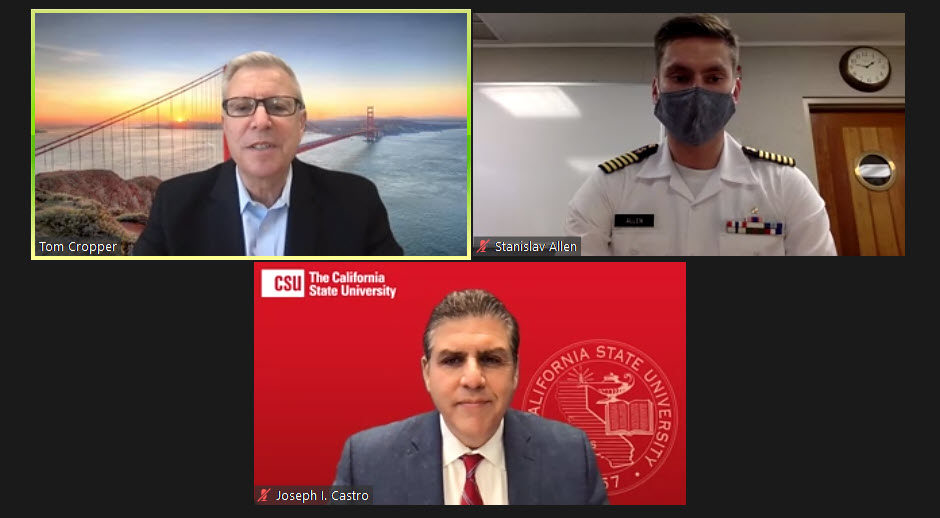 Chancellor Castro with President Cropper
and Stanislav Allen during the Open Forum Q&A
Chancellor Castro fielded questions on equity, the budget, on campus housing requirements, upcoming vaccination requirements and praised the Academy's ability to stay open and maintain its educational mission during the pandemic.
He also shared his optimism about Cal Maritime's transition from "resilience to renaissance" as it emerges from the pandemic, noting that he's seen incredible resilience among the 23 campuses of the CSU system. Better days are ahead, he predicted, with some important lessons learned.
"When I think about the future there's going to be this period of healing…and I personally don't think we should go back to where we were—that would be a waste of this incredible opportunity. We can reset in some important ways. I know I have personally -- the way I look at life is different than I did last year, the way I look at leadership is different. One of my core lessons from the pandemic is that the themes of reasonableness, flexibility, and compassion need to be at the forefront."
That observation resonated with Stanislav Allen '22 (BA), the incoming Corps Commander, who moderated the question and answer forum.
"I like your mindset regarding not going back to where we used to be" he said. "It's been a time for learning and I hope we've learned our proverbial lessons."
Chancellor Castro noted that he is anxious to return to Cal Maritime in person at a future date and especially looks forward to a visit to the Training Ship Golden Bear.
About Chancellor Castro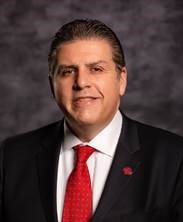 Dr. Joseph I. Castro became the eighth chancellor of the largest four-year public university system in the country in January 2021, having been appointed in September 2020 to succeed Timothy P. White. He is the first California native and first Mexican American to be appointed to oversee the 23-campus university. Prior to his appointment, Dr. Castro served as president of California State University, Fresno. He also worked in the University of California system for 23 years, serving as vice chancellor of Student Academic Affairs and as professor of Family and Community ​Medicine at the University of California, San Francisco from 2006 to 2013. Earlier in his career, he held faculty or administrative leadership positions at four other University of California campuses: Berkeley, Davis, Merced, and Santa Barbara.
ABOUT CAL MARITIME
Established in 1929, California State University Maritime Academy is the only degree-granting maritime academy on the West Coast. Located in Vallejo, California, the campus serves nearly 1,000 students and offers undergraduate degrees preparing students for careers in engineering, transportation, international relations, business, and global logistics. The new oceanography degree program launched in the fall of 2020. Cal Maritime also offers a master's degree in Transportation and Engineering Management, as well as a number of extended learning programs and courses.