In a small ceremony that was live-streamed for parents, friends, and the community, fourteen Cal Maritime midshipmen received their pins Friday, February 26th as part of their initiation into the Strategic Sealift Officer (SSO) program.
First Class Midshipman Antoine Powell, a member of the unit, said he wanted to bring the group together for the event, even in the Covid 19 environment.
"The reason I worked to make this ceremony an in-person event is for unit cohesion, so you can look to your left and your right and see the people you made it here with…because you can't raise a unit over the internet," observed Powell.
"To earn this pin means more than your commitment to the Navy but your commitment to each other. I'm proud of you guys," he added.
Naval Officer Lt. Curtis Allen, who oversees the SSO program at Cal Maritime, shared that his duties here are among the most rewarding of his naval career. He explained that the pins the cadets were earning are a Cal Maritime banner beneath an SSO symbol, and evidence that the midshipmen have been begun to learn and put Navy standards into practice.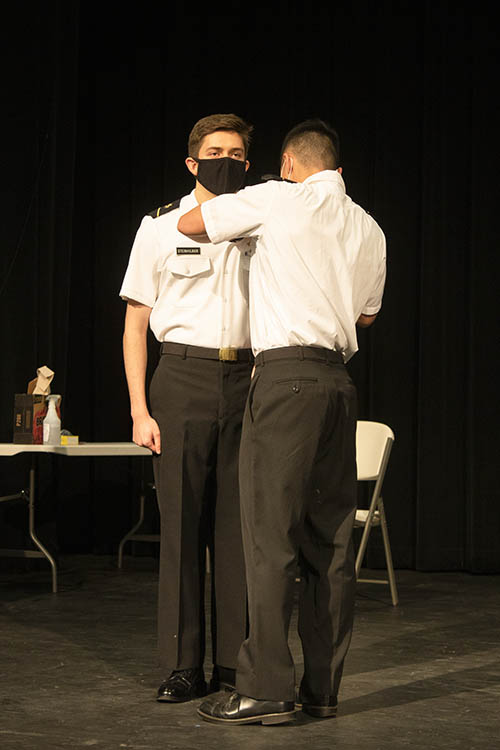 Avery Steinhilber '23 (MT) receiving his pin
"You've demonstrated that you possess the requisite knowledge commensurate with your timeline as a midshipman. But there is more you will learn- always - as you serve," Allen told the recipients. "Accept your pin tonight as our confidence in you to be ambassadors of our program to your peers and all those who see you wear it on your uniform."
MIDN Avery W. Steinhilber '23 and a Marine Transportation major from Foothill, CA, led the presentation of the colors that preceded the pinning. He expressed pride at achieving the first milestone in his SSO journey.
"Earning the pin means that I am set to serve in some capacity when I graduate, however I hope that it leads me to things beyond just a commission," he shared. "Being in the unit has already taught me how to be a leader, how to take initiative, and how to be enthusiastic when the going gets tough. I hope that earning the pin and later becoming an officer leads me down the path to further growth and success."
In addition to Steinhilber, the cadets earning their SSO pins, all sophomores and juniors, include:  
3/C Toni Alvarez, Deck
3/C Kyle Collins, Deck
2/C Wyatt Critchfield, Deck
3/C Timothy Edwards, Engine
2/C Guillermo Faller Jr, Deck
2/C Keegan Flynn, Deck
3/C Colby Glaze, Deck
2/C Andrew Harris, Deck (in absentia)
3/C Spencer Powley, Engine
3/C Nickolas Schneider, Deck
3/C Nicholas Yarusso, Deck
3/C Reid Zieber, Engine
3/C Justin Zmina, Deck
Upon successful completion of the program, the midshipmen will receive their full commission when they graduate from Cal Maritime. SSOs are small community of around 2,000 reservists that are civilian merchant mariners and sail for Military Sea Lift Command or commercially. They serve as subject matter experts in sealift, maritime operations and logistics.
One of the core functions of the SSO program is to serve as the connection between the U.S. Navy and the U.S. Merchant Marine, having earned their U.S. Coast Guard license while also serving as naval reserve officers.
Watch the livestream recording of the pinning event.
ABOUT CAL MARITIME
Established in 1929, California State University Maritime Academy is the only degree-granting maritime academy on the West Coast. Located in Vallejo, California, the campus serves nearly 1,000 students and offers undergraduate degrees preparing students for careers in engineering, transportation, international relations, business, and global logistics. The new oceanography degree program launched in the fall of 2020. Cal Maritime also offers a master's degree in Transportation and Engineering Management, as well as a number of extended learning programs and courses.