Until the end of March of this year, Dr. Donald Maier was just a hard-working university leader trying to navigate the pandemic as best he could. The inaugural dean of Cal Maritime's School of Maritime Transportation, Logistics, & Management (MTLM) who arrived at Cal Maritime three years ago, Maier had more than enough on his plate. His teams were gearing up to submit a revamped curriculum for approval in each MTLM program, managing his department under the fog of COVID-19, and—more positively—working out for the full and safe return of students in the fall 2021.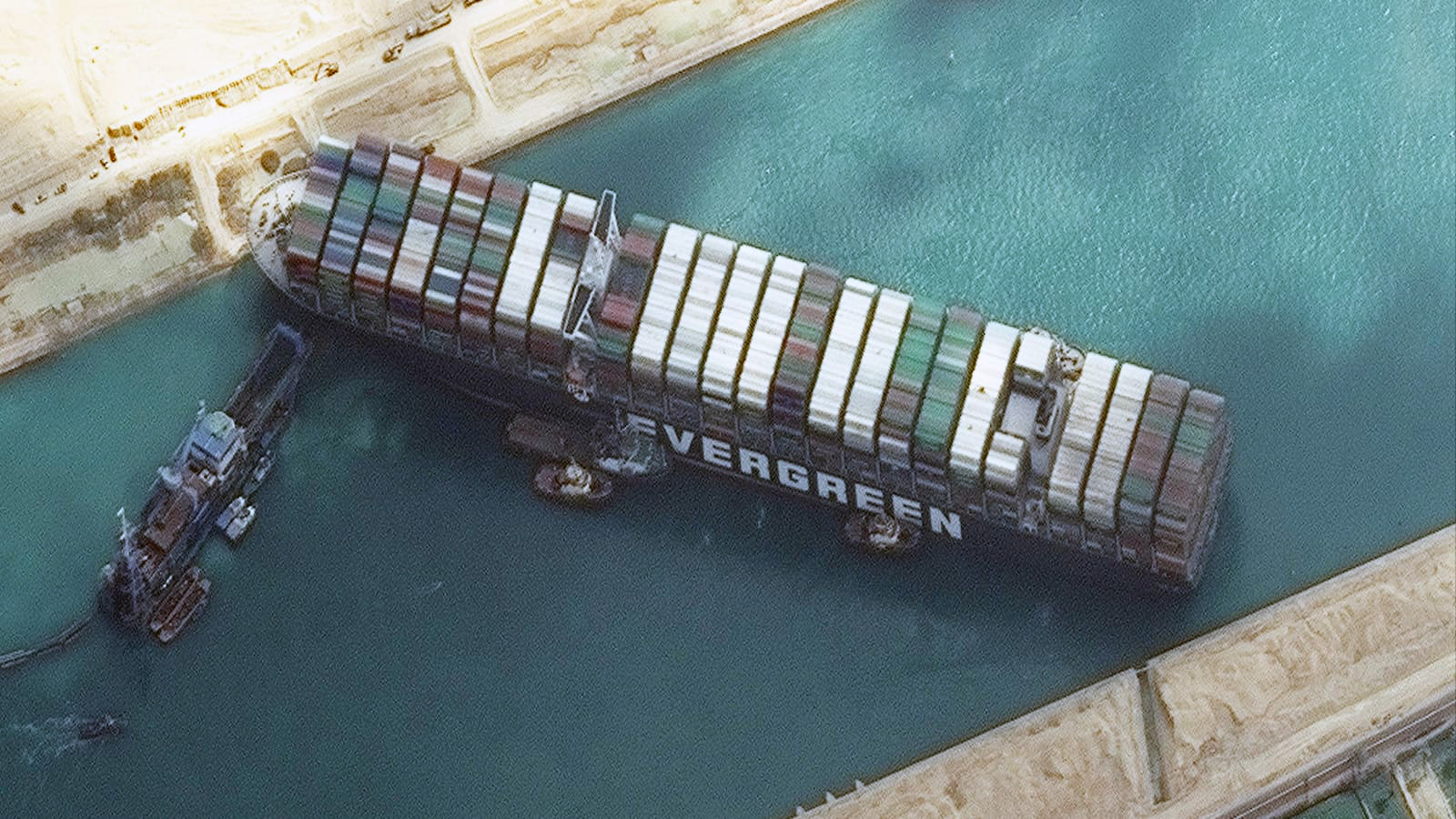 When the Ever Given ran aground in the
Suez Canal on March 23, 2021, traffic on
one of the world's most vital shipping channels ground
to a halt for six days with an
estimated loss of $60 billion in business.
Then the Ever Given ran aground. On March 23, the colossal 200,000-ton container ship got stuck in the Suez Canal, halting traffic on one of the world's most vital shipping channels for six days. Analysts estimated the delays cost $10 billion a day in lost business, which puts the total price tag of the mishap at approximately $60 billion—or $115,741 per second. The number of memes and late-night talk show jokes about the incident was nearly incalculable.
Not having an international shipping expert on speed dial, many media outlets around the world and North America scrambled to find someone who could explain what was happening and why it mattered. Maier was there to answer the call (or rather, calls). Days into this new Suez crisis, he had been interviewed by CNN International, Popular Mechanics, a Canadian news network, and several local news channels in the Bay Area as well as The San Francisco Chronicle.
Yet again, scarcely a year since COVID-19 was declared a pandemic by the World Health Organization, a seemingly freak incident that began in a single faraway location reverberated across the globe. And yet again, all manner of Americans—from CEOs to shoppers comparing prices of electric toothbrushes—found themselves paying rapt attention to supply chain. "The Ever Given may not impact the US consumer for quite some time, if at all, since the ship was destined for [the] EU. But as the media discusses the impact to food, clothing, shoes, consumables, then the US consumer begins to get a bit antsy," says Maier.
Had the unthinkable happened? Had the world finally awoken to the ecstasy and agony of supply chain?
The pandemic made the abstract personal for people, says Yossi Sheffi, director of MIT's Center for Transportation and Logistics and author of The New (Ab)Normal: Reshaping Business and Supply Chain Strategy Beyond Covid-19. Supermarket panics, runs on two-ply, and personal protective equipment shortages provided visceral evidence that goods don't just magically appear.
"Because of the pandemic, people first of all, were exposed to [supply chain]. And they saw the impact of problems in supply chain," says Sheffi. Then the Ever Given incident happened, captivating and concerning millions, the vast majority of whom had little interest in the vagaries of global shipping.
"The average Joe Schmo in the street doesn't know what the Suez Canal is, doesn't know there is a Suez Canal. So suddenly a big ship is stuck, there pictures all over the world. And 369 ships behind it. And people are starting to think about clothing factories, and not going to have the TVs or whatever," explains Sheffi.
The astounding costs of the Ever Given incident not only revealed the critical role of modern shipping, but the profound interconnectedness of the global economy and the finely tuned supply chain that has made it a reliable, well-oiled machine. (Until it isn't—like when a 200,000-ton ship runs aground.)
The truth, of course, is that supply chain has long had an enormous impact on millions—perhaps billions —of peoples' lives. "Look around your room," says Maier. "Everything you see, supply chain logistics touched." For many, however, this fact was hiding in plain sight until recent events.
An interest in real-world challenges is what led Maier, who began his supply chain career as a part-time truck driver working midnights for FedEx on the south side of Chicago, to design a new IBL curriculum focusing more on applied skills than data crunching. As part of the revision, Maier and the IBL faculty proposed adding two concentrations in International Supply Chain and International Maritime Business. New classes will include procurement, manufacturing, quality management, project management, marine insurance, admiralty law, maritime innovation, and port terminal operations. IBL students will continue to take a slate of core business classes, but the department is seeking to offer more professional certifications in Project Management and Lean-Six Sigma for example. Plus, starting in the fall of 2021, selected IBL students will participate in "Inventory Watch", adding more relevant, industry related skills to the program.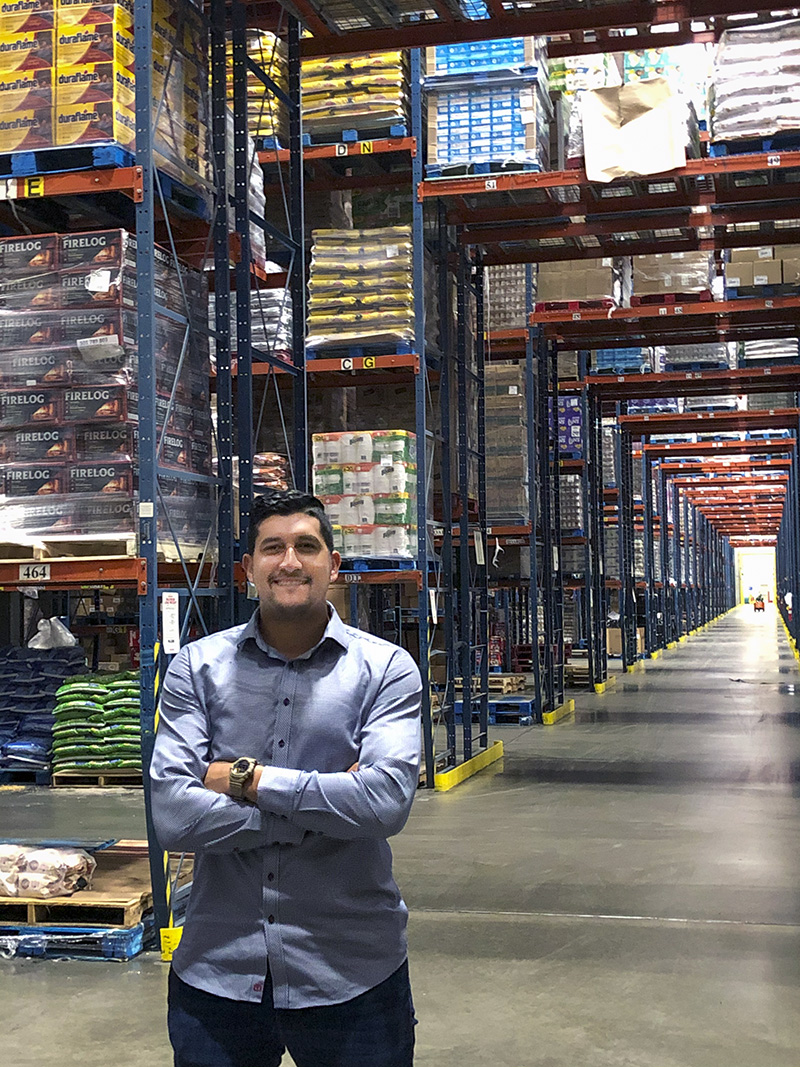 Christopher Barker, Director of Operations Supply Chain
for Albertson's groceries and a 2012 alum,
used the disciple and communication skills honed at
Cal Maritime to forge alliances with
Washington distilleries to supply hand sanitizer.
"All of a sudden, COVID hit and certainly made logistics sexy. But that's exactly what we've been trying to do for the past three years," says Maier. "This is why we are making the changes we are. Logistics and supply chain is much more sexy today than it ever was 10 years ago. And even 10 years ago, it was more sexy than it was 20 years ago. COVID just accentuated it."
For 2012 alum Christopher Barker, the structure, communication skills, and discipline he learned at Cal Maritime well prepared him for the supply chain industry's current and past challenges. His first job was with Ports America, and he's currently director of operations supply chain for the Albertsons supermarket chain, where he oversees 900 warehouse associates from his base in Seattle.
When the COVID-related supermarket panic first set in, he worked 70 days in a row. It was an incredibly challenging time, but he was able to stay clear-headed enough to institute several unique partnerships, such as reaching out to Washington distilleries to supply hand sanitizer. "Cal Maritime really sets you up for success on being able to be prepared Day One. And that's certainly what it did for me," he says.
His current role has also given him a front-row view of how logistics challenges at a macro level ultimately impact ordinary people. "In 2020, we spent $50 million just in freight costs to get products from Washington to the state of Alaska. How do you think that gets paid for? It's by the consumers."
This dawning awareness has created new opportunities. With so many regular people talking about supply chain, Maier says he and his team expects applications to Cal Maritime increase in the near term. Melissa Bravo and IBL major who is graduating in May, echoes his optimism. "Especially with the past news and current events, I think people can start to see how logistics is important, and its importance to every business all around the world—it doesn't matter where you are. And it's more of an attractive major, I think."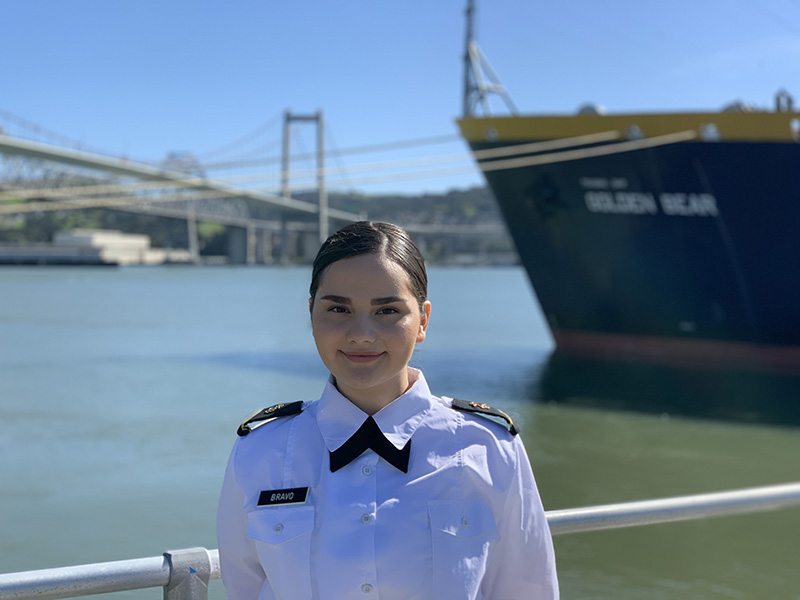 Cadet Melissa Bravo, an IBL major, believes
that technology will make supply chain
even smoother and more efficient in the future.
Bravo is inspired by potential future developments in the industry—in particular, by the potential of tech to make supply chain even smoother. "Once we master logistics, we can work on efficiency," she says. "I think that that part of logistics is going to be automated pretty soon. So I'm excited for that."
With his industry background leading international operations with Monsanto and academic experience including dean of the IBL graduate and undergraduate programs at Maine Maritime, Maier is uniquely positioned to help Cal Maritime take advantage of the current moment. It's not always easy being sexy, however. The cruel paradox at the heart of supply chain is that when you're doing your job well, no one thinks about you. But when you mess up, like the Ever Given did in titanic fashion, the whole world is mad at you—or worse, making memes at your expense. It can be a thankless existence.
Maier insists he's okay with supply chain's supporting role. "People in supply chain are really proud of the fact that . . . we make everybody else successful and look good. We don't need to have the spotlight. That's not who we are as a person," says Maier. "But behind the scenes, we know we're really the ones that help support you being successful. So, at the end of the day, you know what, please say thank you."
Story from 2021 Spring/Summer Cal Maritime Magazine
ABOUT CAL MARITIME
Established in 1929, California State University Maritime Academy is the only degree-granting maritime academy on the West Coast. Located in Vallejo, California, the campus serves nearly 1,000 students and offers undergraduate degrees preparing students for careers in engineering, transportation, international relations, business, and global logistics. The new oceanography degree program launched in the fall of 2020. Cal Maritime also offers a master's degree in Transportation and Engineering Management, as well as a number of extended learning programs and courses.