When Chrissy Edmiston '16 was getting her degree at Cal Maritime in Global Studies and Maritime Affairs, she also developed an interest in biofouling while minoring in Marine Science. Marine biofouling means that organisms, like barnacles, latch onto the sides of ships and risk being transported to other areas and introducing non-native species. Biofouling also creates drag on ships, which increases air emissions and fuel costs. Edmiston minored in marine science and worked with Dr. Alex Parker on the problem, then headed on to San Francisco State to continue studying it while pursuing her master's degree.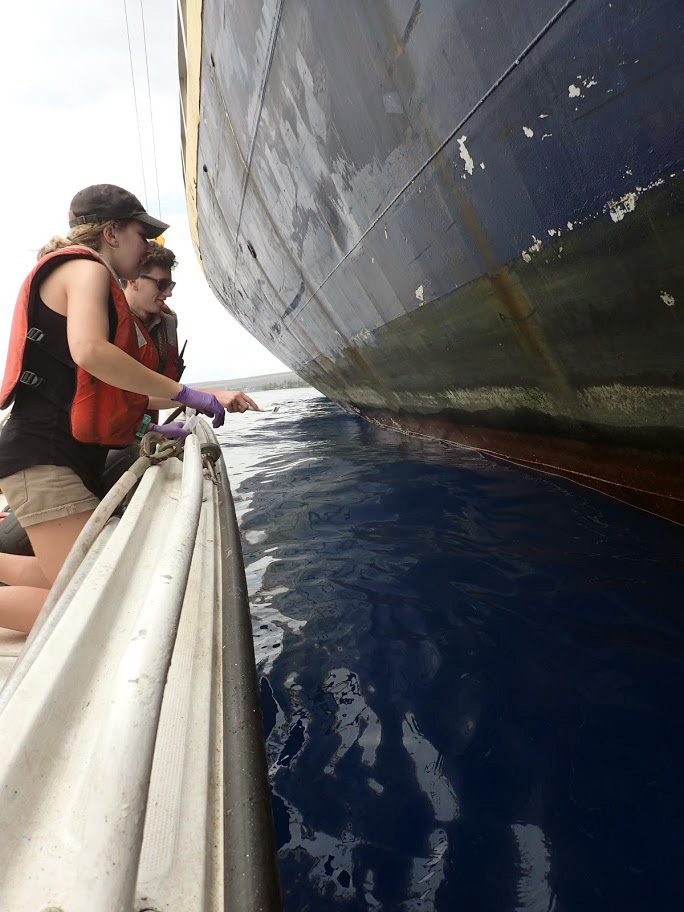 Edmiston collected samples of
microscopic algae from the hull of the
Golden Bear as it traveled from
port to port.
While many scientists have studied biofouling via larger organisms such as barnacles and mussels, Edmiston chose to focus on less-studied organisms — microscopic algae — as scientists still don't know much about the impacts of their journeys across the seas. She worked with Director of Cal Maritime's Golden Bear Research Center Chris Brown to chart a course, following the ship on the 2018 cruise to collect samples of these tiny hitchhiking algae from the side of the ship as it made its way to ports in Long Beach, Lahaina, Hawaii, and back to Vallejo. They took underwater photos and videos — and worked to observe changes and assess invasion risk.
Edmiston, along with the other researchers on the project published their results recently in The Marine Pollution Bulletin, with the hefty title "Impacts of a temperate to tropical voyage on the microalgal hull fouling community of an atypically-operated vessel." Edmiston got the lead author billing.
"Our research on biofouling and the development of microalgal communities on ships contributes to the scientific understanding necessary to address the spread of non-native marine species on a global scale," says Edmiston. "The project was an amazing opportunity to work with Cal Maritime, the State Lands Commission's Marine Invasive Species Program, the State of Hawaii, and the U.S. Coast Guard. I'm so grateful for this collaboration."
Edmiston knows that many at Cal Maritime value the Golden Bear for its training capabilities, which she applauds. But for her, it's a ship that has launched a career as a marine science researcher.
"The hands-on directed research and support I had while working with the Golden Bear is really unmatched and has solidified my career path in STEM," she points out. "This vessel provides a unique, interdisciplinary opportunity for researchers like me who want to study the San Francisco Estuary, but also better understand how our estuary is interconnected with the environment and maritime industry on a global scale."
Now that the Academy is offering an Oceanography major along with its Golden Bear Research Center Edmiston says, "I think you're going to see some pretty amazing things come from Cal Maritime in the next few years."
Story from 2021 Spring/Summer Cal Maritime Magazine
ABOUT CAL MARITIME
Established in 1929, California State University Maritime Academy is the only degree-granting maritime academy on the West Coast. Located in Vallejo, California, the campus serves nearly 1,000 students and offers undergraduate degrees preparing students for careers in engineering, transportation, international relations, business, and global logistics. The new oceanography degree program launched in the fall of 2020. Cal Maritime also offers a master's degree in Transportation and Engineering Management, as well as a number of extended learning programs and courses.