At the first in-person gala in two years, 280 celebrants gathered aboard the San Francisco Belle for the 17th Annual Gala, A Fantastic Voyage, on March 26 for an evening of fun and fundraising. As in previous years, the goal was to raise money for cadet scholarships, although this year there was a general exuberance about gathering in person after two years of virtual auctions due to the pandemic.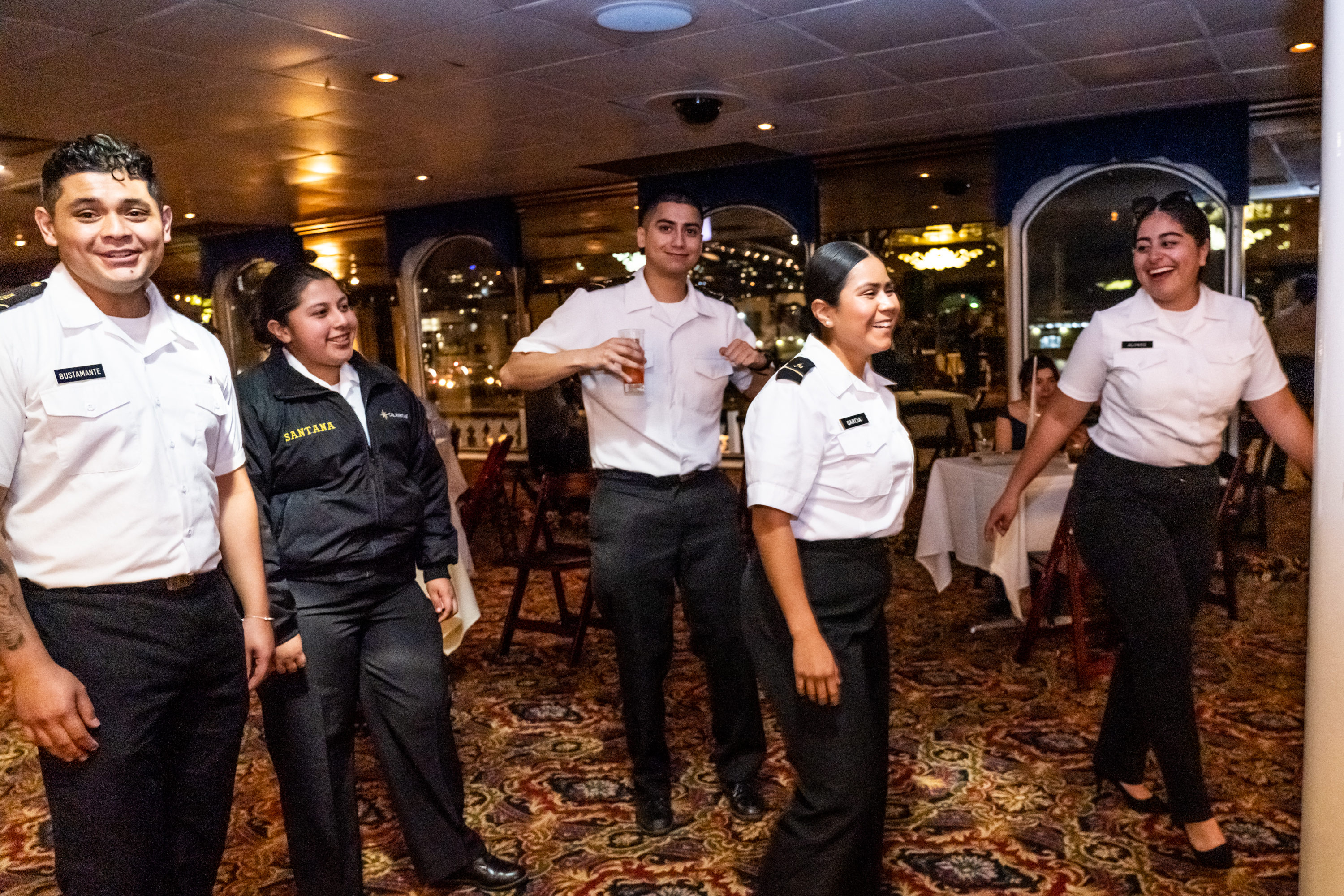 Cadets enjoying their time at the Gala (Photo Credit: Niki Helley Ward)
When the bidding ended and the numbers were tallied $185,000 was raised, designated for the merit scholarships, athletic scholarships, and general scholarships for academic year 2022/2023.
"I'm so grateful to thank the California Maritime Academy Foundation's External Affairs committee members and its chair Gladys Brown '01 and the staff from University Advancement for their efforts in ensuring the successful return of the Gala," said VP of Advancement Richard Ortega. "I also appreciate Kim Estes '78 ably serving as Master of Ceremonies again, leaving his indelible mark on the event. Our cadets benefit each year from the generosity of all involved."
Cadets helping the Gala pose for a quick photo. (Photo Credit: Niki Helley Ward)
The atmosphere was festive, with an online auction of goods and services wrapping up just as the event started and a live auction that featured cadets racing between tables to identify bidders.

Cadets flagging down bidders for the live auction. (Photo Credit: Niki Helley Ward)
In addition, the following companies and people were honored for their extraordinary contributions to Cal Maritime:
Lifetime Achievement
Captain Anne L. McIntyre '88, '13
Distinguished Alumni
Thomas A. Jacobsen '88
Rising Star
Russell H. Shrewsbury '06
Lighthouse Service
Douglas E. Holm
Industry Partner
The Pasha Group
ABOUT CAL MARITIME
Established in 1929, California State University Maritime Academy is the only degree-granting maritime academy on the West Coast. Located in Vallejo, California, the campus serves nearly 1,000 students and offers undergraduate degrees preparing students for careers in engineering, transportation, international relations, business, and global logistics. The new oceanography degree program launched in the fall of 2020. Cal Maritime also offers a master's degree in Transportation and Engineering Management, as well as a number of extended learning programs and courses.