Commencement Information for Faculty and Staff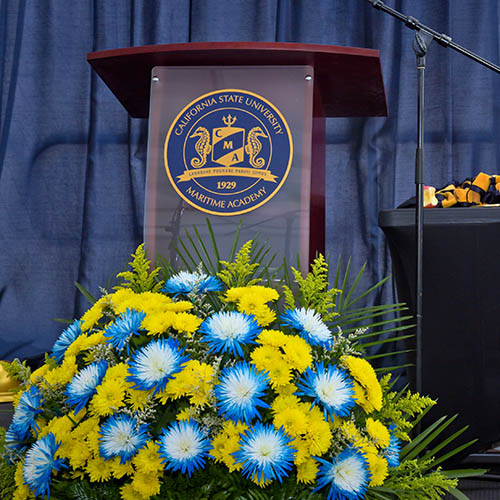 You have all been an integral part of each of these graduate's tenure and success at Cal Maritime. Please help celebrate and acknowledge their accomplishments by participating in the virtual celebration.
The Virtual Celebration will take place on Saturday, May 15. As we honor the Class of 2021, your participation is appreciated in making it a successful and meaningful celebration. Please see below for a list of ways you can participate.
This is an opportunity to make our Cal Maritime Grads feel special during this continued time of uncertainty as they celebrate this major life milestone. Show your support by reaching out to them and sending a letter, cards, food, a cake, gift basket, whatever you can manage. Once you are matched, we will send you the name(s) and contact information for your graduate(s). Please try to have all surprises delivered by the celebration date of May 15th.
Faculty who completed the Faculty Commencement Poll by the deadline of April 1st will receive additional information via email about attending the in-person commencement.
If you are planning to participate in the May 15th ceremony, please RSVP by March 30th to Faculty Commencement Poll. This will help us continue our safe planning efforts.
We will not be able to accommodate any additional faculty after the RSVP date passes.
Regalia for the event can be reserved through Keelhauler Shops at this link: Faculty Regalia Form
Join us online on May 15th as we celebrate Cal Maritime Class of 2021! Follow the event on Facebook now for updates and plan your watch parties with family and friends.
Please use #CalMaritimeGrad when posting on Social Media for all your commencement celebrations.