Plug-and-Play Platform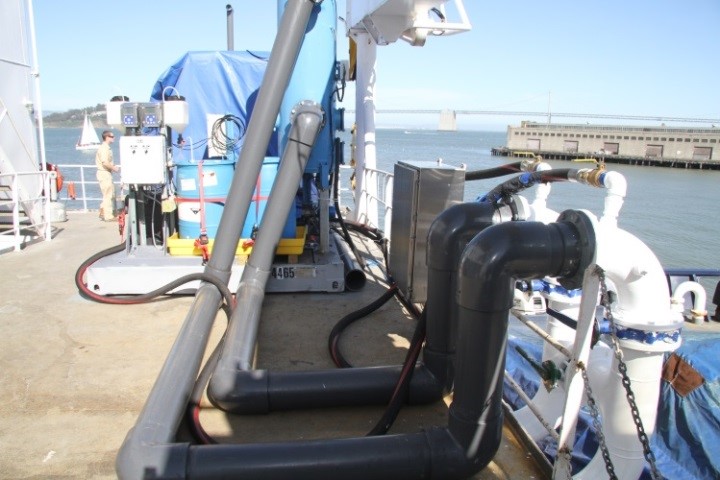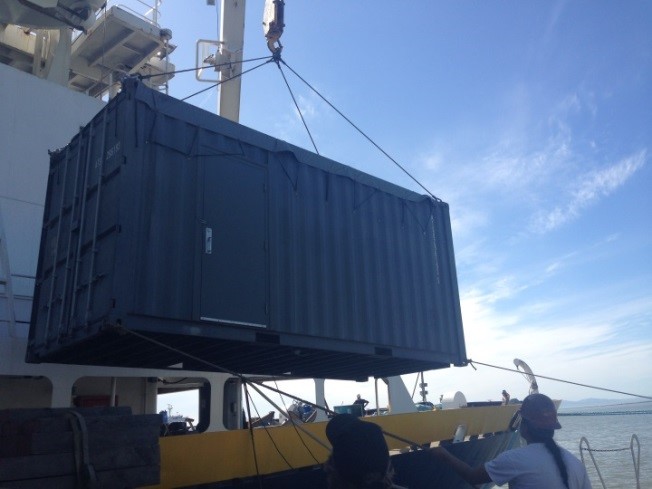 GBRC functions as a "plug-and-play" platform for research and testing. Organizations can install their system in a standard 20-foot shipping container, using connection specifications provided by Cal Maritime to access ballast water tanks, electricity, and ancillaries. This will enable vendors and researchers to set up their platform at their home location, and then easily transport it to the Cal Maritime campus for loading aboard Golden Bear. This eliminates the need to install a vendor's system below deck. The California State Universities Moss Landing Marine Laboratories research colleagues will provide certification testing to give vendors the independent third-party certification needed for USCG and IMO Type Approval of ballast water management systems.
Structural modifications allow placement of one or two 20' ISO containers in stacked arrangement.
Containers may weigh up to 25 tons total.
Proximity to 20 ton deck crane for handling.
Services provided: compressed air, fresh water, electrical, ballast main, and drain connections
Year Round Access
GBRC is available for use all year - during the academic year while Golden Bear is at home at the Vallejo campus, or for shipboard testing during the summer when the ship is on training voyages.
Mounting
The facility will accept one or two standard 20-foot containers (ISO R-668, ISO R-1161), with the second secured on top of the first and supplied with an inclined ladder. Both must not exceed 25 short tons.
Ballast
Two 8-inch, 150-pound ANSI flanges will be provided for ballast water supply and return connections. The ship's ballast can be provided to the treatment system in any range between 660 to 1,980 gallon per minute (150 to 450 cubic meters per hour) at up to 64 feet of water (2 bar) of pressure during either uptake or discharge.
Electrical
Three electrical supply terminals are available, and use a Russell Stoll connection system, all at 60 hertz: 100 amps at 450 volts, 50 amps at 450 volts, 30 amps at 120 volts.
Service
Connections include 1-inch female national pipe thread for 80-psi compressed air and 50 psi fresh water. Water and air consumption allowances are limited.
Scientific Laboratory
GBRC operates and maintains a full scale research lab onboard the TS Golden Bear, which allows us to conduct biological efficacy testing within required time limits, and a variety of other corroborative methods and assays.