Campus Housing Facilities
Cal Maritime offers several styles of facilities and living options to accommodate student needs. Each residence hall has various amenities specific to that facility, which students of the building are able to utilize. The majority of rooms on campus are double occupancy (shared by two students) spaces. All double occupancy rooms have 2 beds, desks, chairs, and dressers.
Campus Residential Facilities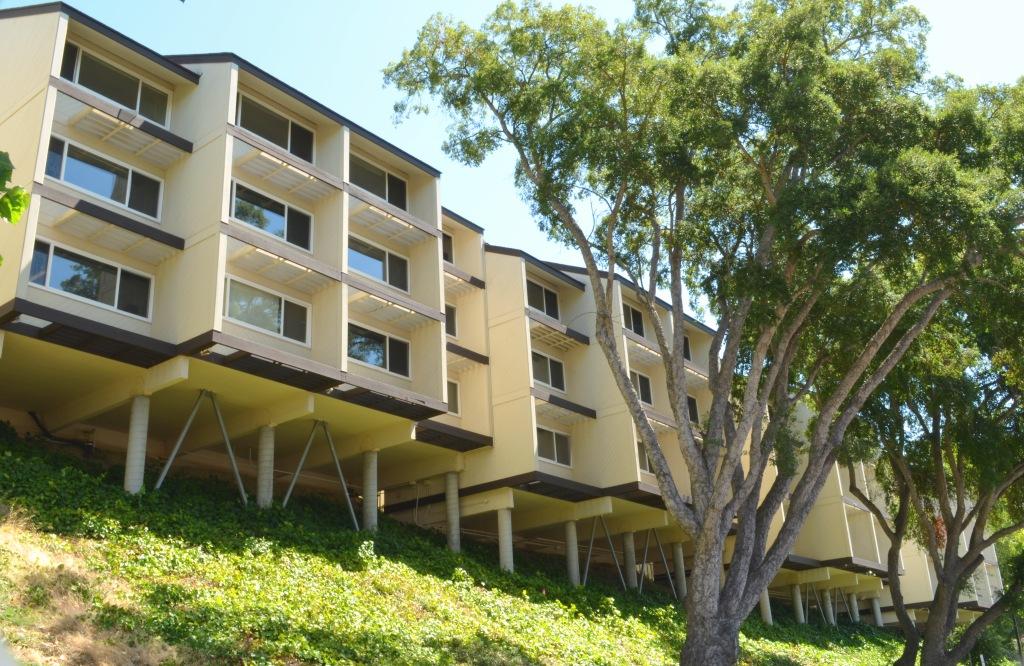 The Lower Residence halls are comprised of 3 stacks (A, B, and C). The rooms are all double occupancy rooms. Each floor is comprised of 4 rooms and shares a common bathroom. The Lower Residence Hall is primarily where our upper class students reside. Also, 2 stacks in the Lower Residence Hall have been designated as 24-hour Quiet Halls.
Lower Residence Hall Room Example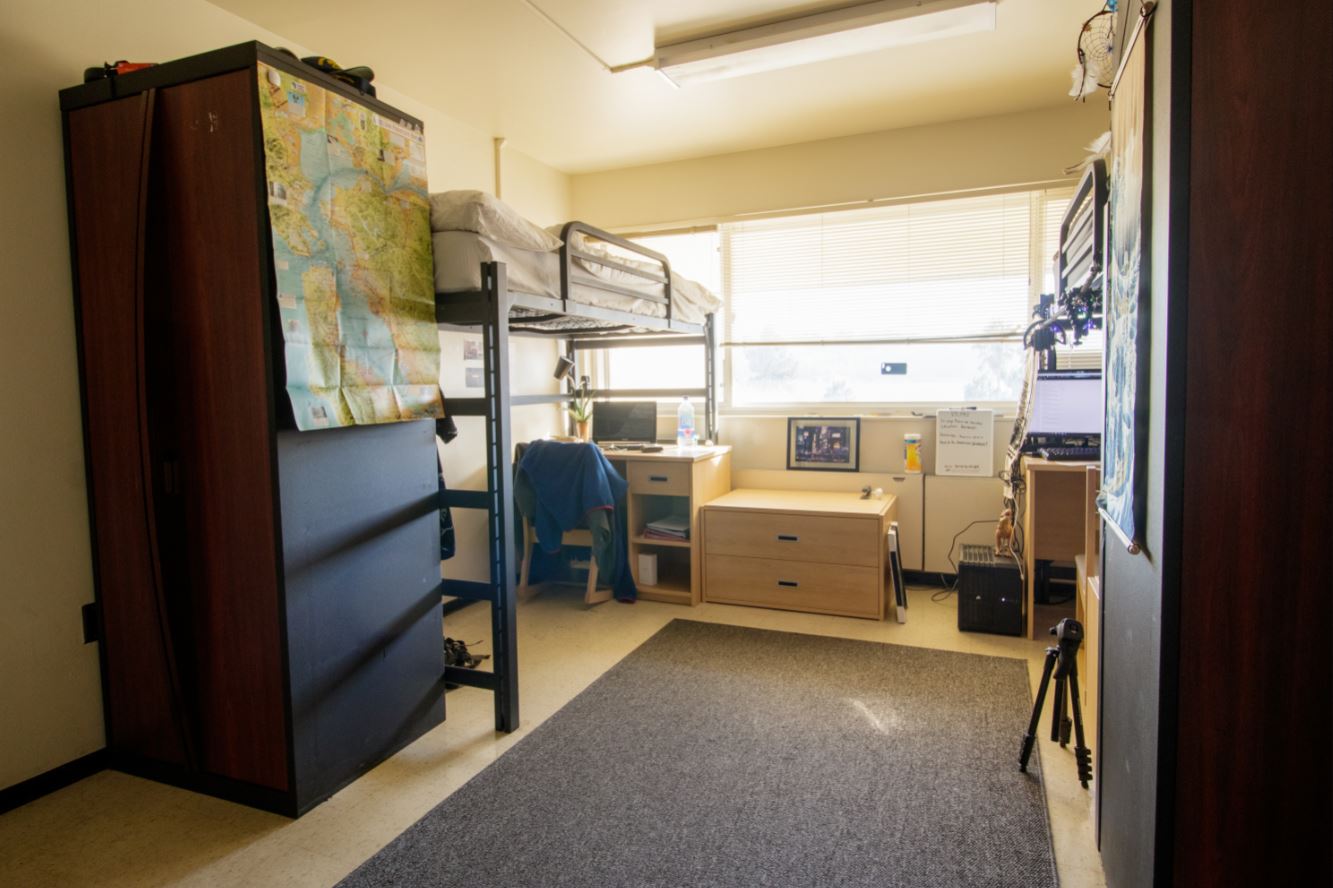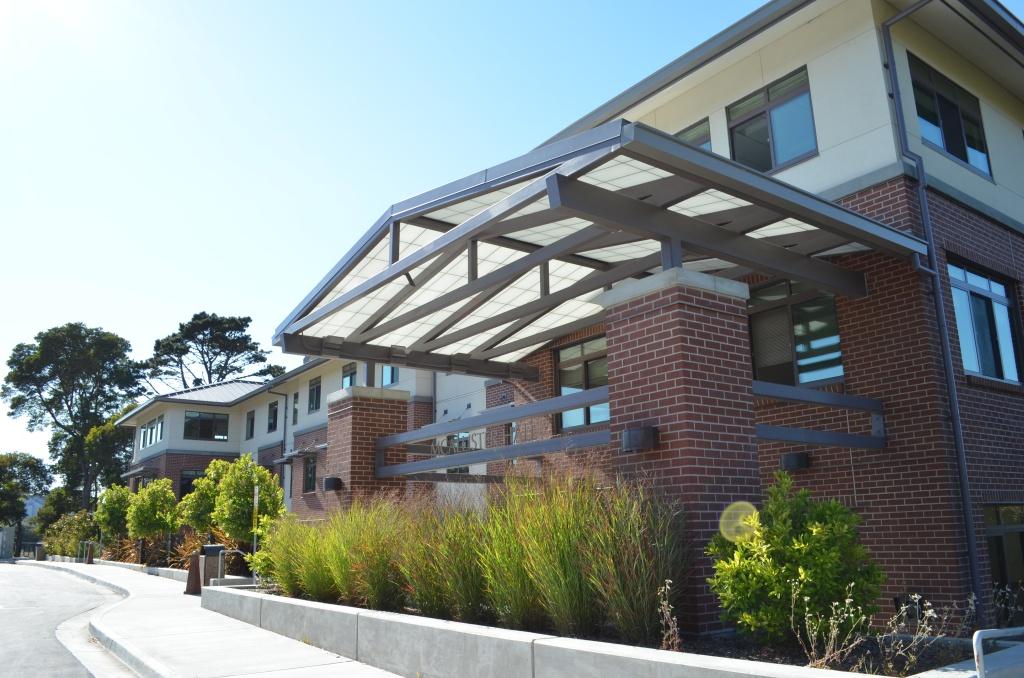 McAllister Hall is a suite style residence hall housing 132-beds returning students. McAllister is staffed by one Residence Life Coordinator and 4 Residence Hall Officers. All rooms are double occupancy and every two rooms share a bathroom. McAllister Hall was opened in the Fall of 2009 and is the newest campus residence facility.
Amenities:
Suite Style Living (4 students share a restroom)
Next to Bodnar Field
Radiant Heating
Wireless internet throughout building
Fitness room - Located on first floor
2 TV Lounges - Located on second and third floor
Game Room - Located on first floor
2 Study Lounges - Located on second and third floor
McAllister Residence Hall Room Example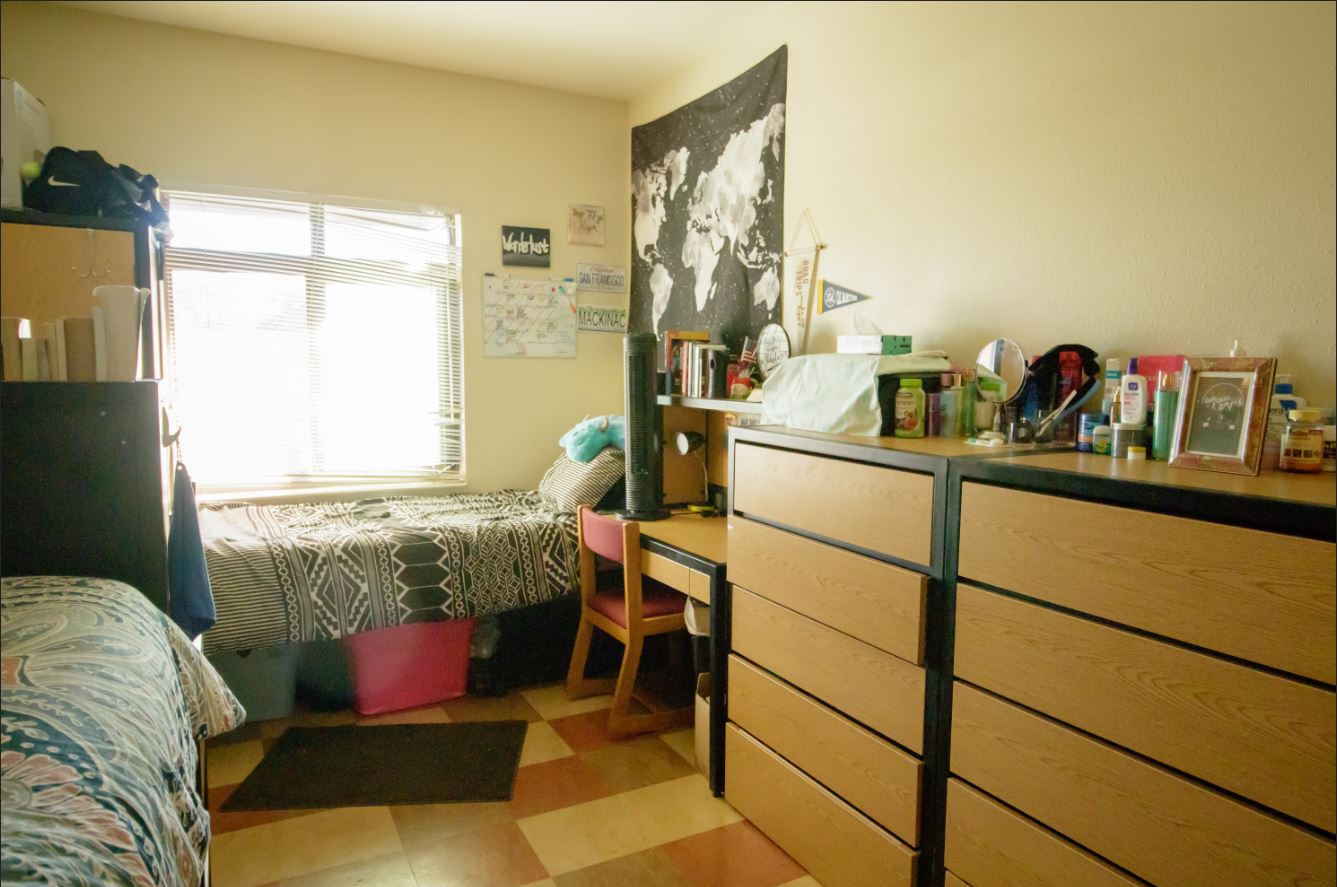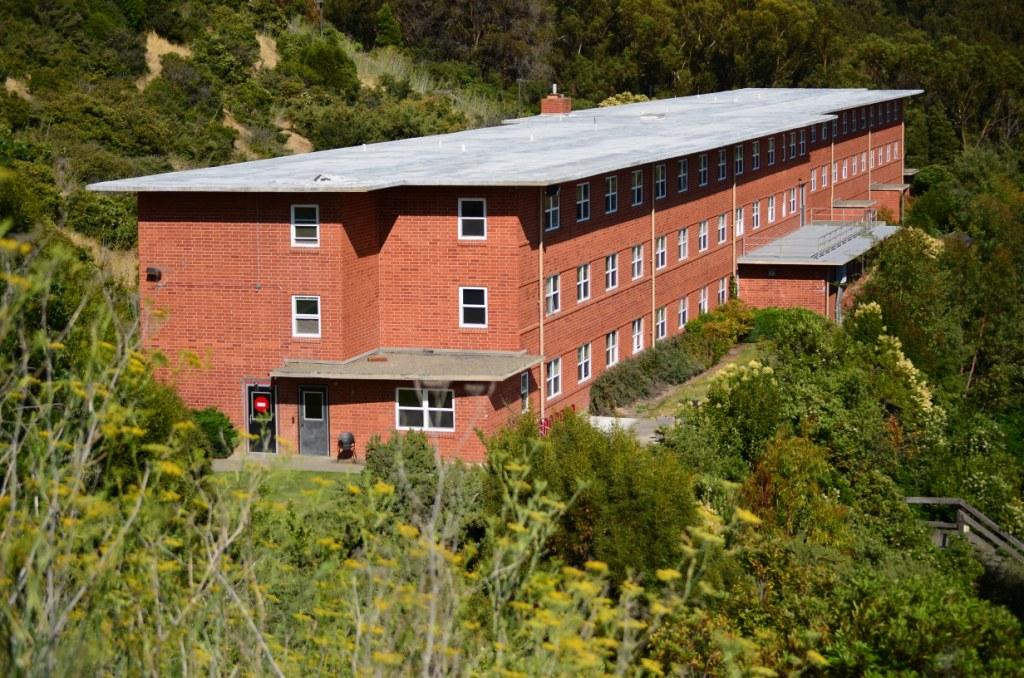 Upper Residence Hall is a traditional style residence hall housing 200 students and staffed by one full-time Residence Life Coordinator and 7 Residence Hall Officers. Each wing houses 35-40 students which share a community style bathroom. The traditional residence hall design promotes student involvement and the creation of friendship and support between students. Upper Residence Hall primarily houses first year Cal Maritime students.
Upper Residence Hall is also home to the Office of Housing & Residential Life. Within the Office of Housing & Residential Life, students will find the offices of all professional staff members and may schedule appointments to discuss any concerns or questions regarding campus housing.
Amenities:
Community Style Restrooms
Double Occupancy rooms
Community Laundry Room (Located on first floor)
Study Lounge (Located on first floor)
TV & Game Room (Located on first floor)
Recreation Room containing pool tables and ping pong tables (Located on first floor)
Floor Study Lounges (located in the center of each floor)
Upper Residence Hall Room Example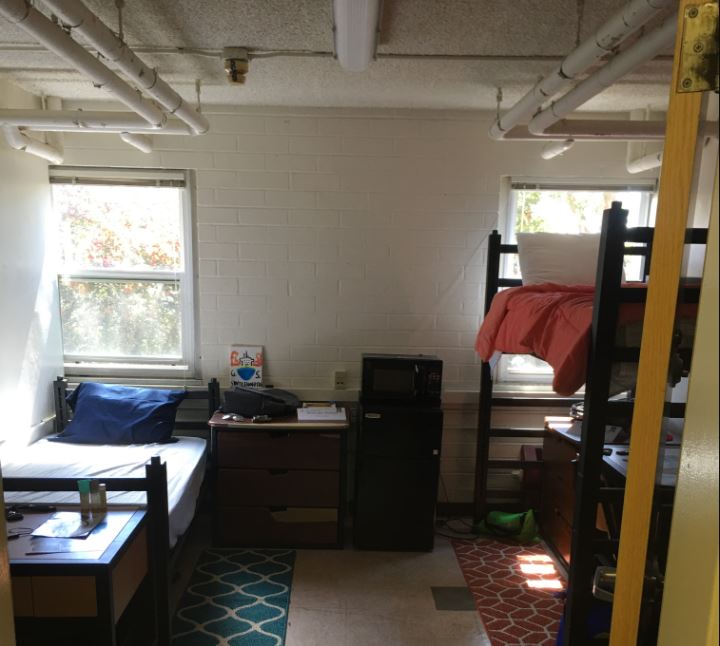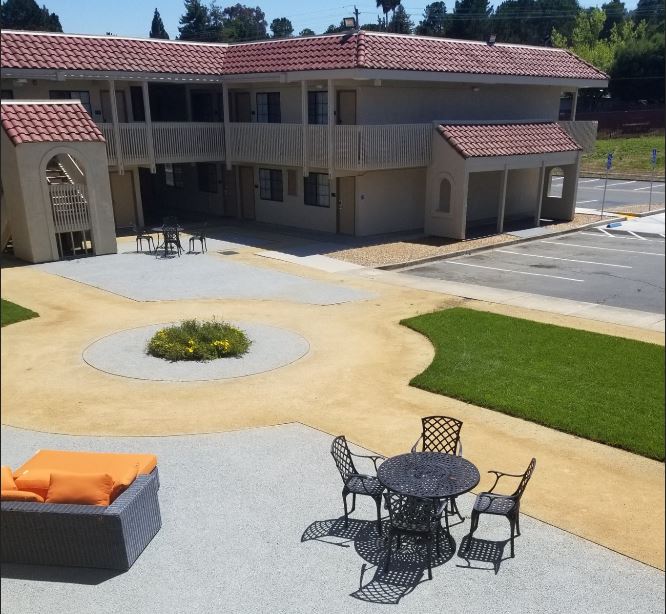 A traditional residence hall which houses approximately 150 upperclass residents. Maritime North is situated just North of Maritime Academy Drive right next to the O-parking lot. Each room is double occupancy with the same amenities in other residence halls which include:
2 Desk and Chair Combinations with Lamps
2 Wardrobes and Dressers
2 Lofting kits, Bed frames and Twin XL mattresses
Personal Bathroom and sink for roommates to share
Maritime North also has several community spaces that the residents can utilize including 2 lounges which have TVs, couches, and other furniture. There is also an extension of the Office of Residence Life at the Maritime North Lobby, which is where Residence Hall Officers are situated for duty nights. Maritime North also has a recently opened community kitchen space with assorted appliances to cook meals.
Maritime North Residence Hall Room Example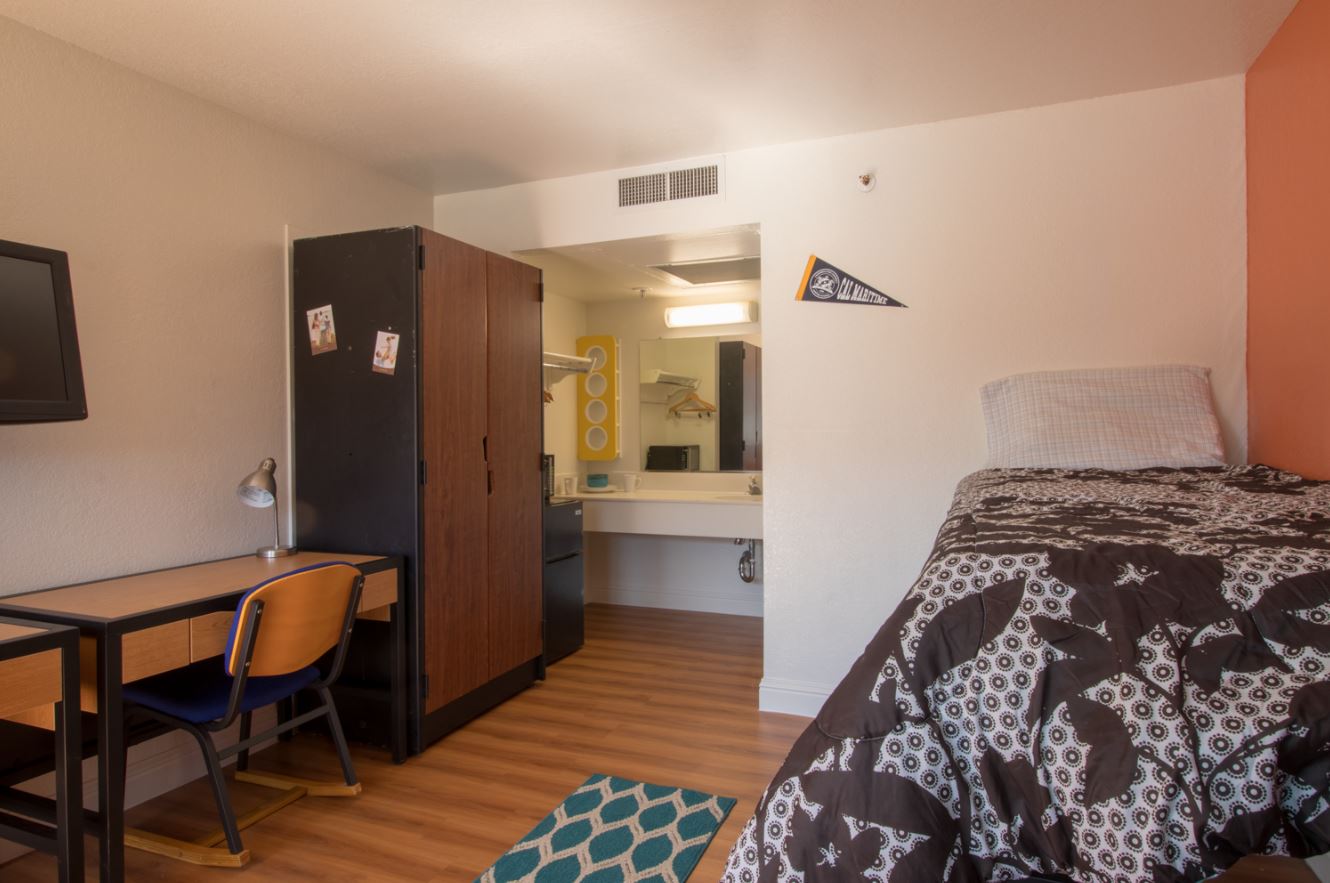 Below are some virtual tours of our residence halls and room spaces. Check them out to get a glimpse of what our res hall communities are like here at Cal Maritime!
Programs and Activities
Social, Educational, and Service-Learning programs are offered and organized by the staff in all of our residential facilities. These programs range from movie nights, study social, explore the city of Vallejo, volunteer activities.
Residence Hall Officers on each floor/residence hall plan and coordinate passive and active social, diversity, educational as well as academic related programs. The purpose of these programs is to build a community and develop a platform for student interaction.
If you have any ideas for programs that you would like to see happen, please talk with your RHO. Together, you can plan a great event for your fellow residents!