School of Letters and Sciences Faculty Highlights
DEPARTMENT OF GLOBAL STUDIES & MARITIME AFFAIRS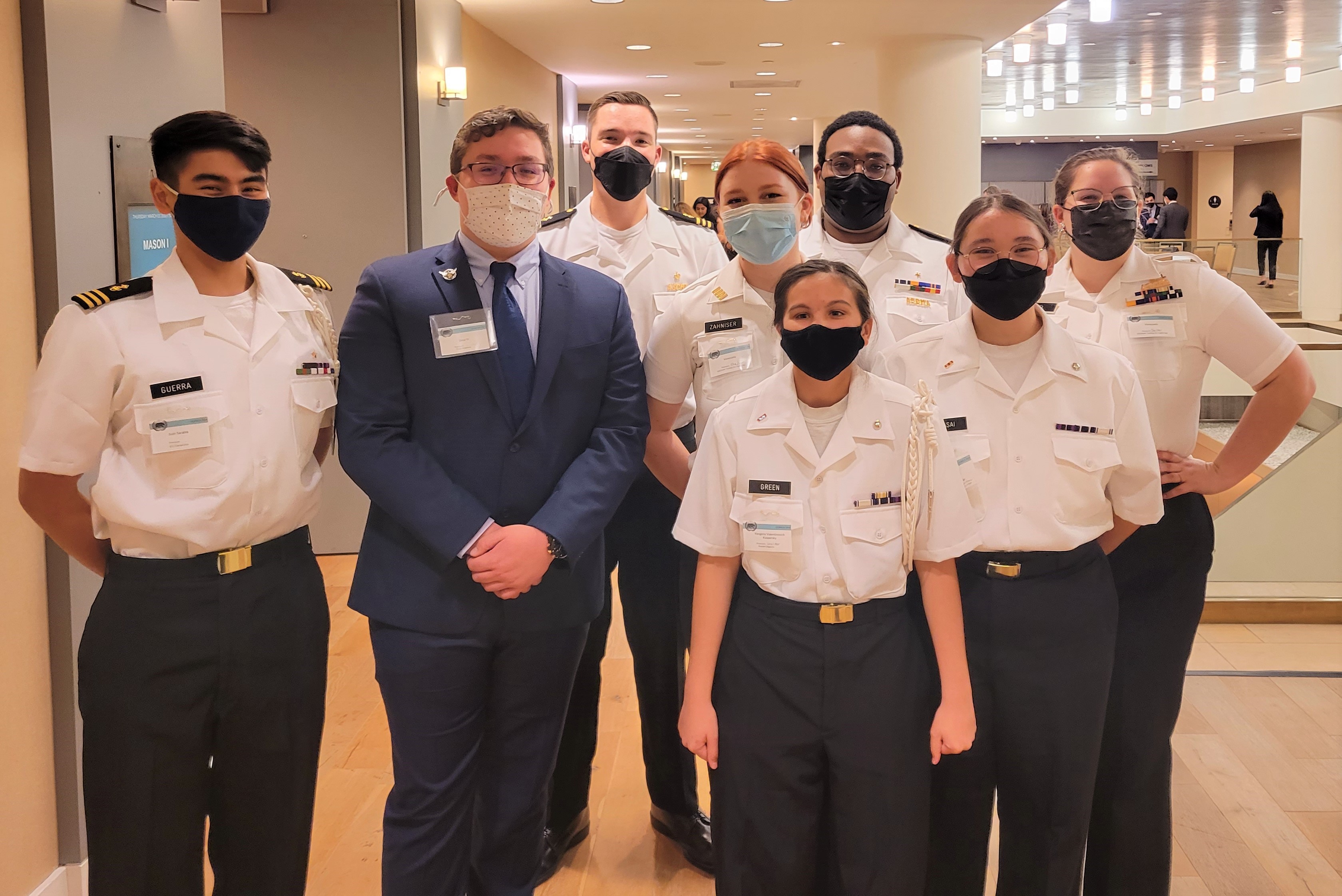 The Cal Maritime Model United Nations team attended a conference competition in San Francisco, which was hosted by UC Berkeley's Model UN team.

For four days, eight cadets competed in a variety of committees covering topics ranging from the Three Kingdoms Period in China to the Mexican Revolution to the modern-day impact of the digital world. They researched, wrote position papers, devised elaborate behind-the-scenes plans, and spoke out in favor of their ideas alongside hundreds of other delegates from over two dozen different schools.

The Cal Maritime Model UN team is advised by Professor Chris Chiego and welcomes any interested cadets at Cal Maritime who would like to join. Future plans include attending additional conferences each year and potentially hosting a conference at Cal Maritime.
DEPARTMENT OF SCIENCES & MATHEMATICS

Oceanography Students and Their Faculty, Alex Parker, Frank Yip, Steve Kielar
and Carissa Lombardo, Prior to Their Trip on the Sailing Ship Matthew Turner in Fall 2021
To Read About Their Sailing Trip, Click Here

DEPARTMENT OF CULTURE & COMMUNICATION

Rehearsal for the 2021 CLTAC
(Chinese Language Teachers Association of California)
Speech Competition

Cadets and Mandarin Language Instructor Han Lu
at the 2019 CLTAC
(Chinese Language Teachers Association of California)
Speech Competition at Lowell High School in San Francisco
PUBLICATION
Volume 6, Chapter 2 "Robots, Memories, Autonomy and the Sea"
in Cultural History of the Sea, Professor Margaret Cohen, Editor (Bloomsbury Academic Press, 2021)

The chapter charts major developments in maritime technology, regulation, and practice as lived by seafarers from 1900 to 2020. Besides the historical content, the maritime developments of the century are examined through readings of three novels: Lord Jim (1900) by Joseph Conrad; Ultramarine (1929) by Malcolm Lowry; The Ordinary Seaman (1996) by Francisco Goldman.

Click here to go to Dr. Dewey's faculty page. Then select Lectures and Media.

Dr. Colin Dewey, Chair
Department of
Culture & Communication