Eligibility Information and Application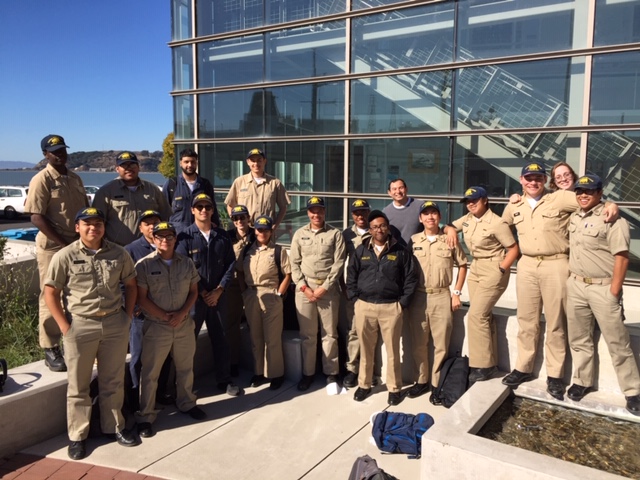 LSAMP students at a recent meeting on our beautiful waterfront
The CSU Louis Stokes Alliance for Minority Participation, or CSU-LSAMP, is an NSF-funded program intended to support underrepresented students and others facing barriers to success in Science, Technology, Engineering and Mathematics (STEM) disciplines.
Each of the CSU campuses has a CSU-LSAMP program that offers an array of activities and services designed to improve retention and graduation of undergraduate students in STEM. Cal Maritime joined CSU-LSAMP in 2013. Since that time, our program has worked to guarantee better success and retention rates for URM students in STEM disciplines and encouraged all members to continue their STEM education through workforce development and post-graduate studies.
Students majoring in Engineering disciplines (ME, MET, and FET), Marine Transportation (MT), and Oceanography (OCN) are eligible and encouraged to apply.
To be eligible to participate in CSU-LSAMP, students must:
Be a U.S. Citizen or Permanent Resident;

Be enrolled at a participating campus in an undergraduate major in a STEM discipline or have expressed an interest in pursuing a STEM baccalaureate degree;

Be an individual who has faced or faces social, educational, or economic barriers to careers in STEM.
Although the project's goals and anticipated outcomes are stated in terms of improving URM participation in STEM, it is important to emphasize that CSU-LSAMP does not limit participation to URM students.
Students must apply to be LSAMP participants annually.
Applications for the current year are now open, as space in LSAMP permits.
Applications can be submitted to Dr. Frank Yip in-person in the Faculty Office Building Room 207, or by email (
fyip@csum.edu
).
If emailing your completed applications,
leave the SSN field blank! Do NOT email your application with your SSN included!
Upon receipt of your otherwise-completed application, applicants will be contacted so that this sensitive information can be transmitted securely.
LSAMP application (electronically fillable)
CSU-LSAMP is funded through the National Science Foundation (NSF) under grant #HRD-1826490 and the Chancellor's Office of the California State University.