Why Choose Cal Maritime? Explore Us!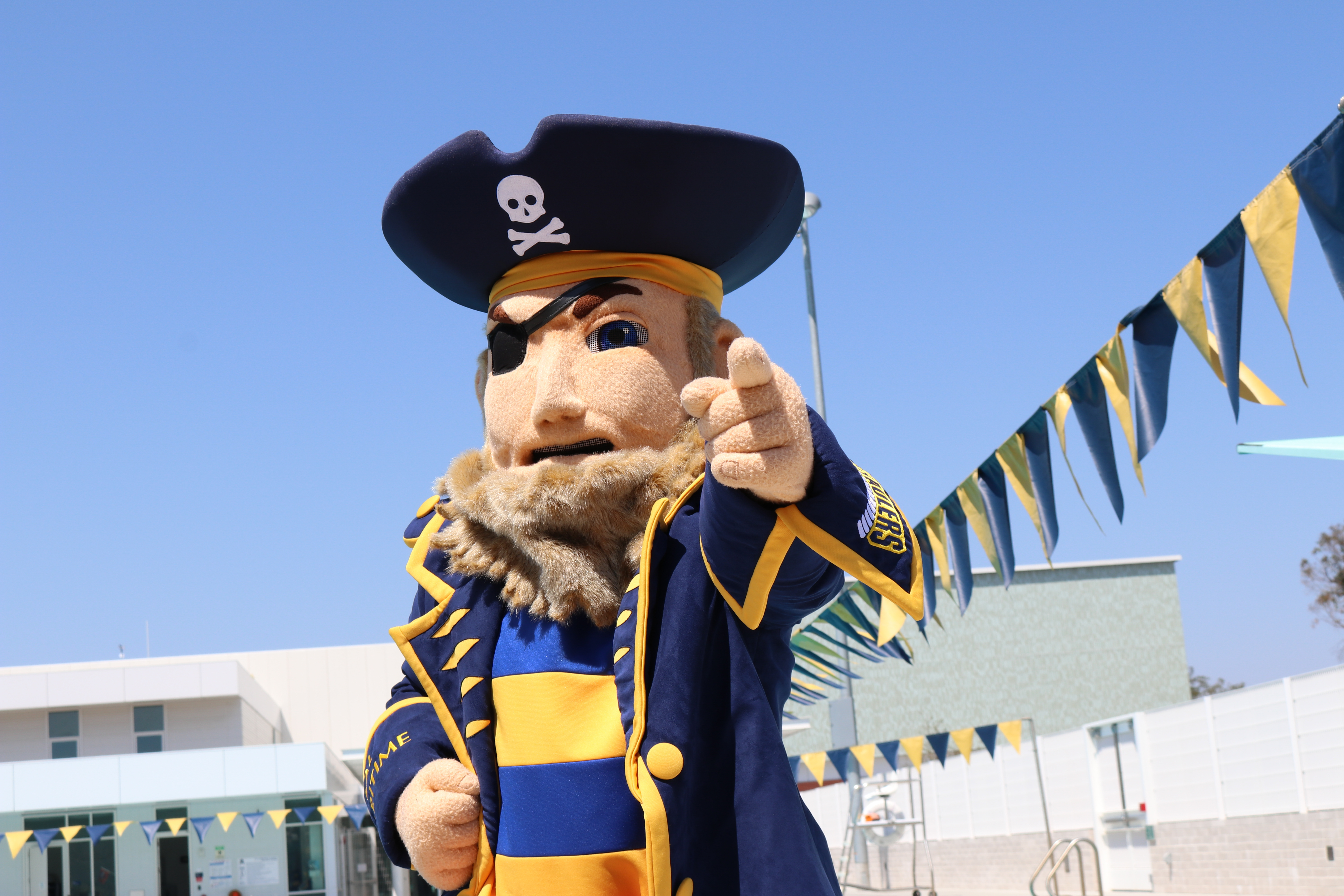 Located on a compact and scenic waterfront campus in Vallejo, California, California State University Maritime Academy (Cal Maritime) is a unique and specialized campus of the 23-campus California State University system. We are one of only seven degree-granting maritime academies in the United States — and the only one on the West Coast.
A key part of the campus experience is the annual training cruise aboard our 500-foot Training Ship Golden Bear. The TSGB serves as a floating classroom/laboratory where classroom concepts in marine transportation, engineering and technology are practiced and applied. School-sponsored, study-abroad trips provide those studying international business, logistics, maritime security and maritime policy with a first-hand exposure to those practices in locations around the world.
The unique Cal Maritime program combines classroom learning with applied technology, leadership development and global awareness. No one else does what we do! Our graduates have excellent career opportunities on land, in ports, and at sea.
Cal Maritime has the highest employment rate in the CSU system with starting salaries near the top of national averages. Government data show Cal Maritime alumni have the highest average salaries of any college or university (public or private) in the western U.S.
READ OUR compass points brochure
10 Facts About Cal Maritime
| | |
| --- | --- |
| Founded / 1929 in Tiburon as the California Nautical School. | Campus / 92 acres on the picturesque Vallejo, California waterfront. |
| School Colors / Navy and gold | Motto / Cal Maritime's Latin motto, Laborare Pugnare Parati Sumus means "To work, to fight, we are ready." The motto was chosen early in the 20th century when the "Merchant Marine" was closely associated with supplying military efforts in war and peace time. The maritime industry now consists of primarily civilian, commercial shipping and related activities. |
| The CSU / Cal Maritime joined the California State University in 1995. | Mascot / Cal Maritime's athletics teams are called the Keelhaulers, and the mascot is named Golden Beard. |
| Academics / Bachelor's degrees in business administration — international business and logistics, facilities engineering technology, global studies and maritime affairs, marine engineering technology, marine transportation, mechanical engineering, and oceanography, as well as a master's degree in transportation and engineering. | Global Awareness / All Cal Maritime undergraduates experience international travel either aboard the Training Ship Golden Bear or through one of our many annual international travel opportunities. |
| Ship / The 500-foot Training Ship Golden Bear is Cal Maritime's fourth training ship, and the third to be called Golden Bear. | Academy / The only degree-granting maritime academy on the west coast of the U.S. and one of only seven in the nation. |
Why Choose Cal Maritime?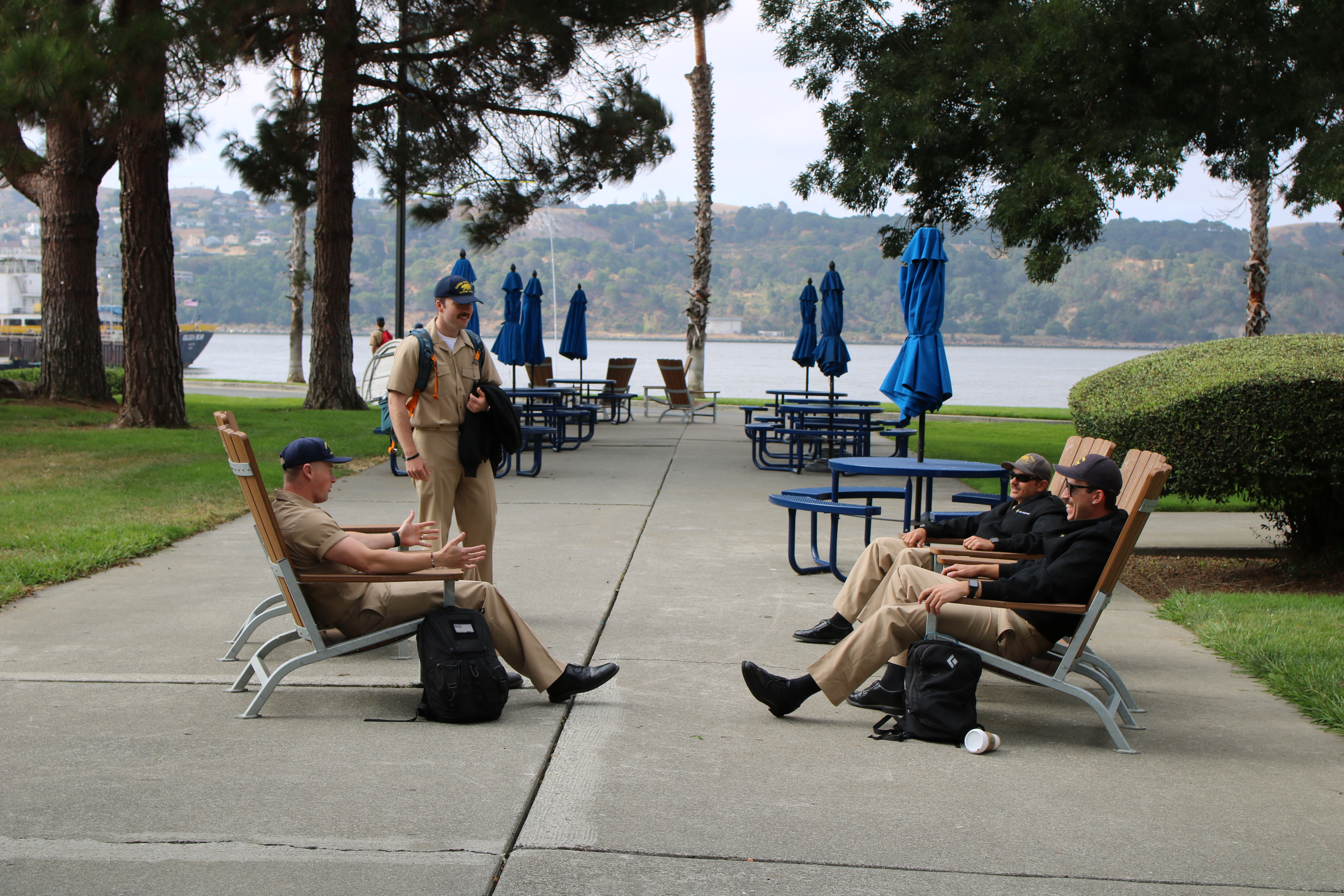 An Ocean Point of View
California State University Maritime Academy's waterside campus on the northern end of San Francisco Bay is tucked into a quiet cove with ever-changing views of the ever-changing maritime world. This world is much more than operating commercial ships; it is a global economic force linking with various modes of transportation to get commodities and people from point A to point B. Operating this global enterprise requires engineers, business leaders, port managers, deck officers, environmental advocates, maritime security consultants, etc. Cal Maritime produces professionals in these and other areas related to the ocean as a resource and an engine for a global economy.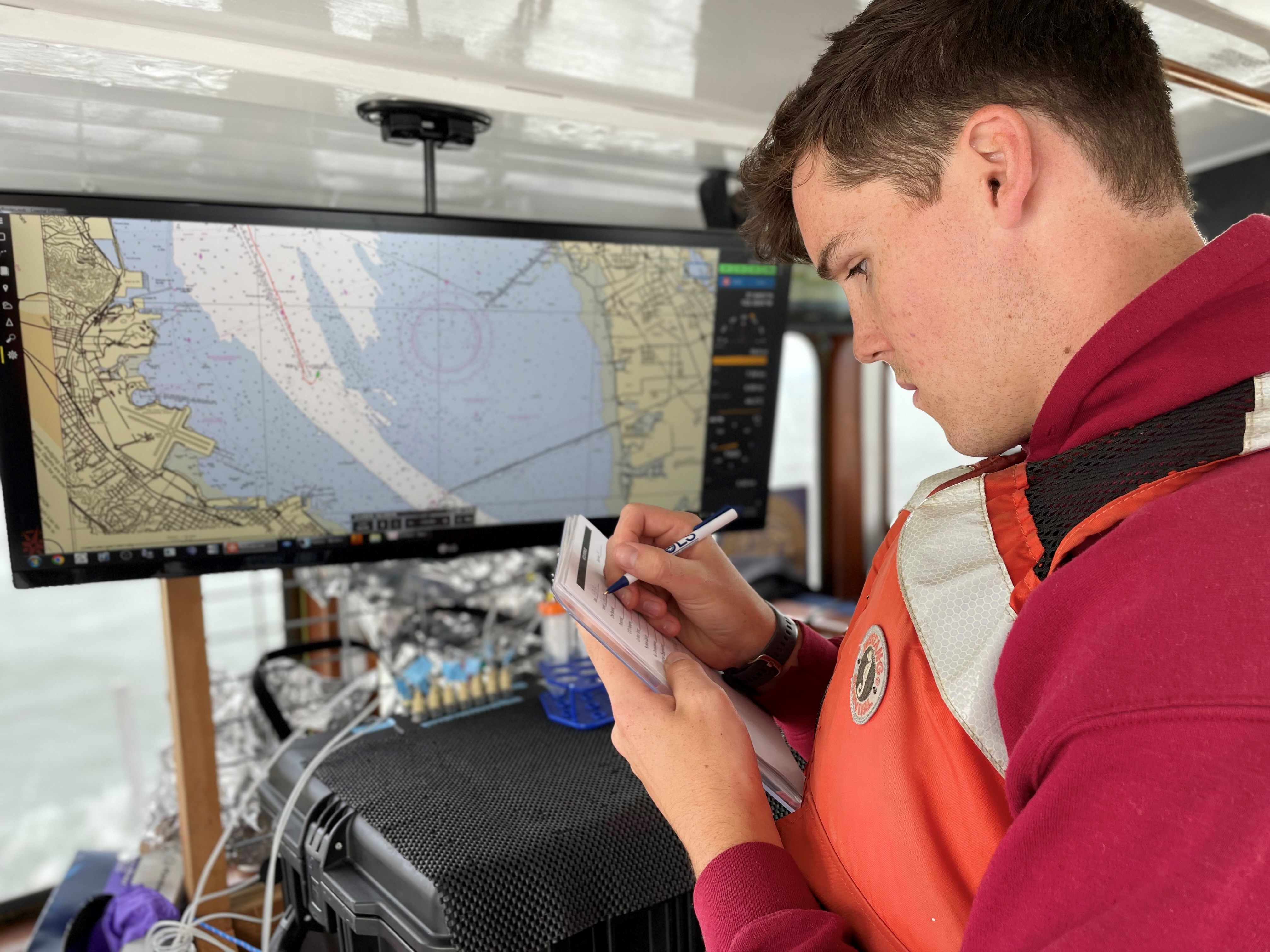 The Academy Advantage
Academies are generally small, focused, structured, and offer a high-quality education. These characteristics all describe Cal Maritime. Our 1,051 students study one of only seven majors, and students are generally very focused on their chosen fields. Quality, personalized teaching is provided with a student-to-faculty ratio of 14 to 1 and average class size of 20. Some people assume Cal Maritime is a "military" academy because our students wear uniforms, but they are not correct. In fact, 94% of our graduates go directly into for-profit companies, non-profit organizations, government agencies, or graduate schools while 8% graduate as commissioned officers in the military. We do stress some similar values as the military academies such as leadership and accountability – but our students have no obligation to join the military when they graduate. Our reputation among the many corporations, industries, agencies, and graduate schools filled with Cal Maritime alumni is that of a school preparing professional, responsible, and successful graduates.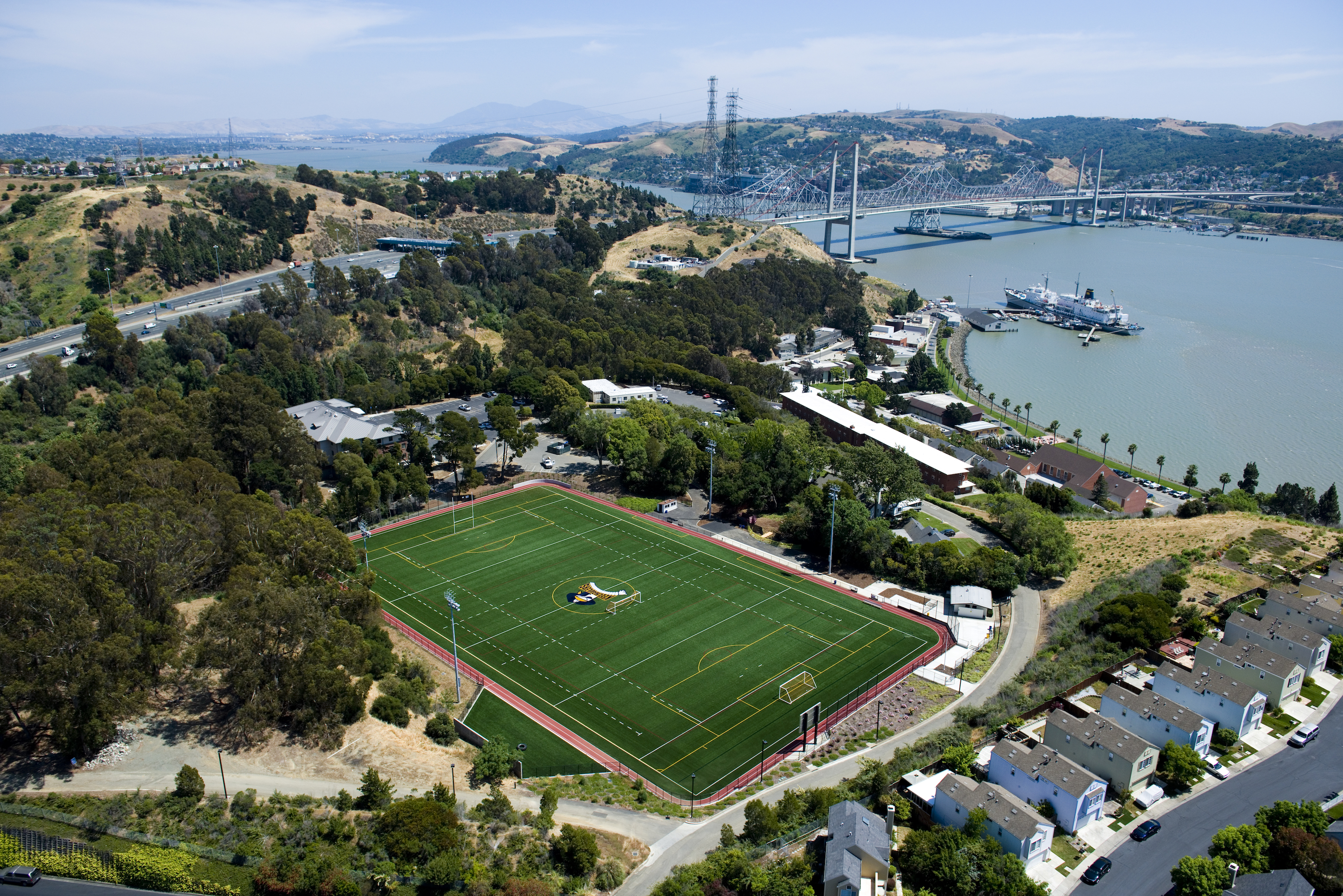 The Value of a CSU Campus plus the Quality of a Private College
As one of the 23 campuses in the California State University (CSU) system, Cal Maritime enjoys the strength associated with this planet's biggest university system. Tuition and housing costs are no more than other CSU campuses up and down the state which makes us highly affordable. Our academic quality, however, shares more in common with private colleges. Our average class size of 20 students as well as approachable, mentoring faculty creates the type of academic atmosphere more closely associated with small schools. CNBC ranked Cal Maritime 17th among public universities nationally when comparing graduate salaries to cost of attendance.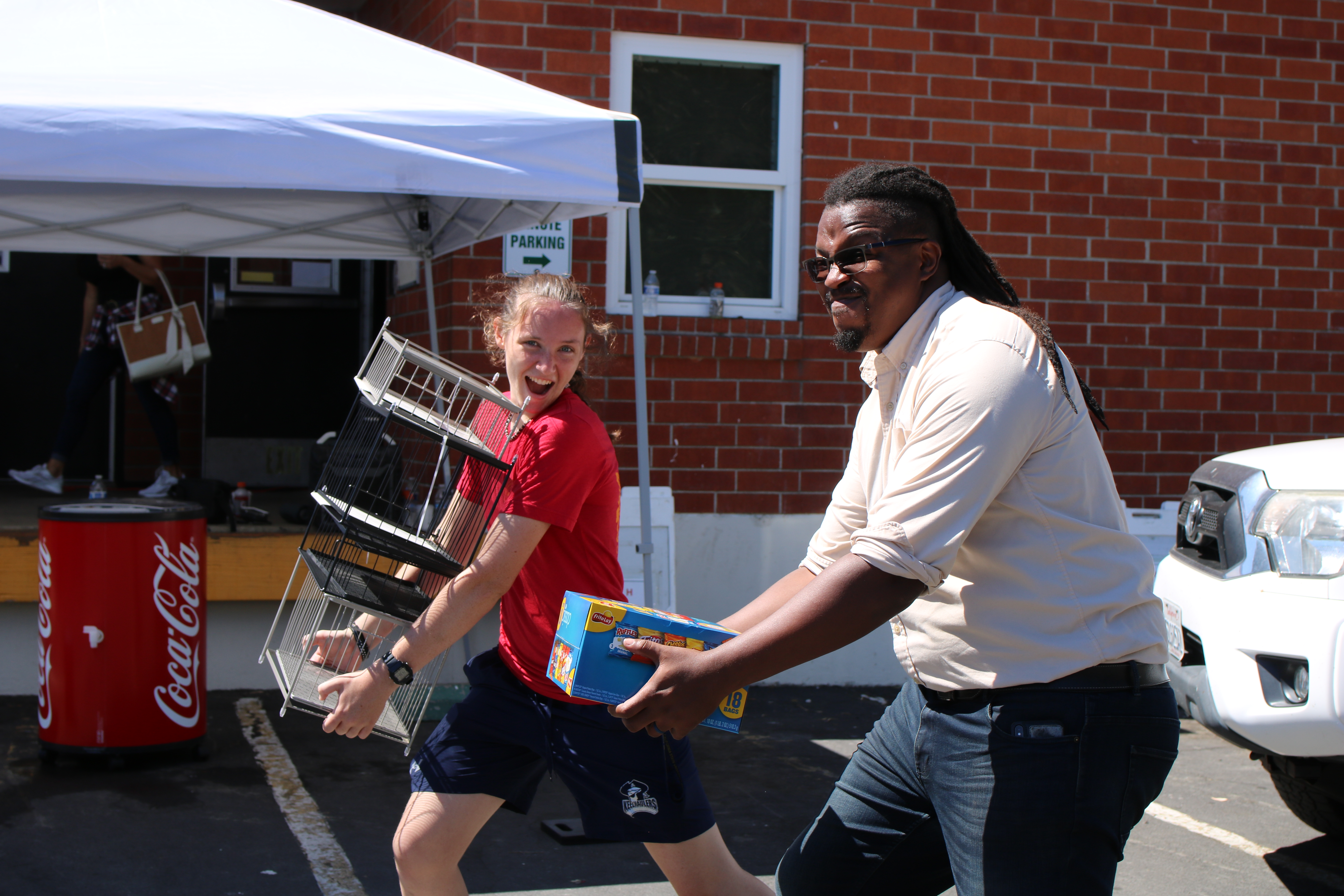 Most Students Live on Campus
The high percentage of students living on campus enhances the sense of community. A truly residential campus is a key element to an academy lifestyle that adds to the students' feeling of ownership of and dedication to the school.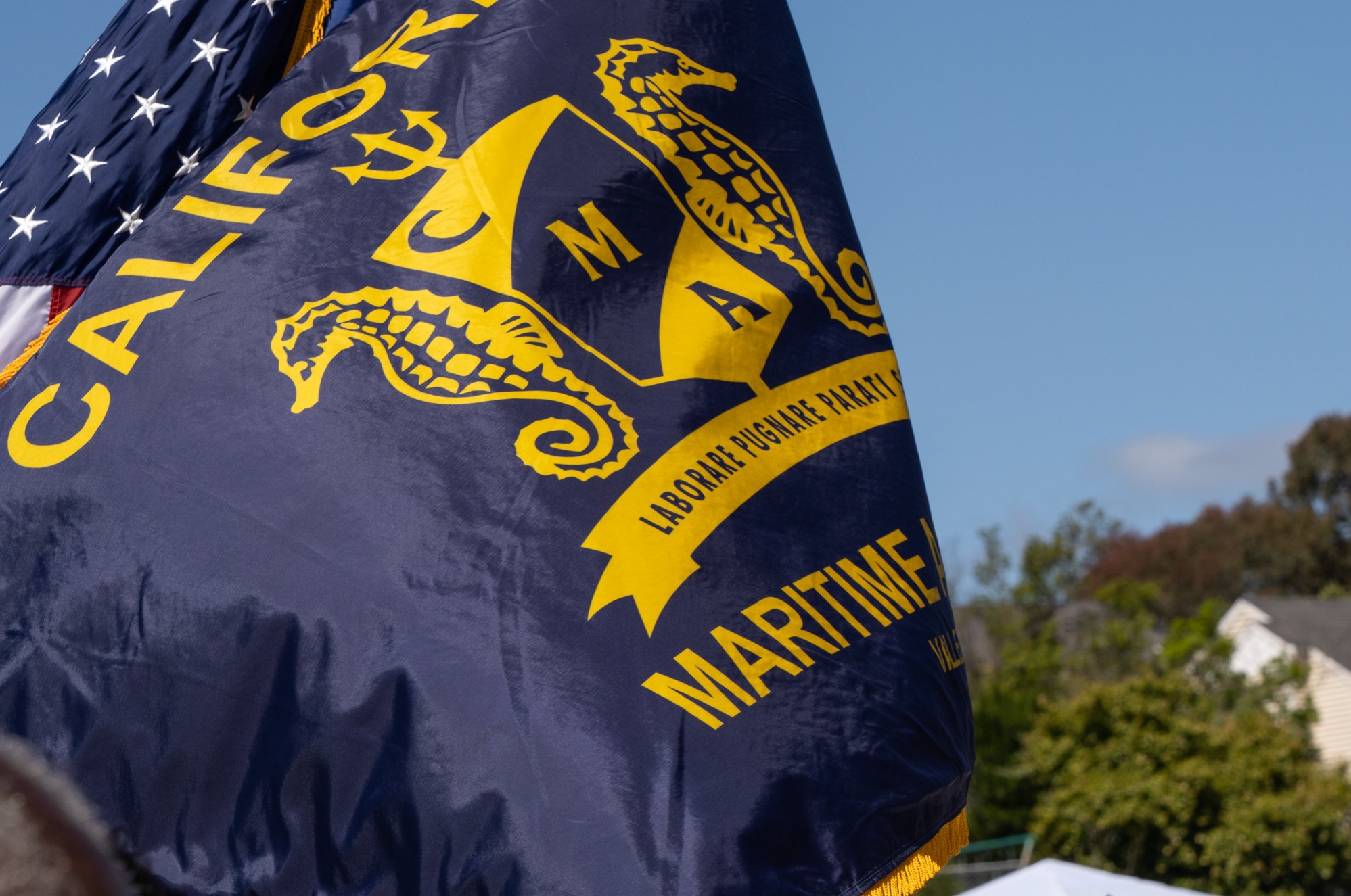 The Corps of Cadets Stressing Responsibility, Accountability, Leadership, and Professionalism
At Cal Maritime, all students are also cadets who comprise the Corps of Cadets that forms the basic organizational structure of the Academy. Your classes will teach you the "hard" skills and knowledge for your degree, but the Corps of Cadets stresses the "soft" skills such as responsibility, accountability, leadership, and professionalism. Those soft skills are what give Cal Maritime graduates such an advantage in their job search and later careers. Leadership is emphasized through our Edwards Leadership Program (ELP).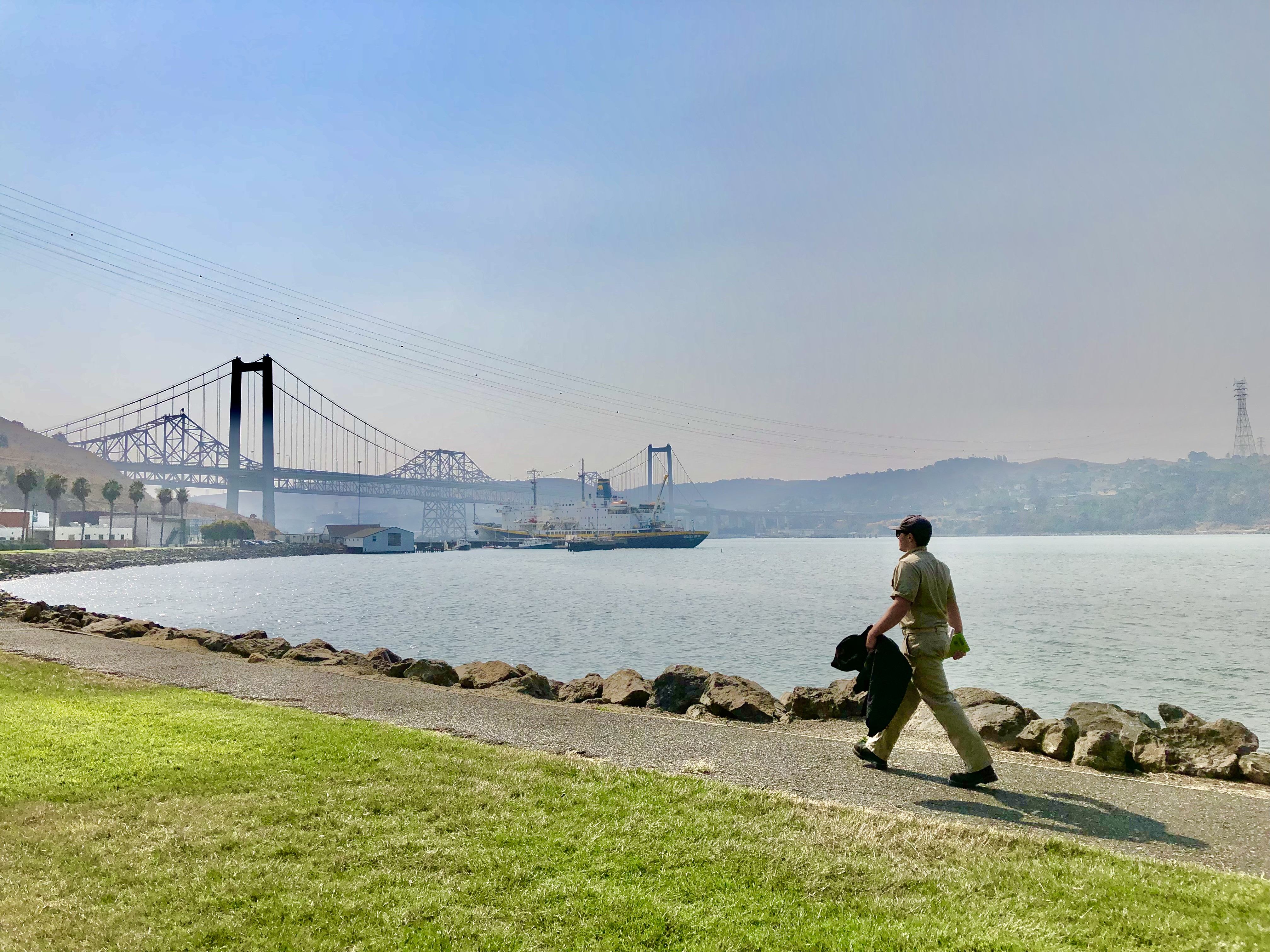 Uniforms, Grooming Standards, & Formations are a Good Thing!
There are always some things in life (and in college) where the benefits are hard to see in the moment, but they become apparent as people enter their career. Eventually, everyone has dress and grooming standards in the workplace. Cal Maritime considers the campus your "workplace," so cadets wear uniforms during the class day. Generally, personal clothes are just fine after the last class of the day. There are no curfews, but there is a mandatory morning assembly called Quarters three days a week where there are announcements and possible uniform inspections. Actually, wearing uniforms are cheaper than buying four-years of the latest college fashions and everybody looks good in khaki!

International Travel for All
One important way that Cal Maritime ensures a global perspective in its graduates is the requirement that all students travel abroad while taking courses and gaining experiences important to each major. The way each student fulfills this requirement is determined by his or her individual major either on our training ship or on school-sponsored study tours. To see what is scheduled for this summer, visit our Follow the Voyages page.



Training, Learning, and International Travel on the Training Ship Golden Bear for All Engineering and Marine Transportation Majors
All Cal Maritime cadets in the Marine Transportation program and all three Engineering programs become members of the crew of the 500 foot Training Ship Golden Bear on at least one sixty day journey visiting a number of ports around the Pacific Rim. The journey takes place for one group of students in May and June and a second group of students in July and August. Follow the blog and photos from last summer's journey until the voyages begin by going to Follow the Voyage. The cadets run the ship (including the bridge and engine room) under the supervision of licensed maritime professionals. Cadets also take classes, perform ship maintenance, and gain a first-hand exposure to ship operations.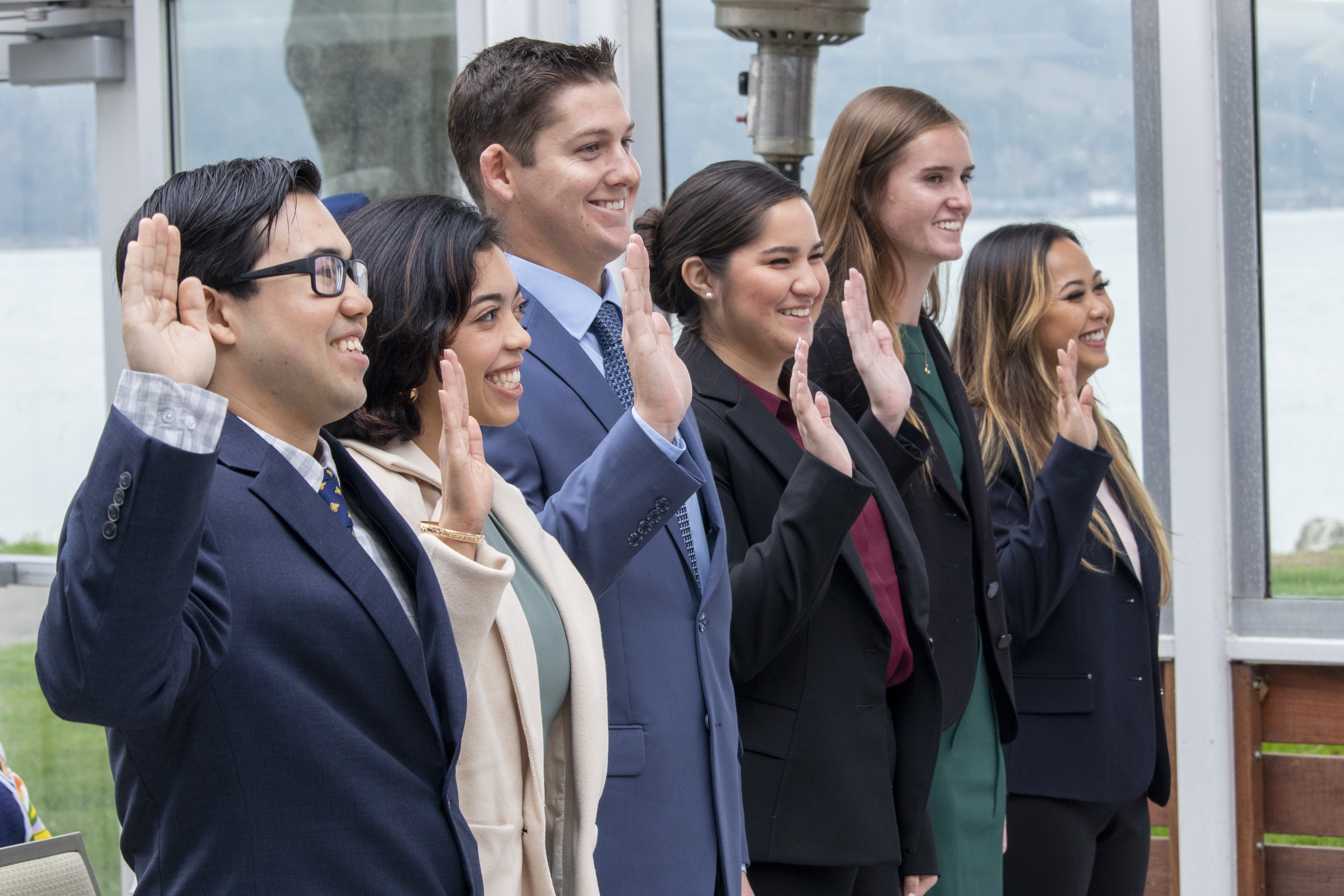 A Global View of Business, Logistics, and Maritime Affairs
Faculty-led, Cal Maritime-sponsored three-week study tours to international locations such as Costa Rica, Vietnam, France/Morocco, or Northern Europe provides our students in the Global Studies & Maritime Affairs program as well as the Business Administration - International Business & Logistics program with a valuable exposure to the business environments and political issues around the globe. View a list of 2020's International Experiences.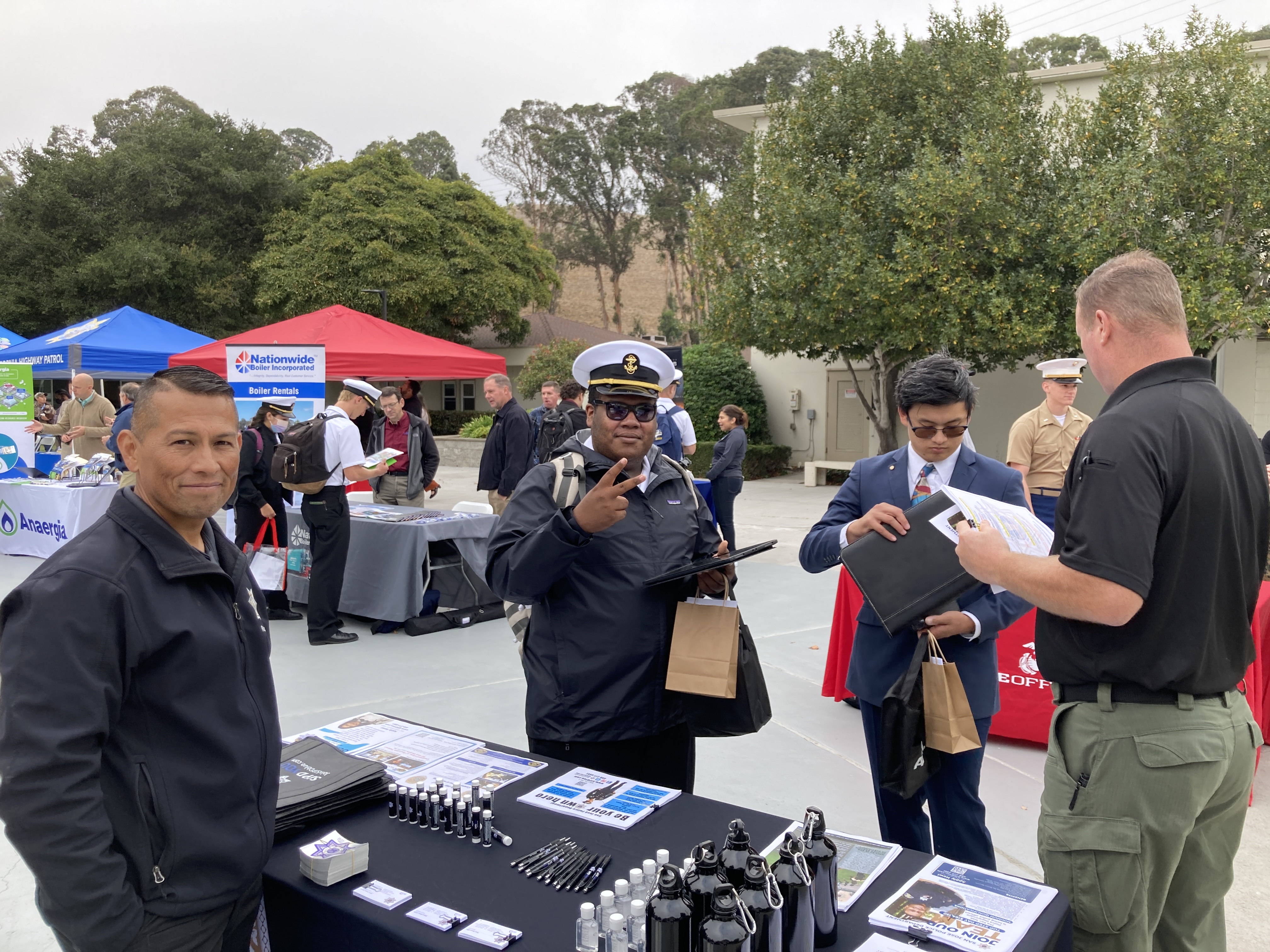 All Students Have at Least One Summer Internship
A dedicated staff in our Career Development Center works very hard to gather a large list of companies and organizations willing to offer various forms of internships or co-ops and then working with the cadets to match their available internships with specific professional goals. Cadets come back from these experiences more mature, more confident, and with the ability to "connect the dots" between their remaining courses and the demands in the real world.
Our Industry Connections Lead to Great Careers
Cal Maritime alumni predominate in the maritime industry around the Pacific Rim. Those who influence hiring and promotion have direct knowledge of the quality and relevancy of the education we provide. Several of the same companies and agencies that hire Cal Maritime graduates have many other connections to the Academy. We have many industry advisory groups telling us what knowledge, skills and traits they would like to see as part of a changing economy and workforce. 92% of the graduating class of 2018 (all majors) were employed in their field within three months of commencement. Average starting salaries in each major were as follows: Marine Transportation $70,000, Marine Engineering Technology, $70,500, Facilities Engineering Technology $73,250, Mechanical Engineering (licensed) $70,600, Mechanical Engineering (non-licensed) $73,250, Business Administration-International Business and Logistics $53,500, Global Studies and Maritime Affairs, $48,000.