U.S. Coast Guard Officer Training Programs
Jump to:
---
AUXILIARY UNIVERSITY PROGRAM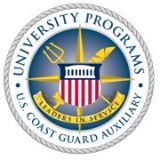 The Auxiliary University Program offers cadets an exciting opportunity to serve as a member of the Coast Guard Auxiliary during their college education.
Members will receive leadership experience, field training, education, and internship opportunities. Participation in the AUP requires no military service obligation, and does not guarantee a commission or enlistment upon graduation. AUP is great stepping stone for cadets interested in being competitive for enlistment or commissioning within the United States Coast Guard. The AUP is open to all cadets of Cal Maritime regardless of their degree program.
Training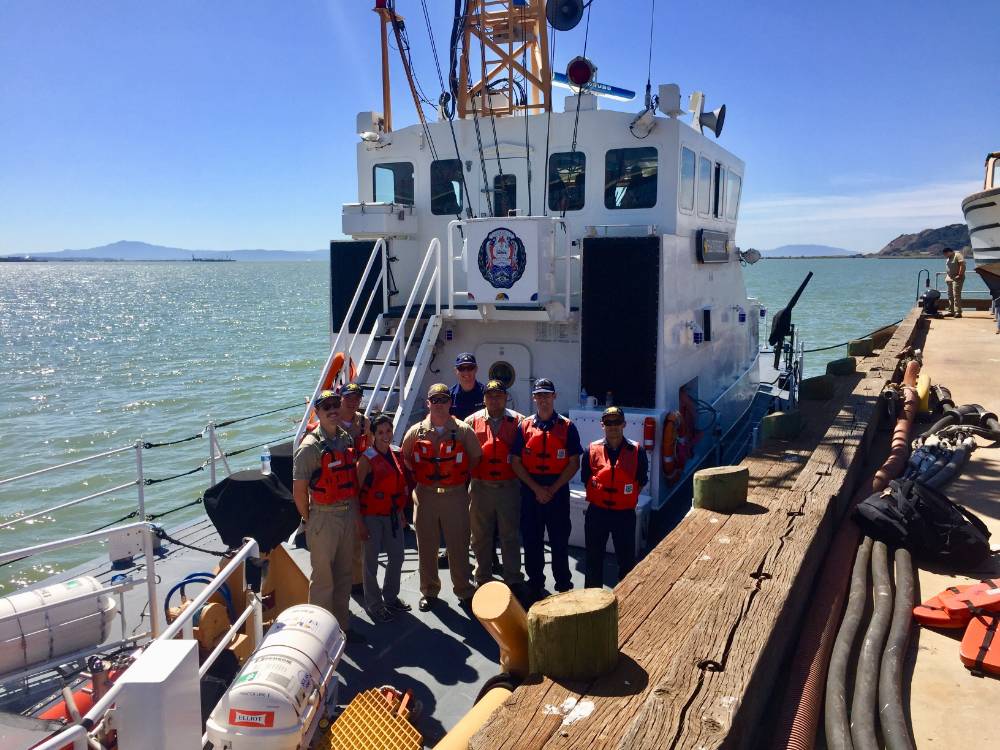 As a member of the Auxiliary University Program, you will complete three phases of training through a 1-2 or 3-4 year option: General Nautical Requirements, Elective Qualification, and Maritime Leadership Capstone.
Phase I: The member will receive training in Incident Command System, safe boating, seamanship, communications, weather, basic indoctrination and administration procedures.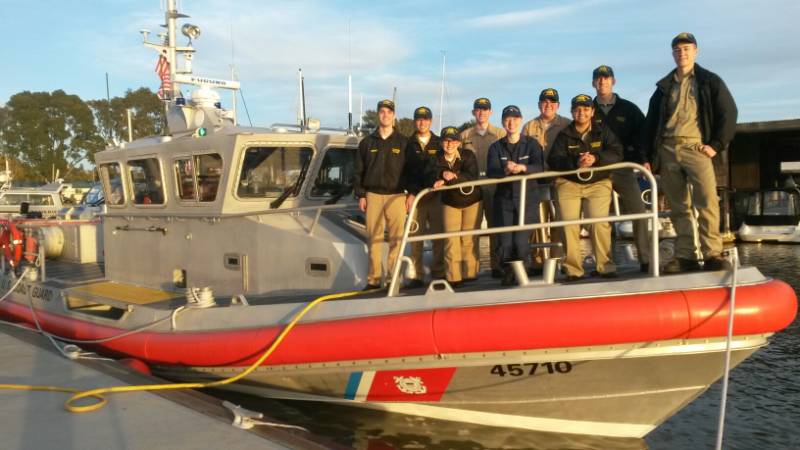 Phase II: The member may choose any of five exciting courses of study including boat operations, telecommunications, marine safety, public affairs and vessel exams.
Phase III: As a senior member of the unit courses offered in the AUP include leadership and management, small-boat coxswain, professional internships and the Homeland Security Seminar series.
Are you interested?
Contact the Coast Guard Liaison Office if you are interested in Coast Guard programs at California Maritime Academy. Further information on AUP may also be found at http://www.cgauxedu.us/about.
Contact Information
Cal Maritime AUP Unit Officer
LT Sarah Davis USCG
Email: Sarah.A.Davis@uscg.mil
---

MARITIME ACADEMY GRADUATE PROGRAM
Program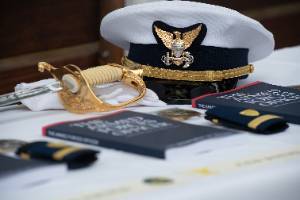 Maritime Academy Graduates have education and training that enhances the Coast Guard's ability to carry out its missions. The Direct Commission Maritime Academy Graduate Program is available to individuals who hold a qualifying degree from Cal Maritime.
Eligibility Criteria
To qualify for MARGRAD, one must meet the following qualifications:
1. Be a U.S. Citizen.
2. Be between the ages of 21 and 40 (applicants must have reached their 21st birthday but not their 41st birthday as of September 30th of the fiscal year in which the panel convenes).
3. Have graduated from a state or federal maritime academy and hold a Third Mate OR Third Assistant Engineer license, OR major in a Coast Guard mission-related field (i.e. a field related to the marine industry, engineering, the marine environment, maritime security, emergency preparedness, etc). **All Cal Maritime majors qualify**
4. Receive a favorable recommendation from an Officer Interview Board (coordinated by your recruiter).
5. Meet character standards and be eligible for a security clearance.
6. Meet financial standards.
7. Meet dependency standards (Single parents with sole custody or primary custody are ineligible).
8. Pass a commissioning physical exam.
9. GPA: Have at least a 2.2 GPA on a 4.0 scale.
10. Not be on active duty in any other U.S. Armed Service, unless you submit a discharge statement with your package. Applicants in an Inactive Reserve program must submit a conditional release. Have less than a total of 10 years non-CG service.
11. Applicants may be initiated during the applicant's final year at Cal Maritime, if all other requirements are met.
Service Obligation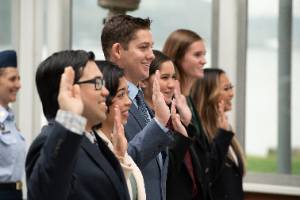 After attending a five-week Direct Commission Officer (DCO) School at the USCG Academy in New London, CT, you will be commissioned as an Officer in the U.S. Coast Guard. Based on your experience, education, and qualifications, you will be commissioned as either an Ensign (O-1) or Lieutenant Junior Grade (O-2).
Upon completion of DCO School, you will be obligated to serve for three years on active duty, after which you may apply for an extension for the chance to continue to serve as an officer in the Coast Guard.
---
COAST GUARD SELECT RESERVE (SELRES)
Program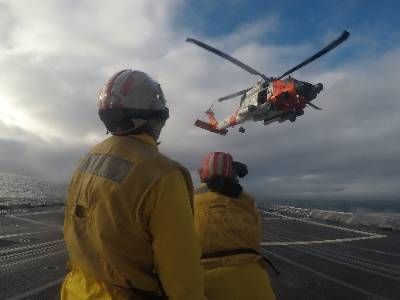 The Coast Guard Reserve offers exciting and rewarding opportunities during your college education at Cal Maritime. As a reservist, you will be a member of the military and attend an eight-week boot camp preparing you for the Coast Guard. You will receive valuable experience and training to supplement your education. Initial training is planned accordingly to your school schedule and often takes place in the summer months. Reservists dedicate their time serving one weekend a month and two weeks per year.
Eligibility Criteria
To qualify for the Coast Guard Reserves, you must meet the minimum eligibility criteria which includes but is not limited to:
1. Be between the ages of 17-40 years old.
2. Receive a qualifying score on the ASVAB exam.
3. Pass mental and physical health standards.
4. Meet character standards and be eligible for a security clearance.
5. Meet financial and dependent standards.
Service Obligation
Upon joining the Coast Guard Reserves, you will serve six years in the Select Reserve (SELRES) and an additional two years in the Inactive Ready Reserve (IRR). All reserve members join at a pay grade of E3 (seaman or fireman) and will promote to E4 (petty officer 3rd class) upon completion of their respective A-school.
Do you have what it takes?
Contact the Coast Guard Liaison Office if you are interested in Coast Guard programs at California Maritime Academy. Further information may also be found at www.gocoastguard.com.
Contact Information
Recruiting Office San Francisco