Cody Lewis has an incredible opportunity to work with the National Science Foundation (NSF), sailing from Chile to Antarctica next month and living in Antarctica to provide IT support at one of the research stations there for 6 months. Cody has been an invaluable member of the IT staff at Cal Maritime and has served as IT support on cruise the past several summers; we're incredibly proud of and excited for him, but will miss him terribly.
Cody shared with us that for cruise this year he'd taken a rotary telephone and made it operate as a wireless phone which he then connected to a VoIP he had; he set it up on Father's day and allowed cadets to each have 5 minutes to call home at no cost to them.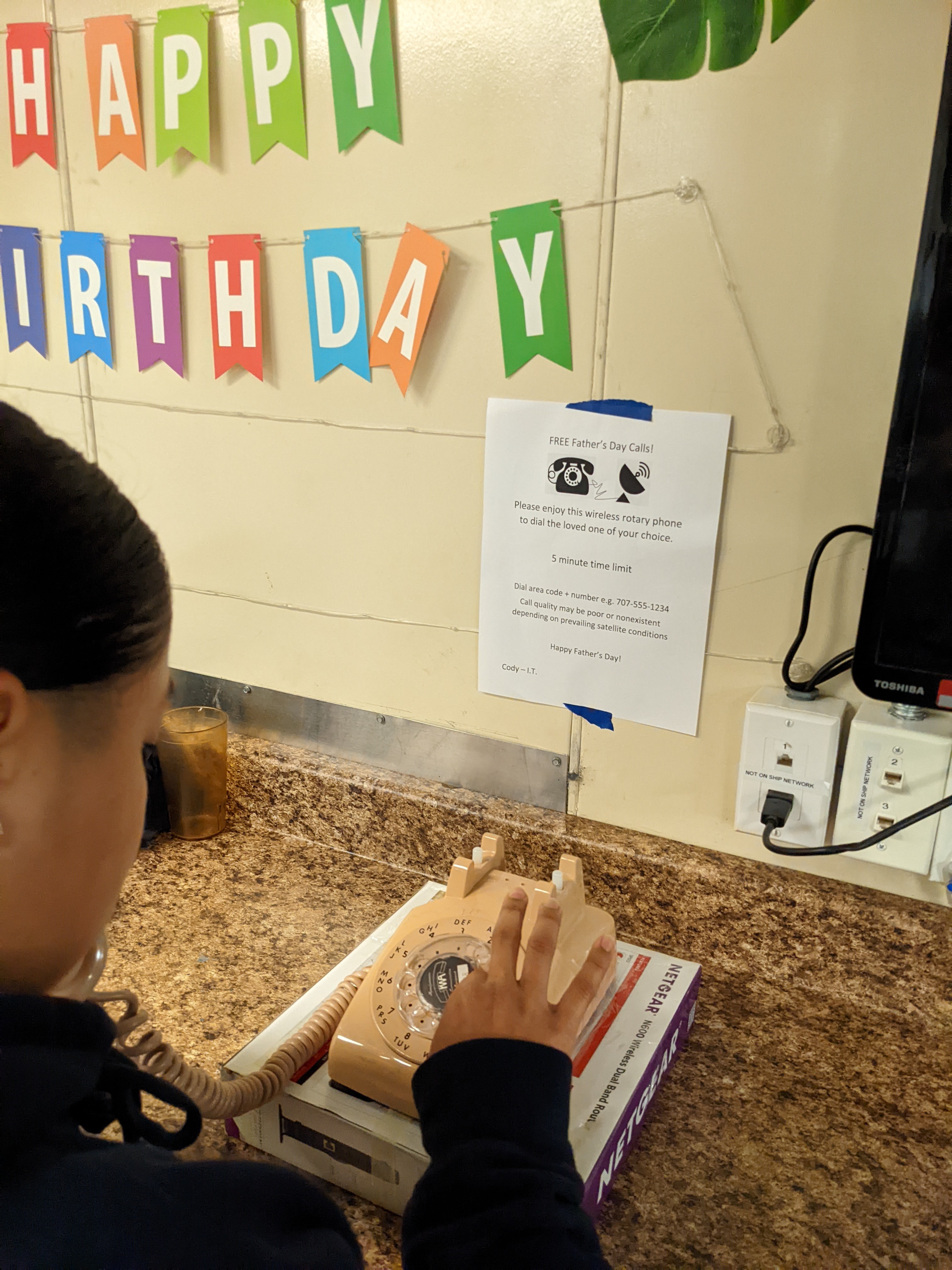 Apparently over 300 cadets lined up and were able to call home! Most didn't know how to use a rotary telephone so they developed a system to teach each other; they spent the majority of their 5 minutes on the phone trying to explain to their parents that they were calling from a wireless rotary phone. In the end, Cody paid a little under $5 for cadets to call home using his setup (we're already discussing with the team how we can replicate this for cruise next year)!
Cody wasn't sharing this to get credit or recognition, but was simply excited to share something he did that was technologically interesting and innovative in support of helping others. It's a perfect example of using technology thoughtfully and empathetically and exemplifies the power of technology; when we think of technology as a tool to extend and amplify meaningful human interactions, students' experiences will be all the better for it. We've been so fortunate to have Cody here at Cal Maritime; this story is just one example of how the cadets benefited from his thoughtfulness and technical skills, and we just had to share it with you.
ABOUT CAL MARITIME
Established in 1929, California State University Maritime Academy is the only degree-granting maritime academy on the West Coast. Located in Vallejo, California, the campus serves nearly 1,000 students and offers undergraduate degrees preparing students for careers in engineering, transportation, international relations, business, and global logistics. The new oceanography degree program launched in the fall of 2020. Cal Maritime also offers a master's degree in Transportation and Engineering Management, as well as a number of extended learning programs and courses.