SAN PEDRO, Calif. — In a weekend that began on Friday with a strong start in the first of three days of racing in San Pedro, California, and continued that night with hundreds of alumni and supporters convening at the Port of Los Angeles for the University's inaugural Regatta Rally, a weekend to remember ended on Sunday with Cal Maritime Sailing successfully defending its Harbor Cup championship against nine of the nation's top programs.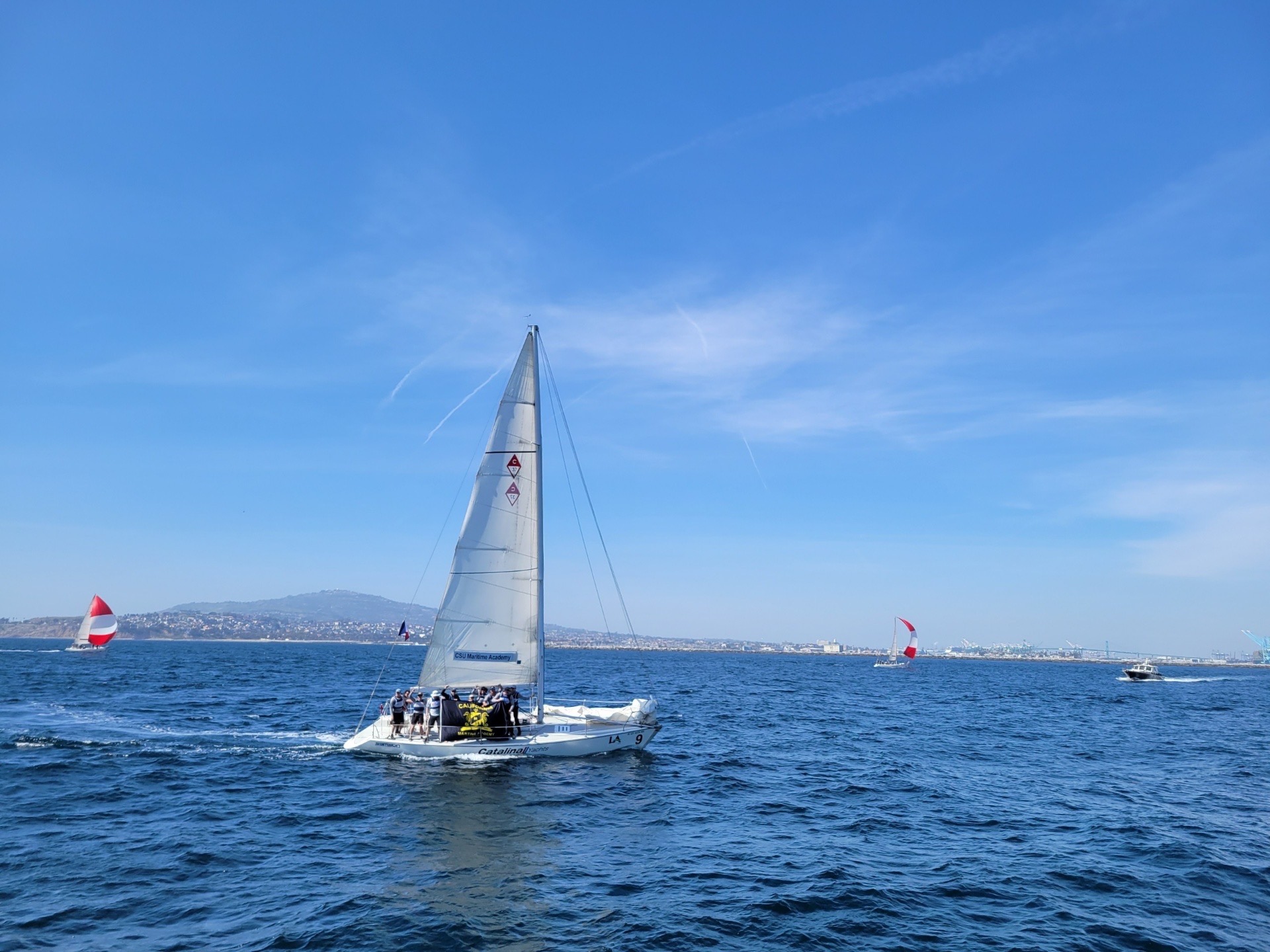 Cadet-athletes responsible for capturing the Keelhaulers' eighth championship, in the 15-year history of the event, were Kyle Collins, Jacob Fisker-Andersen, Brock Paquin, Maddy Rivera, Max Roth, Cooper Smith, Hailey Thompson, Django Tomlinson and Justin Zmina.
Friday's festivities began on a positive note for the Keelhaulers by winning the first of 10 races scheduled throughout the three-day competition. By earning bullets in the final pair of races that took place that afternoon, Cal Maritime entered Saturday's competition in first overall with an eight-point cushion over Navy, the Harbor Cup's 2018 winner.
Once it occupied first place, following the inaugural race of the weekend, the Keelhaulers simply did not allow anyone to knock itself off the top of the results board as they ended each day of competition in first place.
Shortly after the team returned to the docks Friday night, cadet-athletes joined an esteemed crowd of Cal Maritime alums, Foundation Board members, University supporters and fans of the sailing program in a packed ballroom that participated in the University's inaugural Regatta Rally.

Watch Kyle Collins' speech, which took place in front of hundreds of California State University Maritime Academy - Cal Maritime alums and supporters of Cal Maritime Keelhauler Athletics' sailing program, at the inaugural Harbor Cup Regatta Rally!
When the 10-team field returned to the water, the Keelhaulers experienced a rough start by finishing seventh in the first of four races slated for Saturday. However, they provided the perfect response to that hiccup as competition continued that afternoon.
Cal Maritime maintained its first-place standing by finishing third and second in the next two races before capping the day's action with another bullet. That result not only generated momentum for Cal Maritime entering the final pair of races on Sunday, it also extended the team's lead to seven points since Navy, which remained in second place through eight races, returned to the Los Angeles Yacht Club's docks after ending the day with a fifth-place race result... for the time being.
Shortly after everyone returned to the docks, race officials received a protest and counterprotest involving the seventh race.
Once arguments from participating boats were heard by the race committee, Cal Maritime remained in first place, but its cushion swelled to 13 points after Navy was disqualified in that specific race and fell to fifth.
When everything was settled, the Keelhaulers jumped from second to first in that seventh race to collect its fifth bullet within the Harbor Cup's first eight races. UC Santa Barbara climbed to second, followed by Rhode Island (third) and Hawai'i (fourth).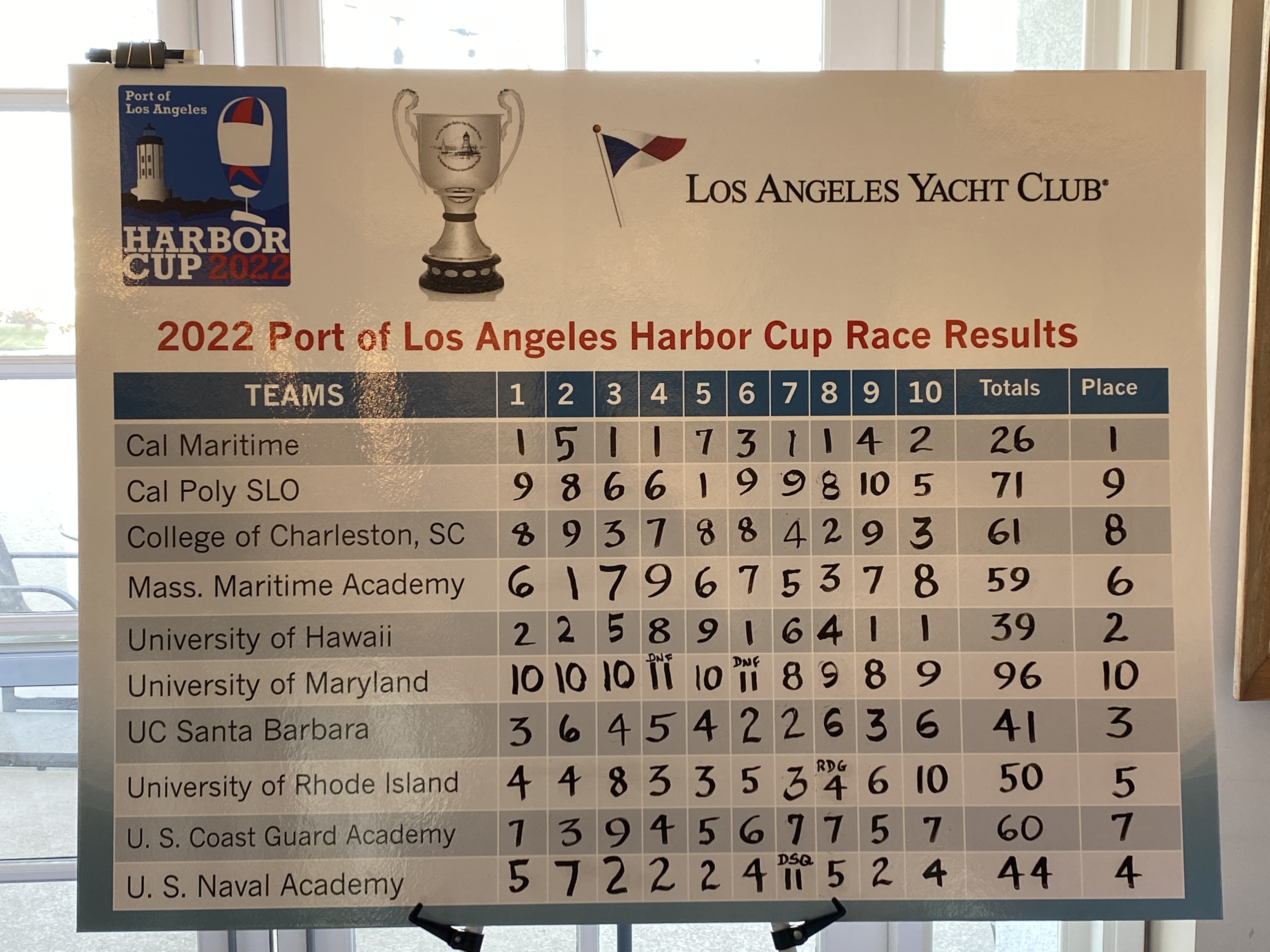 Even though Cal Maritime held an intimidating double-digit lead over the second-place Gauchos, last November's Kennedy Cup provided a subtle reminder to every Keelhauler.
In that regatta, Rhode Island held a commanding double-digit lead, but squandered that advantage on the final day of competition and saw Cal Maritime rocket up the results board to win that event and the prestigious opportunity to represent the United States in November's Student Yachting World Cup in France.
On Sunday, the Keelhaulers took full control of their situation by placing fourth and second in the Harbor Cup's final races to clinch their eighth title in the 14 races that took place at the Port of Los Angeles.
In 2021, the Harbor Cup was cancelled due to COVID.
LISTEN: Skipper Kyle Collins, Cal Maritime Sailing Team, LA Harbor Cup – Sail Sport Talk
2022 Port of Los Angeles Harbor Cup
March 11-13, 2022
San Pedro, Calif.
Port of Los Angeles
Hosted by the Los Angeles Yacht Club and Cal Maritime
Final Results
1. Cal Maritime – 26 points
2. Hawai'i - 39
3. UC Santa Barbara - 41
4. Navy - 44
5. Rhode Island - 50
6. Massachusetts Maritime - 59
7. U.S. Coast Guard - 60
8. College of Charleston - 61
9. Cal Poly - 71
10. Maryland - 96
Previous Harbor Cup Champions
2022: Cal Maritime
2021: Regatta canceled due to COVID-19
2020: Cal Maritime
2019: College of Charleston
2018: Navy
2017: Cal Maritime
2016: College of Charleston
2015: Cal Maritime
2014: Cal Maritime
2013: Cal Maritime
2012: Cal Maritime
2011: Cal Maritime
2010: USC
2009: Maine Maritime Academy
2008: Maine Maritime Academy
Read more about the sailing team's victory here
ABOUT CAL MARITIME
Established in 1929, California State University Maritime Academy is the only degree-granting maritime academy on the West Coast. Located in Vallejo, California, the campus serves nearly 1,000 students and offers undergraduate degrees preparing students for careers in engineering, transportation, international relations, business, and global logistics. The new oceanography degree program launched in the fall of 2020. Cal Maritime also offers a master's degree in Transportation and Engineering Management, as well as a number of extended learning programs and courses.