Marking a major milestone in a long-term goal of replacing the aging fleet of training vessels at five of the state maritime academies, the U.S. Department of Transportation's Maritime Administration held a keel laying ceremony Friday, December 10th at the Philadelphia Shipyard for the first vessel in the fleet. The new vessel, known as a National Security Multi-Mission Vessel (NSMV) has been designated for SUNY Maritime College with a 2023 completion. Cal Maritime's TS Golden Bear is expected to be replaced with its own NSMV late in the decade, the final vessel in the series, once funding is secured.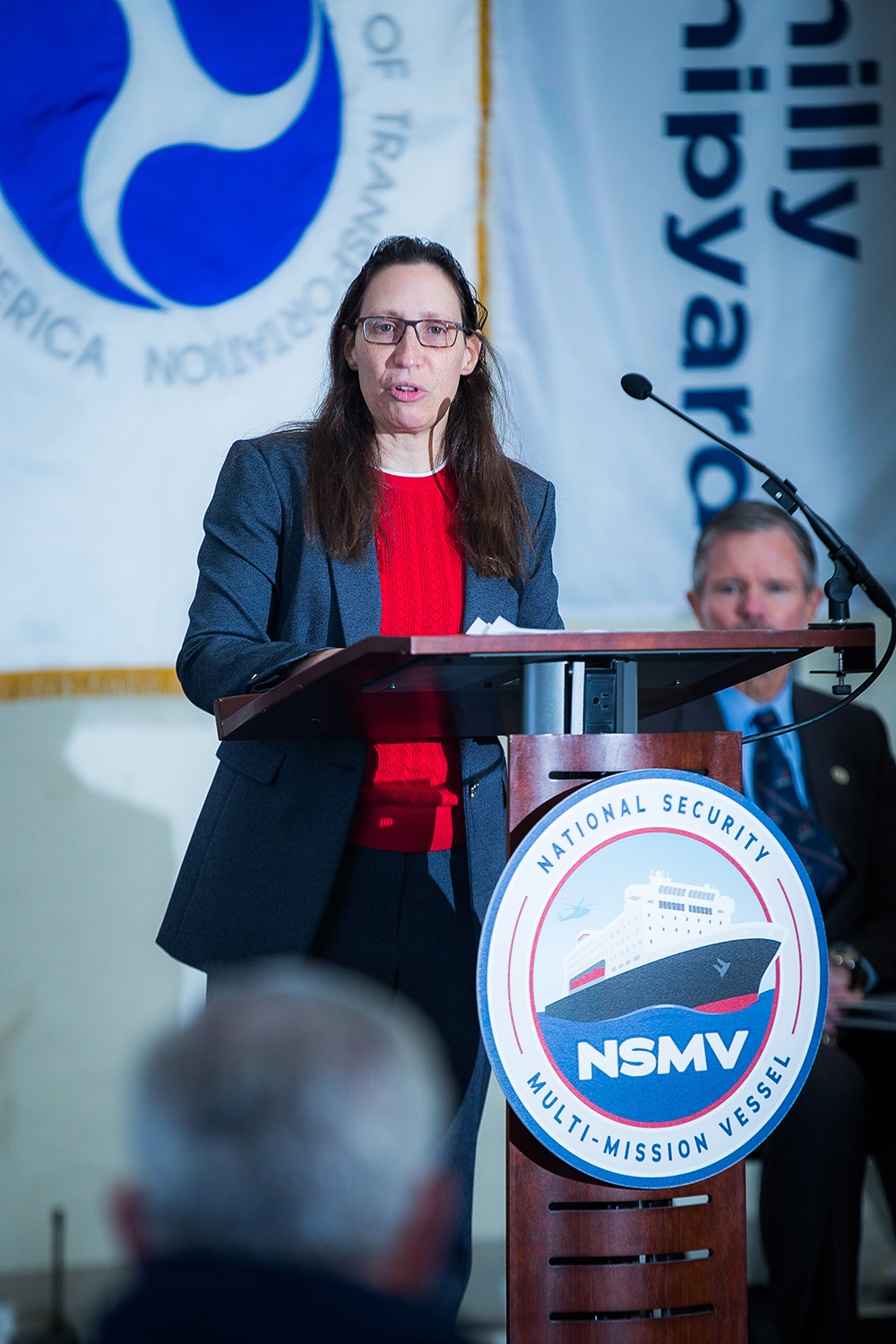 Lucinda Lessley, Acting MARAD
administrator at the keel-laying
event for NSMV 1, bound for
SUNY Maritime.
The new ships are designed to provide innovative training for future mariners as well as to support humanitarian assistance and disaster relief missions in times of need.
"Today's first NSMV keel laying is a critical milestone in an innovative effort that is producing state-of-the-art vessels in an American shipyard that will both train the next generation of American mariners and provide a new disaster response capability for the nation," said Acting Maritime Administrator Lucinda Lessley. "We commend everyone who is working hard to keep this effort on schedule and on budget, and we look forward to the final delivery of the first ship."
The keel laying is a ceremonial recognition in which the first grand block of the vessel is loaded into a building dock. Keel laying is believed to bring good luck to the ship during construction and to the captain, crew and cadets that will sail on the vessel. "As part of shipbuilding tradition, the keel laying ceremony invites good luck in the construction and life of a ship…," said Steinar Nerbovik, President and CEO of Philly Shipyard. "Today represents a momentous achievement in U.S. maritime education and a significant investment in the local economy and job creation," he added.
The NSMV will feature numerous instructional spaces, a full training bridge, and accommodations for up to 600 cadets to train in a first-rate maritime academic environment at sea. State maritime academies graduate more than half of all new officers each year—the merchant mariners who help keep cargoes and the economy moving. Many also support U.S. national security by crewing military sealift vessels. The ships are also designed to answer the nation's call when crisis hits.
Joining presidents of the state maritime academies for the ceremony in Philadelphia, Cal Maritime President Tom Cropper applauded the latest milestone in the NSMV program journey.
"It was a thrill to be on hand for this exciting and positive development, which will ultimately advance and modernize sea training capabilities enormously," he shared. "Cal Maritime will continue its mission to provide world-class training and education to future generations of mariners."
Congress has appropriated funding to replace aging training vessels at SUNY Maritime College, Massachusetts Maritime Academy, Maine Maritime Academy and Texas A&M Maritime Academy, respectively. The ships' fabricator, TOTE Services, retains an option for a fifth NSMV for Cal Maritime once additional funding is appropriated by Congress.
Watch the full keel-laying ceremony
ABOUT CAL MARITIME
Established in 1929, California State University Maritime Academy is the only degree-granting maritime academy on the West Coast. Located in Vallejo, California, the campus serves nearly 1,000 students and offers undergraduate degrees preparing students for careers in engineering, transportation, international relations, business, and global logistics. The new oceanography degree program launched in the fall of 2020. Cal Maritime also offers a master's degree in Transportation and Engineering Management, as well as a number of extended learning programs and courses.