On November 23rd, during an in-person ceremony live-streamed for parents, friends, and the community, eleven Cal Maritime midshipmen received their pins as part of their initiation into the Strategic Sealift Midshipman Program (SSMP).
Naval Officer LT David Telgen, who is the Assistant Officer-in-Charge for the Strategic Sealift Officer (SSO) program at Cal Maritime, opened the event. He explained that the pins the cadets were earning are evidence that the midshipmen have begun to learn and put Navy standards into practice.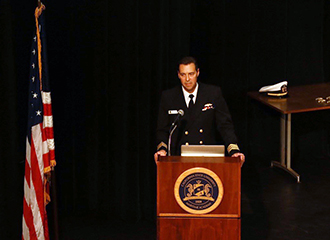 Commander Van Spanje, U.S. Navy Reserve
SSMP Detachment 71 welcomed Commander Van Spanje, U.S. Navy Reserve, to be a guest speaker the night's event. CDR Van Spanje is a Cal Maritime alumnus, who took part in SSMP and was commissioned as an SSO. CDR Van Spanje relected on the Navy's need for SSO's and the experience that they carry to support the maritime industry and logistics around the world.
SSO's serve the Navy by completing additional training, and being called up to support different units, all while working commercially in the civilian maritime industry. CDR Van Spanje stated: "It can be difficult to balance these two or three careers, however you have and will be well prepared by evidence of your attendance here today."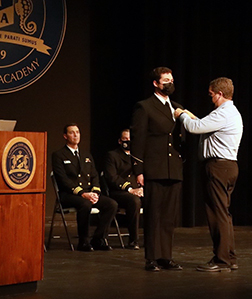 Zachary Crawford '24 (MET) receiving the pin from his father
MIDN Ethan Ho, who serves as Commanding Officer for SSMP Detachment 71 explained why pins are given to Midshipmen in the unit who pass their boards. "These Midshipmen have demonstrated that they have begun taking the necessary steps in becoming an officer by learning naval structure and tradition, as well as passing physical fitness assessments.
MIDN Crawford, who received his pin during the ceremony shared: "What I enjoy about being a part of SSMP is the leadership development opportunities and the personal pride we take in our unit. For me, the pin is an outward symbol of pride in the unit and represents my commitment to serving my country."
The cadets earning their SSO pins include:
3D Michael Murg MT, Class of 2024
2E Danny Gonzalez ME, Class of 2024
1D Brant Tanaka MT, Class of 2024
3D Nicholas Delaney MT, Class of 2024
1E Max Jones ME, Class of 2024
3D Kyle Hebert MT, Class of 2022
2D Mia Rathsack MT, Class of 2024
3D Donald Wenschhof MT, Class of 2024
4E Johnny Ferguson MET, Class of 2024
Also receiving their pin but was unable to attend was: 2D Timothy Colomey MT, Class of 2024
Upon successful completion of the program, the midshipmen will receive their full commission as an Ensign in the U.S. Navy Reserve when they graduate from Cal Maritime. SSOs are a small community of around 2,000 reservists that are civilian merchant mariners that sail for Military Sealift Command or commercially in the merchant fleet. They serve as subject matter experts in sealift, maritime operations, and logistics.
One of the core functions of the SSO program is to serve as the connection between the U.S. Navy and the U.S. Merchant Marine, having earned their U.S. Coast Guard license while also serving as naval reserve officers.
ABOUT CAL MARITIME
Established in 1929, California State University Maritime Academy is the only degree-granting maritime academy on the West Coast. Located in Vallejo, California, the campus serves nearly 1,000 students and offers undergraduate degrees preparing students for careers in engineering, transportation, international relations, business, and global logistics. The new oceanography degree program launched in the fall of 2020. Cal Maritime also offers a master's degree in Transportation and Engineering Management, as well as a number of extended learning programs and courses.