Letterhead and Email Signature
Letterhead
It's important to ensure that the Cal Maritime brand is preserved in all print materials, including departmental letterhead. When using Microsoft Word, use the Cal Maritime logo at the top middle.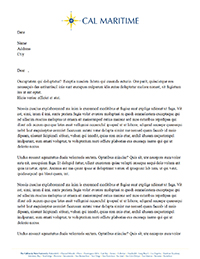 Download the letterhead template
Email Signature
Like the signature at the bottom of a letter, your email signature tells the recipient who is sending the e-mail. By consistently using your email signature, you visually connect the reader with Cal Maritime in online communications, enhancing the reach and the impact of your messaging.
Copy and paste the signature below into your Outlook or desktop email application.
Keema Keelhauler (they, them, theirs)
Senior Executive Director



California State University Maritime Academy
200 Maritime Academy Drive
Vallejo, CA 94590
In Windows Outlook 2007 and 2010:
Open a new message.
On the Message tab, in the Include group, click Signature, and then click Signatures.
On the E-mail Signature tab, click New.
Type a name for the signature, click OK.
In the Edit signature box, paste (Control+V) the signature you copied below.
In Mac Outlook 2011:
Go to the Outlook menu and select Preferences.
Select Signatures.
Click the plus icon (+) to add a new signature.
Double click the "Untitled" signature and rename it.
In the Signature box, paste (CMD+V) the signature you copied below.