Passport Navigate for Students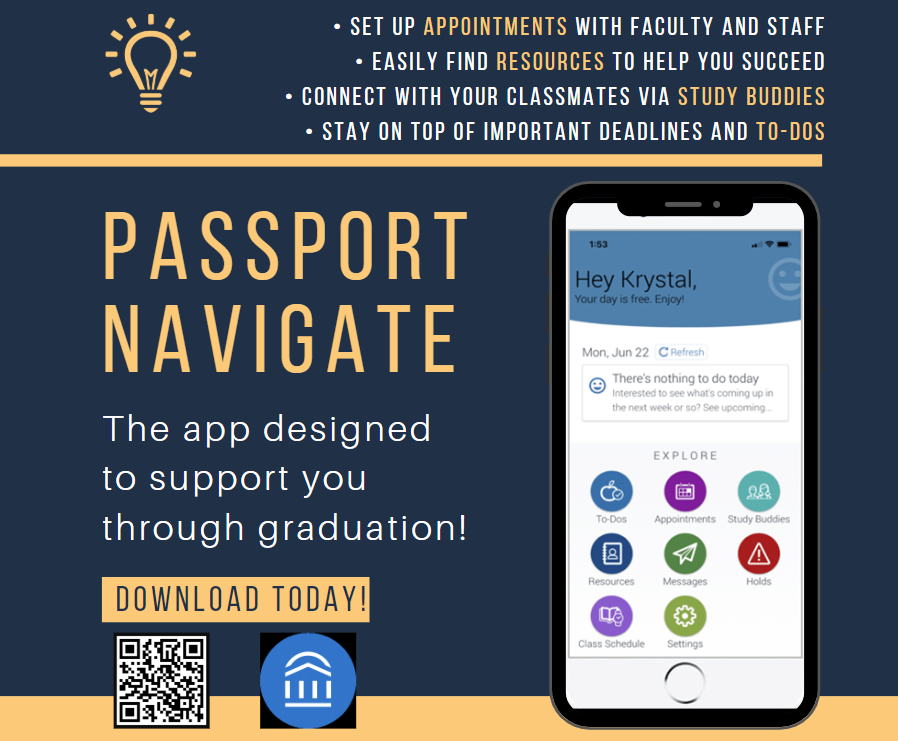 The Passport Navigate app helps to ensure you stay on track to graduation, and easily connects you with professors, staff and resources.
Can't download the app? No worries! Click here to view in desktop mode
With the Passport Navigate app, you can:
Set up appointments with faculty and staff.
Easily find resources to help you succeed.
Connect with your classmates via study buddies.
Stay on top of important deadlines and to-dos.
What's the difference between Passport Navigate and The Passport?
Passport Navigate is a "student only" app and is your resource center to everything! The Passport is a desktop platform that supports the Passport Navigate app and allows faculty and staff to send you meeting invites. Messages sent through The Passport will go to your student email as well.
---
How to Download the Passport Navigate App:
There are two ways to download:
Scan the below QR code with your smartphone's camera – this works on both iPhone and Android!

Visit your smart phone's app store and download the app titled "Navigate Student".
Once you've downloaded the app, search for "Cal Maritime" and use your Cal Maritime credentials to sign in.
---
*New* Study Buddies Feature:
View the instructions on how to use Study Buddies (PDF).
Learn how to connect with your classmates in each of your classes to set up a study buddy system. You can ask each other questions, arrange study hours together, and more!
How to Set Up Your Notifications:
View the notification settings instructions (PDF)
Learn how to set up notifications on your phone for the Passport Navigate app. You can set up text message or push notifications, whichever you prefer!