Alumni Reunion Weekend & Registration Information
Alumni, it's time to "Come Home!"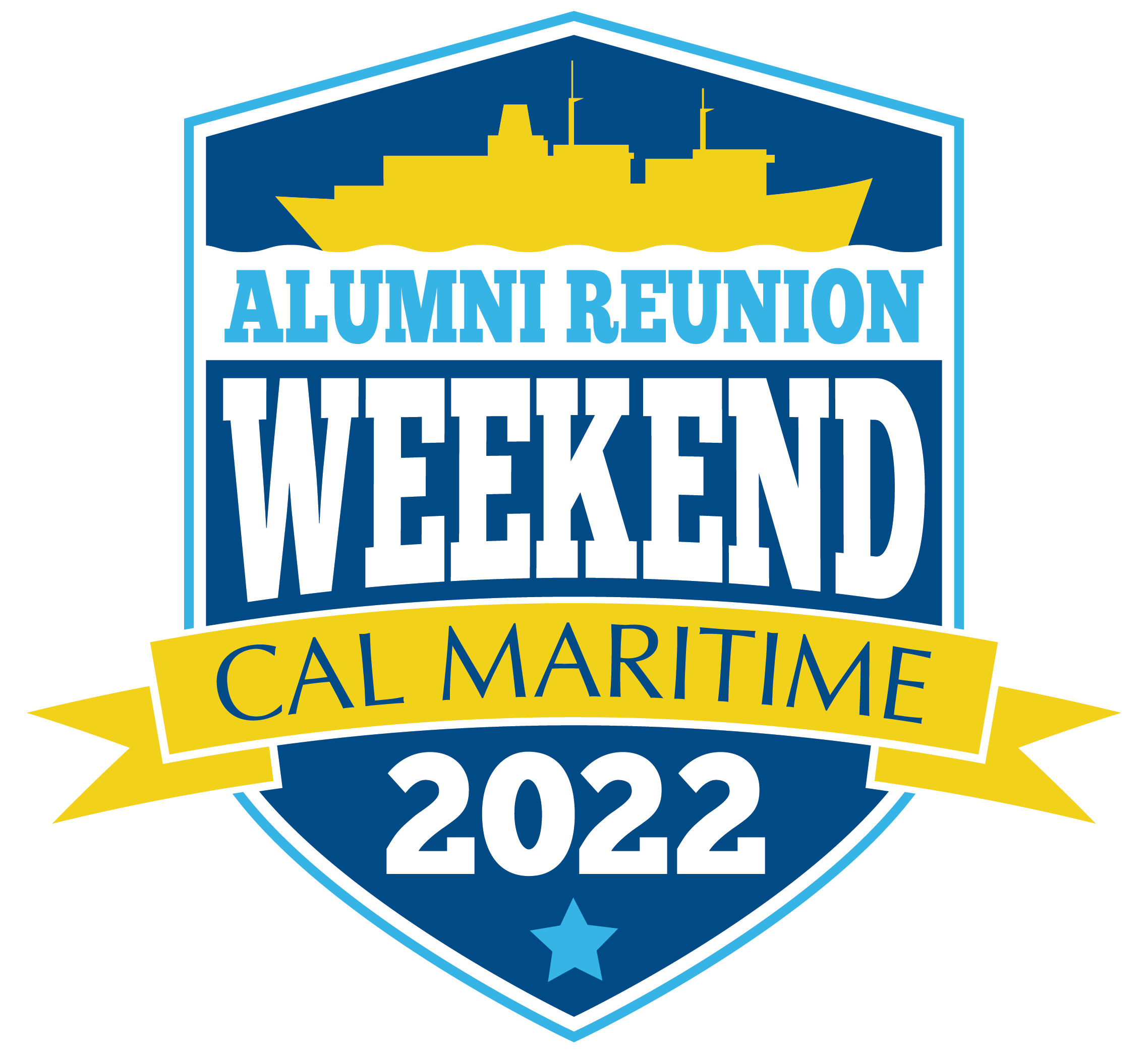 Cal Maritime Annual Alumni Reunion Weekend
October 14-15, 2022
We're celebrating the following classes:
1962 | 1967 | 1972 | 1977 | 1982 | 1987
1992 | 1997 | 2002 | 2007 | 2012 | 2017
...
Registration deadline: October 9
Schedule of Events
(New details included)
Friday, October 14
Golden Keelhauler Dinner ($65 per person)
Celebrating our 50th and 60th anniversary classes.
Any alumnus/a who is 50+ years out (1972 and earlier) are welcome.
Business & Cocktail Attire (Tie Optional)

REGISTRATION TO GOLDEN KEELHAULER DINNER
5:30 p.m. Cocktail and Hors d'oeuvre Reception
6:30 p.m. Sit-down Dinner
Compass Room | Cal Maritime Dining Center
Business or Cocktail Attire (Tie Optional)

Welcome Home!
Alumni Reunion Weekend Kick-Off Party "Pay-as-you-go"
All alumni are welcome!
From 4:30 p.m. until ???
Mare Island Coal Shed Brewery | 850 Nimitz Ave., Vallejo
All welcome even without registering.
REGISTRATION TO ALUMNI GATHERING @ MARE ISLAND COAL SHED
Saturday, October 15
"Sail-gating" (our version of tail-gating) ($20 per person)
New location: The Felton Alumni House | Upper Campus
REGISTRATION TO SAIL-GATING & BLOCK PARTY
10 a.m. Cal Maritime Men's Team vs. St. Katherine| Bodner Field
*11:30 a.m. "Sail-gating" begins at the Alumni House!
Hot Dog Bar and Snacks included | Beer & Wine available for purchase
12 p.m. Cal Maritime Women's Team vs. St. Katherine | Bodner Field
12:30 p.m. Campus Walking Tours highlighting the TS Golden Bear and
Mayo Hall renovation | Schedule TBD


Alumni Reunion Block Party ($55 per person)
3:30 p.m. Anniversary Class Receptions
Felton House Gardens & Mar Vista Backyard | Upper Campus
Hors d'oeuvres & No-Host Bar
4:30 p.m. Block Party
The Overlook | Upper Campus | Faculty Drive
Dinner & No-Host Bar
featuring
Cal Maritime's Cadet Band, Jay & The Demerits
Hotel Room Blocks Available


Courtyard by Marriott, Vallejo
Special Rate $129/night
DoubleTree Hilton, Napa/American Canyon
Special Rate $199/night
Not your class reunion? You are still welcome!
For more information, contact Terrie McNamara Cosgrove at
tcosgrove@csum.edu or (707) 654-1299.
Alumni Reunion Registrants
as of 9/20

Jerry & Carol Aspland
CAPT Doug & Anne Finley
Terry Purdom
Pete Rose
David Sutherland
Rich Watkins
Harold "Butch" & LindaWilliams
Dave Winter & Veronica Painter
CAPT Brent Young
Casey Cooper
Jim & Connie Eldridge
Steve Fedornak
Ronald Gerde
Peter Morway
Donald Porter
Larry & Karyn Pulley
Larry & Cynthia Pullin
Robert Pullin
Paul "Ted" & Kasey Reyburn
John Rodgers
Bruce Rowland
Captain Greg Turner
Don Whitecar & Cyndi Litzko
John Betz & Heidi Roberts
CAPT Matthew & Katherine Fenton
Clay & Agnieszka Petroff
Aberto Vega
StephenWashington
Chris Woodle
Jennifer Schmid & Thomas Gallinatti