Oliver Chen '21 is a busy guy. He's a senior, runs cross country, majors in mechanical engineering, and is in Air Force ROTC. Yet somehow, he finds many hours to devote to something that started as a hobby but has since grown into much more.
"I shot my first video on a hiking trip to Mammoth a couple years ago, just capturing fun times with friends," he explains. But after editing it together, he immediately realized he wanted to do more with the medium. "My commercial cruise was coming up and I thought 'dang' I have to record that experience because no one's ever seen it – not many people really know what Cal Maritime cadets do." At the same time, he started watching some of the work done by various videographers and settled on an "indie style" that he wanted to emulate, never actually taking a class on cinematography or editing.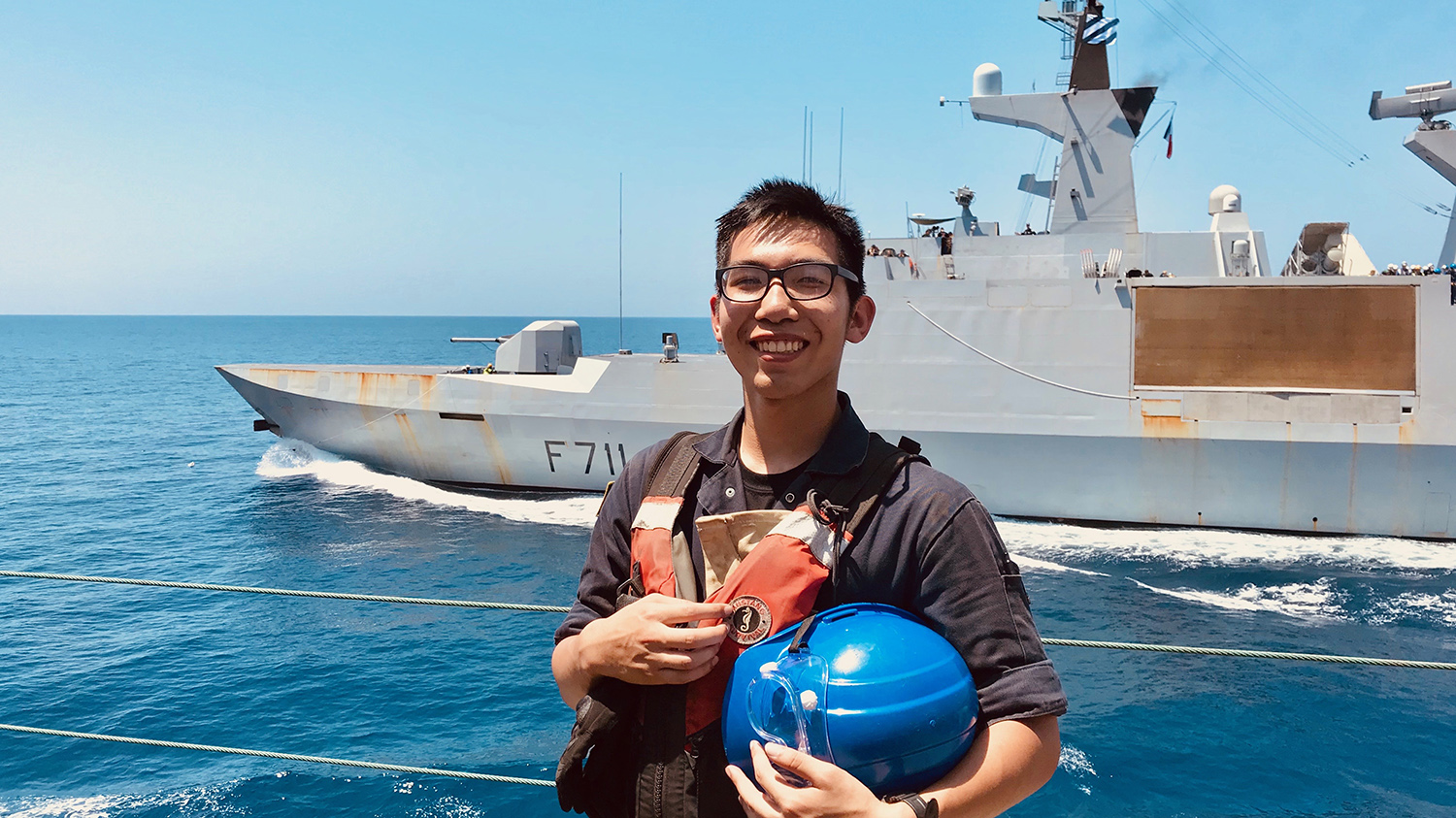 Chen aboard the USNS Big Horn on its cruise
to the Persian Gulf in the summer of 2019.
Armed with an iPhone and a GoPro, he boarded the USNS Big Horn in May of 2019 and headed to the Middle East to begin his commercial cruise requirements. He recorded some of the beauty, teamwork, isolation and even drama of that journey, which included being followed by the Iranians through the Strait of Hormuz. He captured soaring aerial images from the deck and tight fast-moving footage of his shipmates at work down below.
"It was a defining moment in my life," says Chen. "I got a cool mission, cool officers onboard to teach me and the cadets that were with me were amazing. They all made me feel very welcome and made sure I learned what I wanted to. In return I was able to document everything." Chen compiled the footage and set it to music in his own emerging indie-style.
Back on campus the moviemaking has continued, with some extra equipment. Adding a drone and his dad's DSLR camera to his arsenal, Chen shot videos of his cross country team, cut together an aerial day-in-the-life at Cal Maritime project, and recently trained his camera on orientation, where he caught the energy and experiences of new cadets as they got their first taste of life on Morrow Cove, including pulling oars in Monomoy boats and jumping off the dock to swim to shore. In the edit room he amped up the color and added compelling music. The result might just pique the interest of a high school student looking into colleges right now. These cadets are clearly living their education, not watching it on a computer screen.
Chen isn't switching careers or going to film school. He plans to head to the Air Force and has every intention of using his Cal Maritime education. But he's thrilled to be walking away with an extra skill – and one that has helped build campus pride and showcase what life at the academy is really like.
"Here we don't do what other students do in college. I just want people to understand that."
Written by Sarah Kidwell
ABOUT CAL MARITIME
Established in 1929, California State University Maritime Academy is the only degree-granting maritime academy on the West Coast. Located in Vallejo, California, the campus serves nearly 1,000 students and offers undergraduate degrees preparing students for careers in engineering, transportation, international relations, business, and global logistics. The new oceanography degree program launched in the fall of 2020. Cal Maritime also offers a master's degree in Transportation and Engineering Management, as well as a number of extended learning programs and courses.