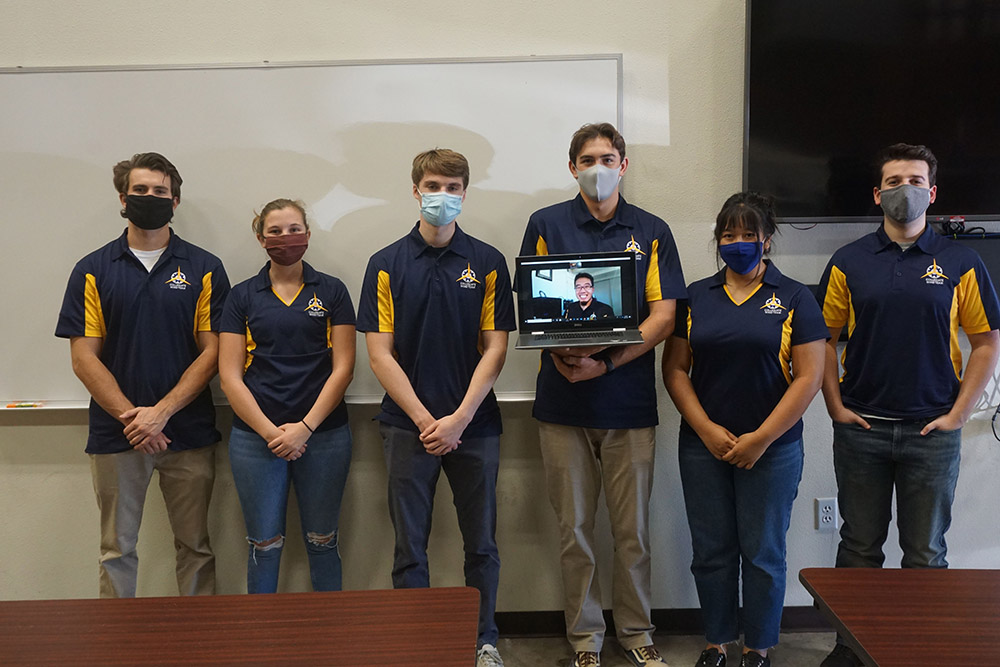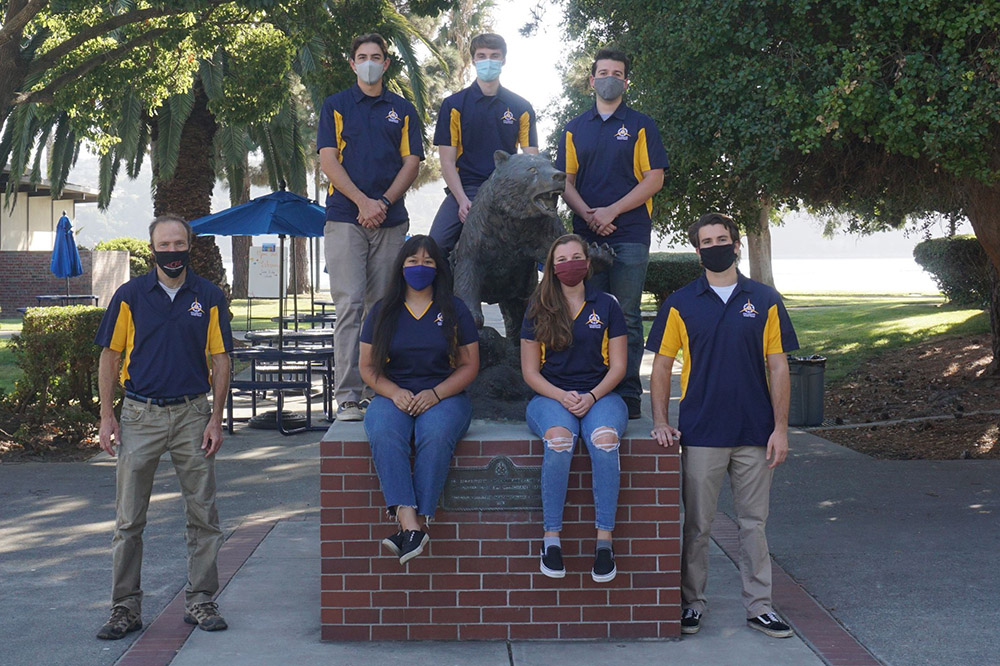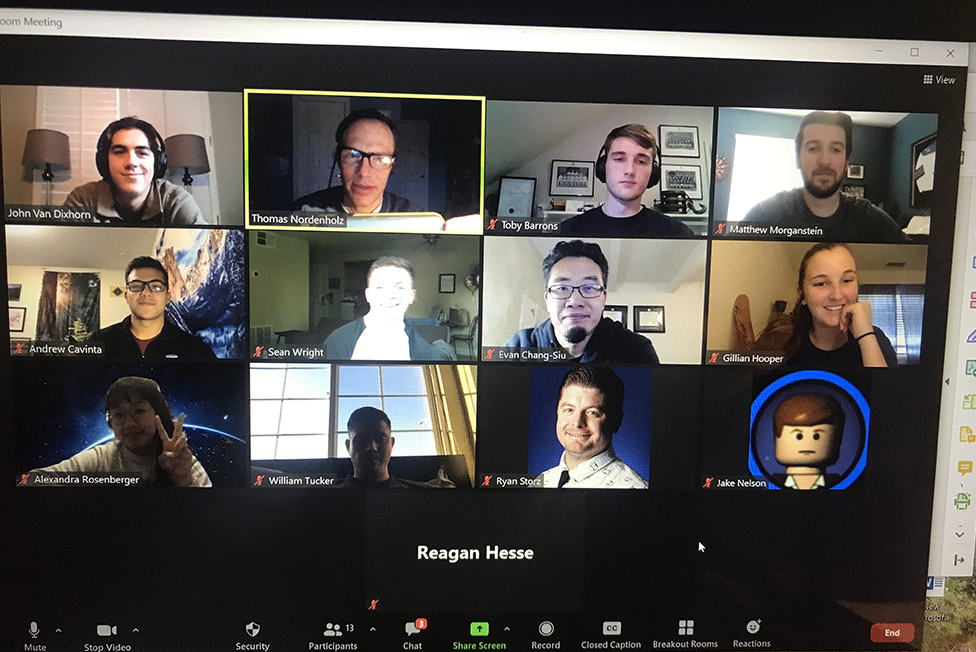 Team Bios
Jump to:
Turbine Design Team
John Van Dixhorn (ME, 2021): Turbine Design Team Lead, Generator, Electronics
jvandixhorn1904@csum.edu | (949) 212-6365 | Linked In
Growing up in Southern California, John Van Dixhorn graduated from San Clemente High School knowing that he would enjoy learning and developing skills towards having a career in Engineering. Entering Cal Maritime as a freshman, John knew this university would give him the opportunities towards a favorable career path. He started attending CWC meetings as early as sophomore year but really started applying his knowledge and skills to assist the 2020 team with some deliverables, specifically the dynamometer and root strength test. The part that interested him was how the whole project would include all of the core classes that engineering students must take. The most valuable aspect for being part of this competition is the Department of Energy's effort to teach everyone involved what the renewable energy industry looks like. Now as a Senior, John's hope after graduating would be to take his skills and knowledge gained from Cal Maritime and apply it to an ever changing and growing industry that has a real world impact. With that, John can't wait to enter a career in renewable energy generation.
Project Role: Being the Turbine Design Team Lead, John Van Dixhorn works closely with Dr. Nordenholz and all members of the team to ensure smooth operation of the skill building, design process, and manufacturing process. More specifically to the team though, he will be working on the generator and electronics side of the turbine system.
Toby Barrons: (ME, 2021) Generator Design
tbarrons6571@csum.edu | Linked In
Toby Barrons is a senior Mechanical Engineering student at Cal Maritime. He is from Orinda, CA where he graduated from Miramonte High School. Toby enrolled in the Mechanical Engineering program at Cal Maritime in order to apply his early interests in physics and mathematics to real world problems. His passion for developing solutions to engineering problems lead him to the Cal Maritime Collegiate Wind Competition Team in his junior year, where he worked with fellow student, John Van Dixhorn, to build a dynamometer test platform. Through the CWC Toby hopes to expand his knowledge of the renewable energy industry and further develop his skills in delivering finished products from theoretical designs.
Project Role: As a member of the generator design team Toby is responsible for designing and manufacturing a turbine generator to capture power created by blades across a wide range of wind speeds. Generator development requires rigorous application of electromagnetic theory, circuit design, and additive manufacturing techniques. In this capacity, Toby works closely with John Van Dixhorn, the Turbine Design Lead, and the projects Electronics Adviser, Dr. Evan Chang-Siu.
Reagan Hesse: Mechanical Design, Electronics
rhesse0094@csum.edu | LinkedIn
Reagan Hesse is a senior Mechanical Engineering student at Cal Maritime. He is from La Crescenta, CA and graduated from Crescenta Valley High School in 2017. He applied to Cal Maritime for the unique hands-on learning program. His passion for renewable energy and creating a more sustainable future led him to the Wind Team at Cal Maritime. Through the CWC, Reagan hopes to learn more about renewable energy and develop his engineering skills.
Project Role: Reagan works as part of the mechanical and electronics teams. For the mechanical team, Reagan works with Matthew Morganstein to design, analyze, and manufacture the mechanical components of the wind turbine. As part of the electrical team, Reagan works to design the electrical system and create control code to produce the optimal power output for the generator.
Gillian Hooper (ME, 2021): Blade Design
Gillian Hooper is a senior Mechanical Engineer at Cal Maritime. Growing up in Southern California she graduated from High Tech High North County. She was drawn to Cal Maritime due to the hands-on learning opportunities and small class sizes. She chose to pursue Mechanical Engineering for the wide range of career opportunities. During her junior year Gillian discovered the Cal Maritime Wind Team and quickly joined in order to learn more about the field of renewable energy. Through this team she hopes to gain valuable skills and information to open job opportunities post-graduation.
Matthew Morganstein (ME, 2021): Mechanical Design
mmorganstein3815@csum.edu | Linked In

Matthew Morganstein is a senior Mechanical Engineering student at the California State University Maritime Academy. He is from Discovery Bay, CA and graduated in 2017 from Liberty High School in Brentwood, CA. Ever since he was little, Matthew was always curious about why things functioned the way they did and how design related to function. This fueled his interest in engineering. Matthew chose to pursue his degree with CMA because he was interested in the small class sizes and hands-on opportunities. Being an Eagle Scout, Matthew has a strong passion for preserving the environment through the use of clean, renewable energy. Joining the CWC team was a perfect way for Matthew to earn fun and valuable hands-on experience in designing machines that contributed to his passion. He enjoys the blend of theoretical and practical knowledge that this opportunity presents and is very excited to see what comes from this journey.
Project Role: As a member of the mechanical design team, Matthew works very closely with his partner Reagan Hesse in designing and manufacturing the variable pitch mechanism, passive yaw system, and nacelle. Together with Cal Maritime's head machinist Mr. Long, Matthew will be manually machining and using a CNC to produce the aluminum components of the wind turbine.
Alex Rosenberger: Blade Design
Arosenberger5167@csum.edu | Linked In
Alex Rosenberger is a senior Mechanical Engineering student at Cal Maritime. She is from Roseville, CA and enrolled in Cal Maritime after graduating from Del Oro High School in 2017. As a freshman, Alex was very excited about the hands-on curriculum offered as Cal Maritime and was drawn to the CWC team due to its connection with the Department of Energy. During her junior year, Alex worked under the senior design team to learn the basic concepts behind the development of a wind turbine under the specifications of the CWC competition. Alex hopes to learn more about renewable energy and how to use her ME degree to improve energy efficiency and sustainability after graduation.
Project Role: Alex is a member of the Blades team and will analyze, design, and manufacture the wind turbine blades for the competition which involves an extensive knowledge, and application, of fluids and aerodynamics. She is working closely with Blades Team Member Gillian Hooper as well as PI Dr. Nordenholz in the development and production of the turbine blades.
Project Development Team
Andrew Cavinta (GSMA, 2022) Policy Lead
acavinta6201@csum.edu | Linked In
And
rew Cavinta is a junior Global Studies and Maritime affairs student from Humboldt, CA. Andrew originally joined to learn more about the renewable energy industry but has found a passion for learning about the policy and environmental regulations needed to get wind farms successfully sited. He hopes to make many professional connections while being a part of the collegiate wind competition as well as learning as much as he can in software such as Openwind and Arc-GIS.
Bowen Fei (FET, 2022), Siting
William Tucker (GSMA, 2022), Policy
WTucker7706@csum.edu | Linked In
This is William's first year on the Wind Team, but he looks forward to working with other members of the Project Development Team to excel during the competition and to learn more about the field of renewable energy. During his time at Cal Maritime, William has found a passion for international law as well as environmental policy. Upon graduation, William wishes to serve in the United States Military, and then start a career in the renewable energy field.
Sean Wright (IBL, 2021)
swright5713@csum.edu
Sean Wright is a senior at Cal Maritime studying International Business and Logistics. After graduation he would like to pursue supply chain management or project development in wind energy. He wants to be part of the clean energy movement and decrease our dependence on fossil fuels. Sean considers it his "life's mission to be part of the solution because life is too short for more problems ... pursuing a career in green energy is on the right side of history" He is a happy member of Cal Maritime's Collegiate Wind Energy Team.
Faculty Bios
Principal Investigator: Dr. Thomas Nordenholz (Mechanical Engineering)
tnordenholz@csum.edu | (707)654-1114 | Linked In
D
r. Nordenholz has been a Cal Maritime ME faculty member for 22 years. He has taught courses mostly in the mechanics area (statics, dynamics, mechanics of materials, vibrations, fluid mechanics, and material/mechanical laboratory). He has also developed and teaches lecture and lab courses in energy engineering including theory, experiments, and issues with wind. He has conducted DOE-funded research on the design of a large scale offshore wind turbine rotor. Dr. Nordenholz has been the PI and engineering faculty advisor for the CWC each year since its inaugural year in 2014.
Project Role: Dr. Nordenholz is the Principal Investigator and lead faculty advisor for the Cal Maritime Team. In addition, he manages and advises the Turbine Design sub-team in the design, fabrication, and testing of the test turbine.
Co Investigator: Ryan Storz (Engineering Technology)
Background: Ryan Storz is a Cal Maritime alumnus who graduated with a Bachelor of Science degree in Facilities Engineering Technology in 2007 and a Master's degree in Engineering Management in 2013. He worked in the cogeneration and hydrocarbon processing industries as a professional and is currently focused on zero emission microgrid solutions. Since joining Cal Maritime in fall of 2014, he has taught courses in management, HVAC, power engineering, boilers, and turbines. He also teaches energy tariff courses for PG&E and works with the Stone Edge Farm microgrid project to understand regulatory and funding opportunities supporting zero emission microgrids, including the use of hydrogen as an energy storage strategy. He is currently working on a CA Air Resource Board (CARB) Tier IV feasibility study for harbor craft vessels that will be used by CARB to create both policy and financial tools to reduce carbon emissions.
Project Role: Professor Storz manages and advises the Project Development sub-team.
Electronics Adviser: Dr. Evan Chang-Siu (Engineering Technology)
echangsiu@csum.edu | (707)654-1155 | Linked In
Dr. Chang-Siu, an ME graduate from the MSC lab and CiBER at UC Berkeley in 2013, has been a faculty member in the Engineering Technology Department at Cal Maritime since 2014. He has been teaching courses in electrical circuits, electrical motors and machinery, and electronics. Dr. Chang-Siu's courses involve significant design and fabrication projects in motors and electronics and he has lots of experience with fabrication and testing of electronic and electromechanical components. He is also spearheading the effort to create and fund a Maker Space on the campus.
Project Role: Dr. Chang-Siu advises the Turbine Design sub-team on the design, fabrication, and testing of the electronics for the test turbine.
Business and Finance Advisor: Dr. Christine Isakson (International Business and Logistics)
Background: Dr. Isakson is a Cal Maritime alumna (BS in Marine Transportation, 2001), has a Ph.D. in Economics and Management (Copenhagen Business School, 2013) and an MBA with a concentration in Finance, and holds a USCG license to sail as Second Mate. She was also a Postdoctoral Fellow at Stanford in the Graduate School of Business. She has taught courses at the graduate and undergraduate level in innovation, leadership, strategy, business, economics, and various maritime related areas. Her research focuses on social mechanisms related to innovation in organizations and ecosystems, nascent entrepreneurship and worker mobility and she is currently engaged in collaborative research in Denmark and with the USCG Project.
Project Role: Dr. Isakson advises the Project Development sub-team on financial analysis and planning.