Environmentally Responsible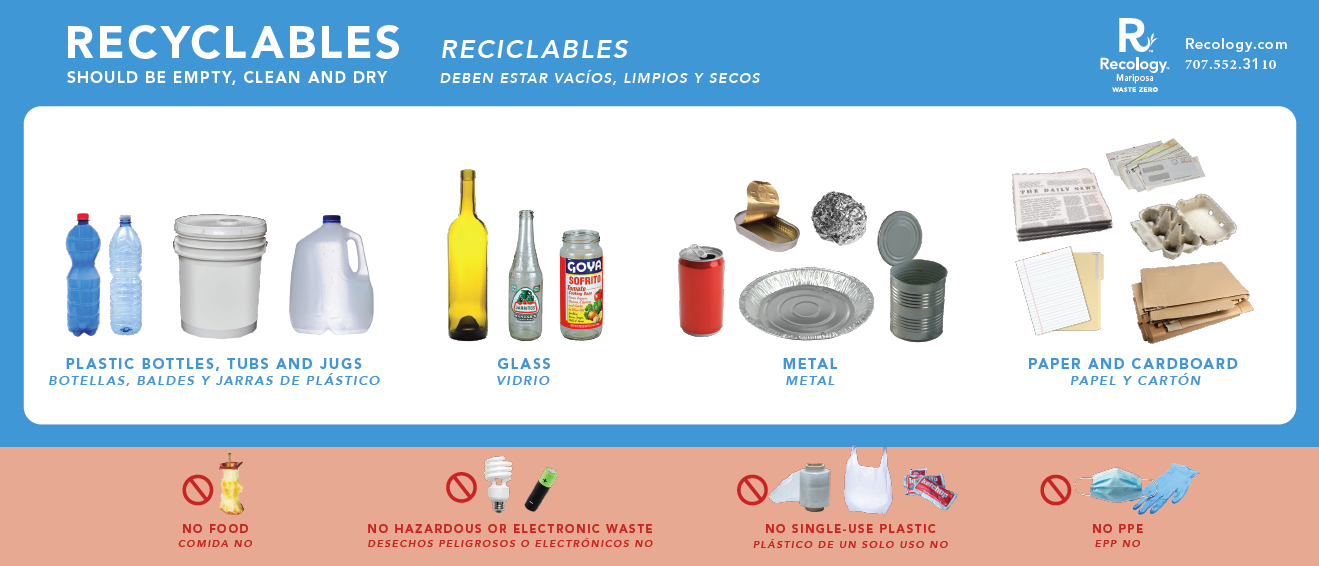 Recycle
What do I recycle?
Plastic bottles, tubs, and jugs; glass; metal; paper and cardboard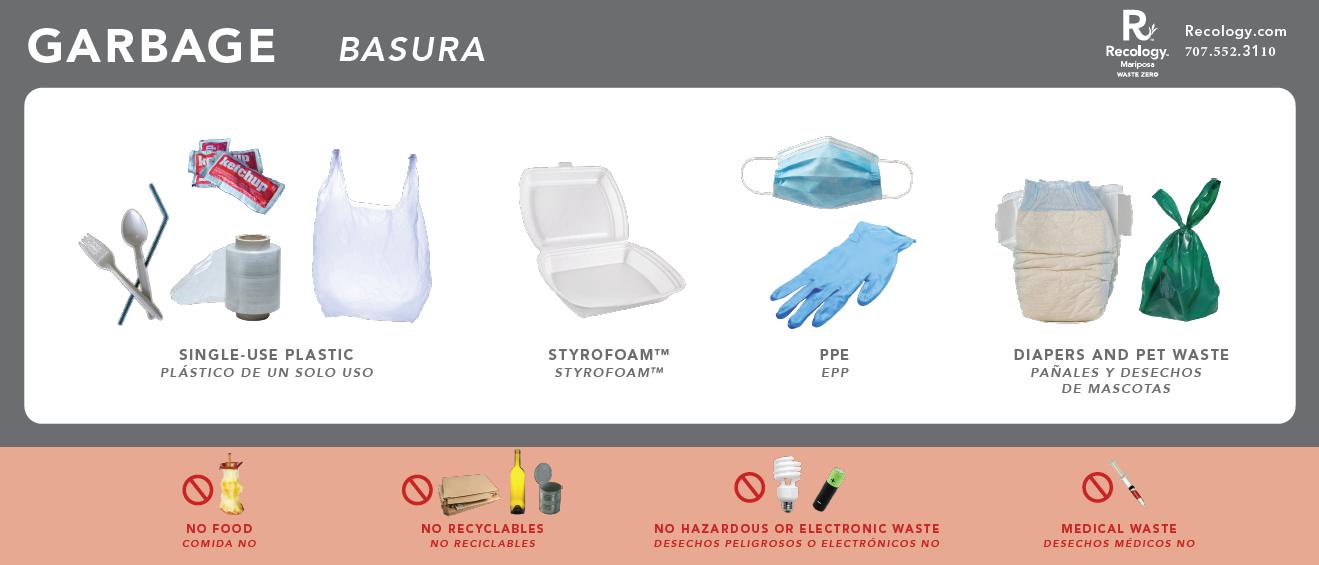 Garbage
What is trash?
Single-use plastic; styrofoam; ppe; diapers and pet waste

Organics
What is the green "organics" bin?
Food scraps; uncoated soiled paper; yard waste
This law now requires that Jurisdictions and Public Agencies (state agency, special district, or school district) are required to:
Post on its internet website all current franchise agreements between contract solid waste and recycling haulers and the jurisdiction or the public agency.

Provide to CalRecycle the direct electronic link to those posted franchise agreements.
Create and maintain a publicly accessible database that provides direct electronic links to the posted franchise agreements.

To fulfill these requirements. CalRecycle is asking that Jurisdictions and Public Agencies send an email with "AB 2048" included in the subject line with direct links to the franchise agreements in the message body to LAMD@CalRecycle.ca.gov
Establishes methane reduction targets for California. California SB 1383 is a bill that sets goals to reduce disposal of organic waste in landfills, including edible food. The bill's purpose is to reduce greenhouse gas emissions, such as methane, and address food insecurity in California. To address the environmental and health concerns of surplus edible food, this law requires that, statewide,20% of edible food that would otherwise be disposed of in the garbage or compost be recovered for human consumption by 2025. This includes single use packaging (take out containers).
| | | |
| --- | --- | --- |
| Facilities Services | Special | EH&S Regulated Wastes |
Cardboard

Bicycle Parts

Aerosol Cans

Laboratory Sharps

Compost

Asbestos Waste

Medicine/ Personal sharps

Construction and demolition

Laboratory Containers

Batteries

Oil

Container Recycling

Biohazardous or Medical Waste

Paint

Greenwaste

Plastic Bags

Cell phones

Photographic Chemicals

Paper

Compressed Gas cylinders

Radioactive Waste

Refuse

Scrap metal

Electronic Waste

Refridgerators/ Appliances

styrofoam

Empty Containers

Regulated Lights

woodwaste

Hazardous Waste

Treated WoodWaste

Inkjet, Laserjet & toner cartridges
Our Four Stream System Includes:

Other waste products include:

Organic Materials for Compost

Container Recycling

Paper Recycling

Refuse

Cardboard

Construction & Demolition

Greenwaste

WoodWaste

Styrofoam
Public Surplus is an online auction service specifically created for public agencies selling surplus property. A budget surplus means there is additional money to spend at the end of the accounting period, which can be used to pay off debts or be reinvested in other projects or returned to the public in the form of price or tax cuts.
Repurposing for public surplus

Inventory of items

Capture different content of what we can credit for

Old retail items

Manual process

Consolidate, count, identify pieces

Process will divert waste from campus to those in need
Event takes place beginning and the end of semesters
Campus departments get some storage containers delivered for the first couple / last couple weeks of the semester for people to donate their 'unwanted but use-able' items (NOT TRASH!)

Put in these containers, then donate to a variety of community partners.

It takes quite a bit of coordination, but with enough time to plan, it can be successful AND earth-friendly!
Where does my waste stream end up?
Please separate your cardboard from your other recyclable waste. When recycling please flatten and place in the appropriate cardboard recycling receptacles.
Cardboard boxes are recycled in cardboard only bins placed throughout campus. Please break down and flatten all boxes.
Paperboard is also accepted in cardboard only bins. Paperboard consists of: cereal boxes, cracker boxes, shoes boxes, egg cartons, paper towel rolls, toilet paper rolls, beer or soda packs, manila and bleached file folders, boxes from toothpaste or other like packaging.
Amazon cardboard boxes are also accepted. Please remove bubble wrap before recycling.
Not Accepted: waxed cardboard boxes, juice boxes or soy containers, and any paperboard products that are contaminated with food, such as pizza should be placed in the trash.
Please compost your organic/biodegradable waste. Compostable materials include food waste/scraps, compostable food containers and cups, food/beverage soiled paper towels and paper products.
Items that should not be composted include aluminum cans and/or bottles and any items with and include plastic.
Please be sure to recycle your used bottles and cans in container recycling dumpsters/bins!
Items that may be placed in container recycling include aluminum containers & trays, glass bottles, plastic bottles and jugs. Plastic bags may be placed in container recycling, however, please be sure to recycle these in bulk by placing in a plastic bag tied at the top (bag your bags!)
Please avoid placing aspetic containers - milk cartons, juice boxes, aerosol cans, household glassware, and loose plastic bags in container recycling.
Greenwaste service includes the following materials and the like grass clippings, leaves and pine needles, prunings, branches, plants and brush, prunings and branches, and untreated wood chips, bark, sawdust.
For disposal of waste with a higher wood content, contact facilities, or see Woodwaste/Tree Removal
Please separate your clean, white paper from other paper products. White paper may be disposed of in designated indoor white paper bins usually placed near printers or copy machines.
Acceptable white paper products include: printed/unprinted white ledger paper, uncoated/unprinted white sheets, computer printouts, copy machine printouts, white tablet paper (lined or unlined), and white letterhead.
Please only place clean paper items into general paper recycling, which may be disposed of in mixed office paper containers.
Acceptable items include: plain white envelopes, newspapers, paper bags, card paper (cereal boxes, index cards, etc.), folders, guillotined books (spine / cover removed).
Please do not place any food/beverage or soiled paper products into general paper recycling.
Due to the naturally wooded character of the campus, non-construction woodwaste service is necessary and provided by the Grounds Services department. Included in this material feedstock are: tree trunks of any size, large branches and limbs from harvested trees, and all those natural materials that are outside the greenwaste definition.
Contact
Rizal "Riz" Verder Aliga
Coordinator for Energy and Sustainability
raliga@csum.edu
707-654-1416
FAX: (707) 654-1171

SIGN UP FOR THE REVAMPED SUSTAINABILITY PROGRAM
the following guide provides info on general recycling information