Mayo Hall Renovation and Addition Project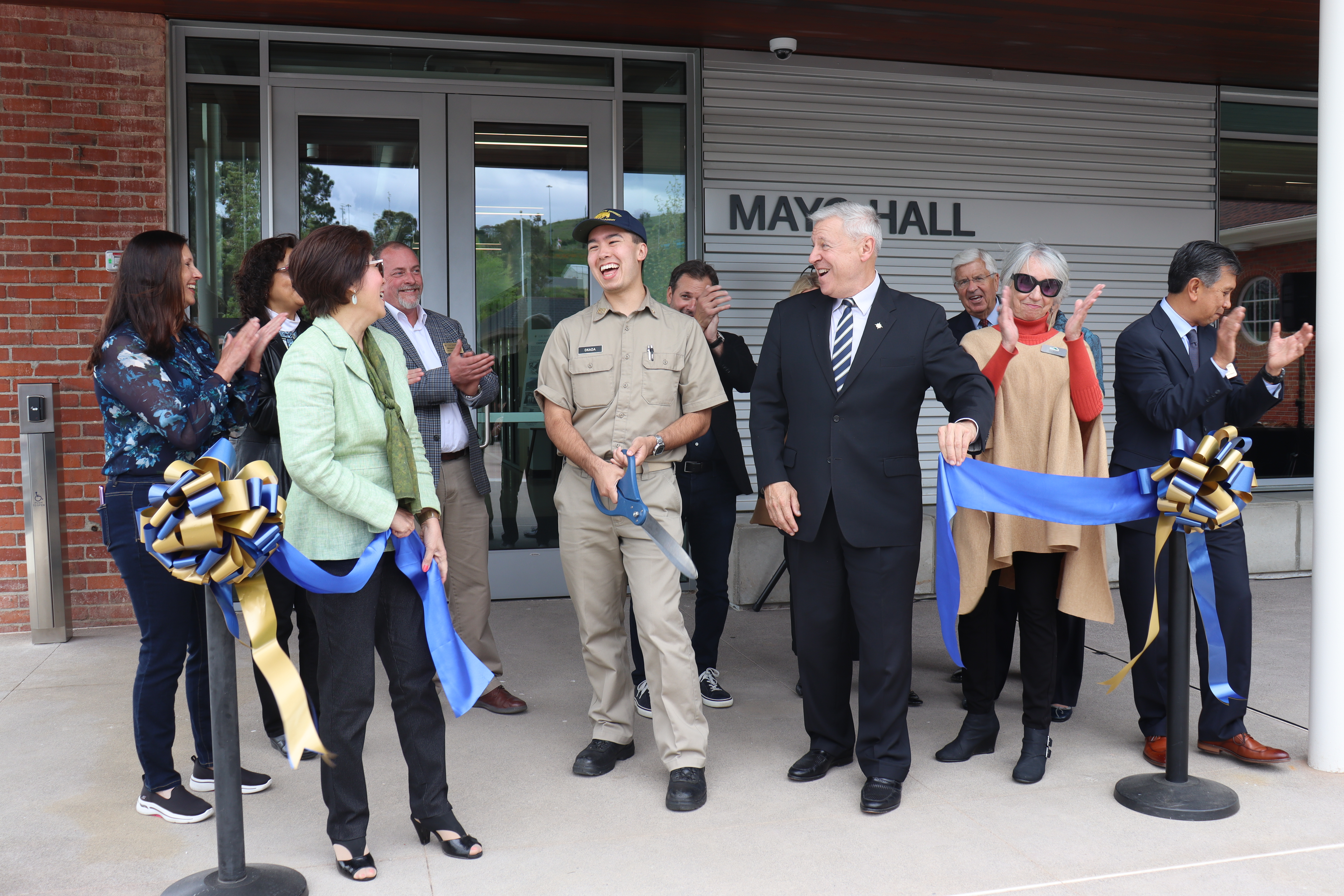 Mayo Hall is open for business in fall 2023!
Take a peek inside your wonderful new space to enjoy: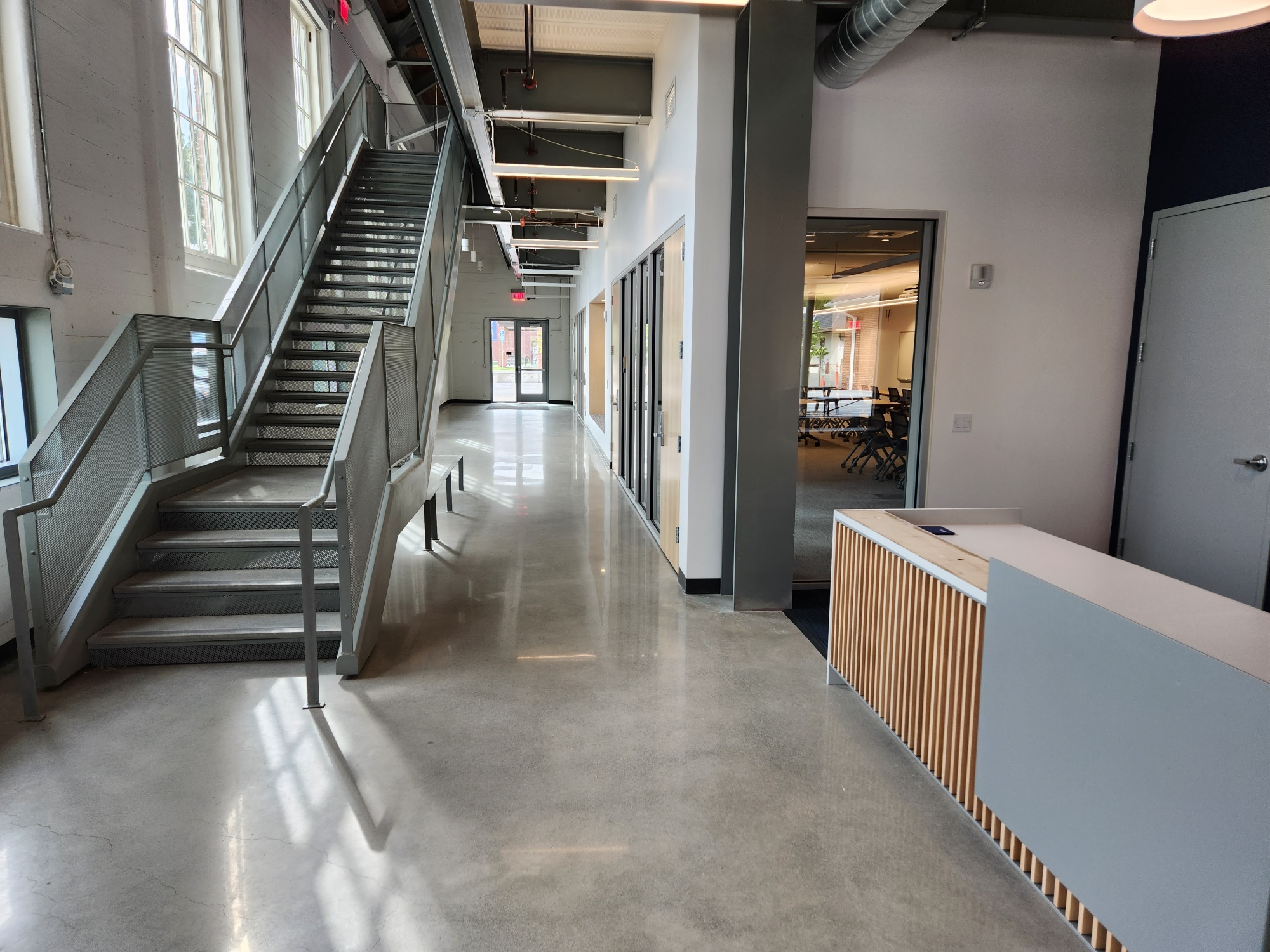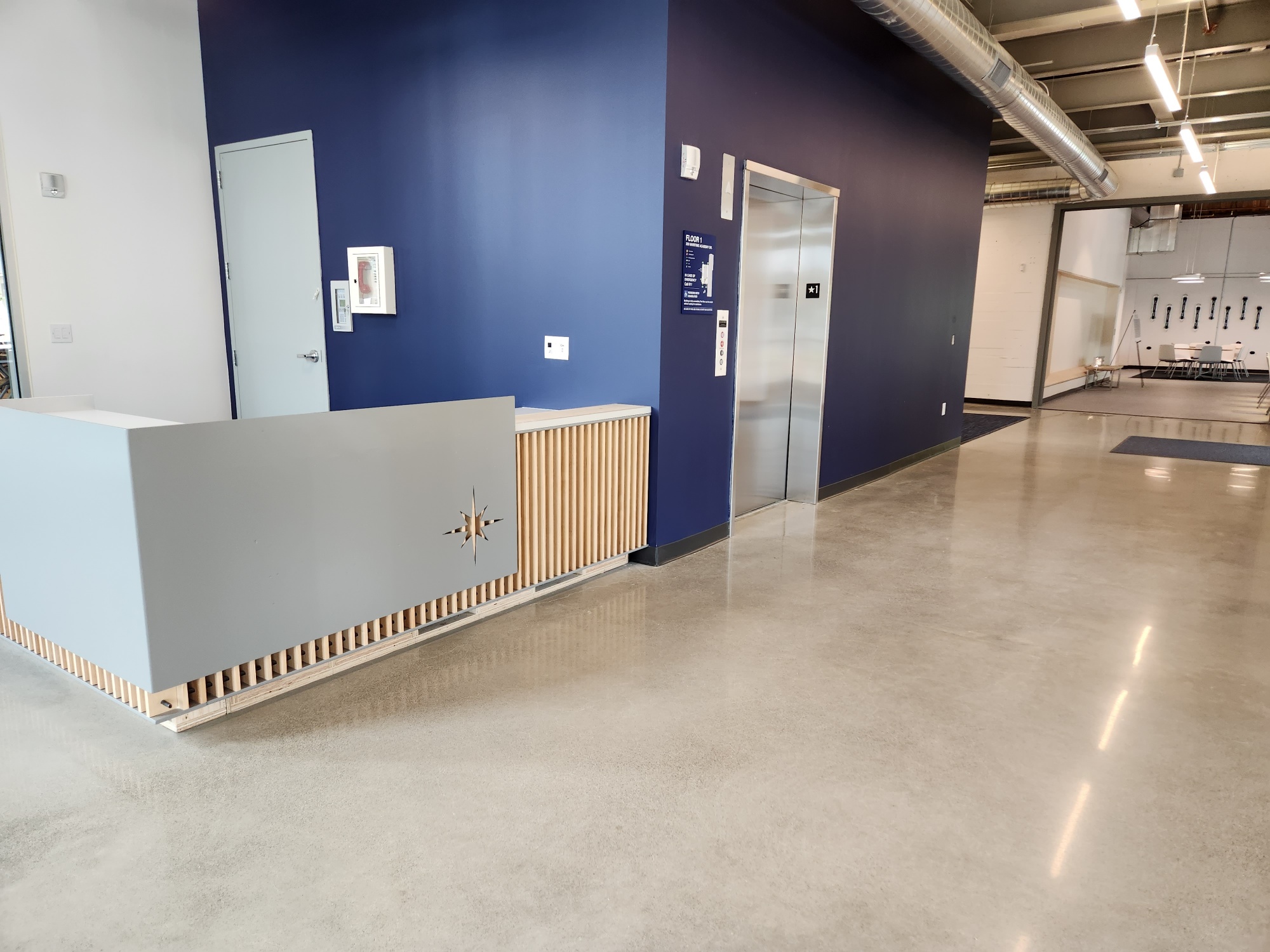 Lobby and reception area.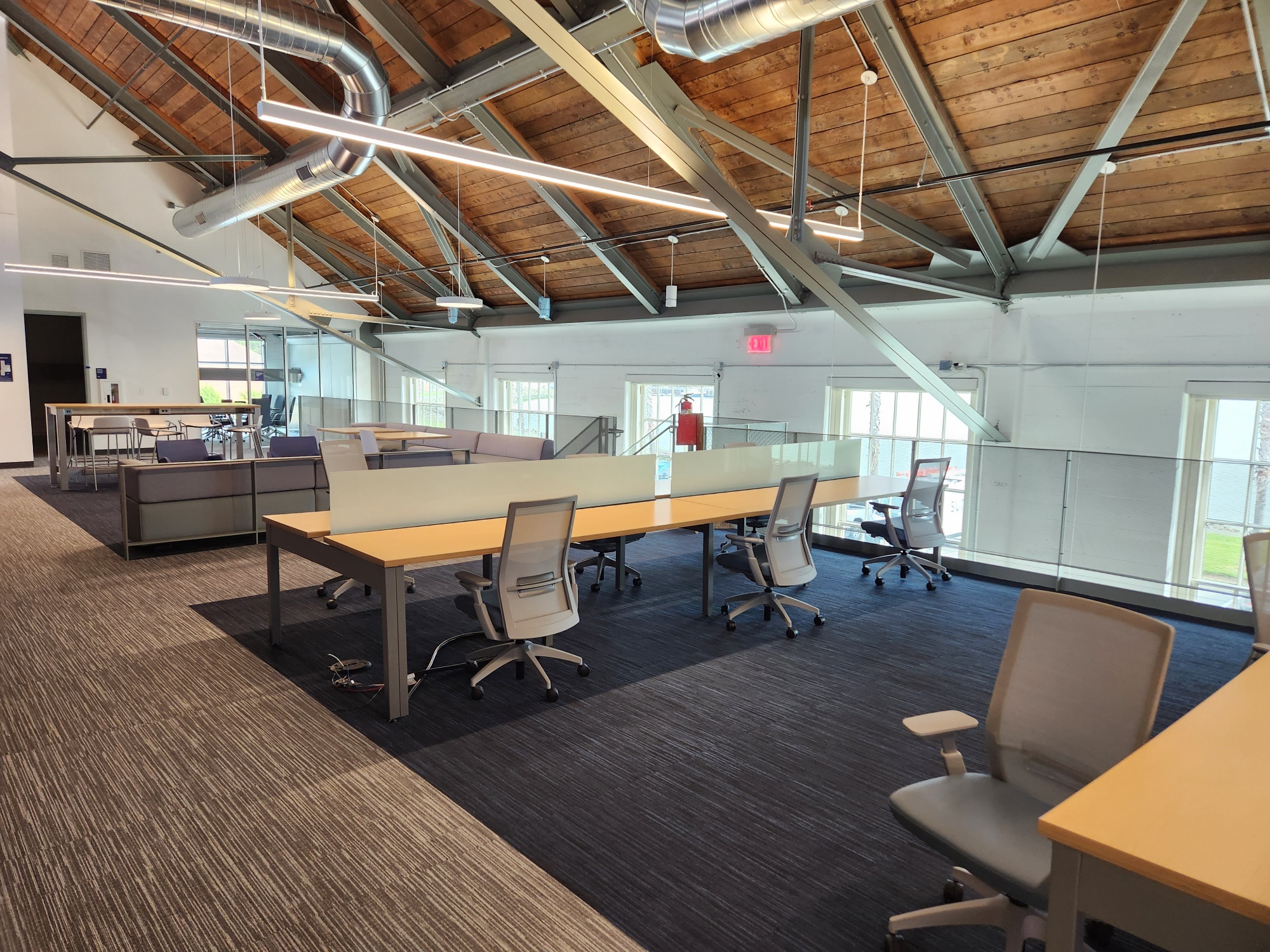 Upstairs quiet study area. The wood ceiling is from the original basketball gym!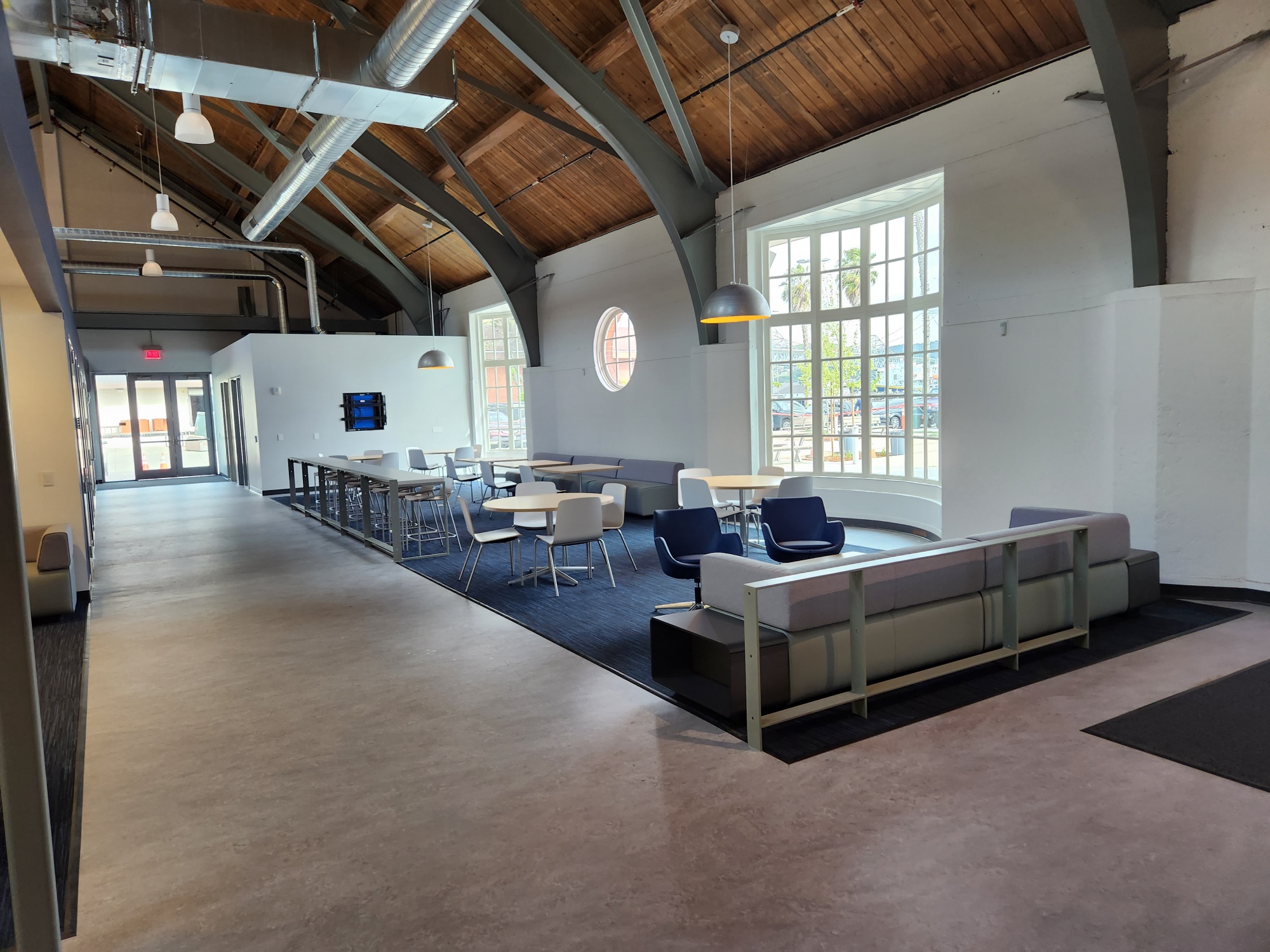 Relaxing lounge with waterfront views through the historic windows.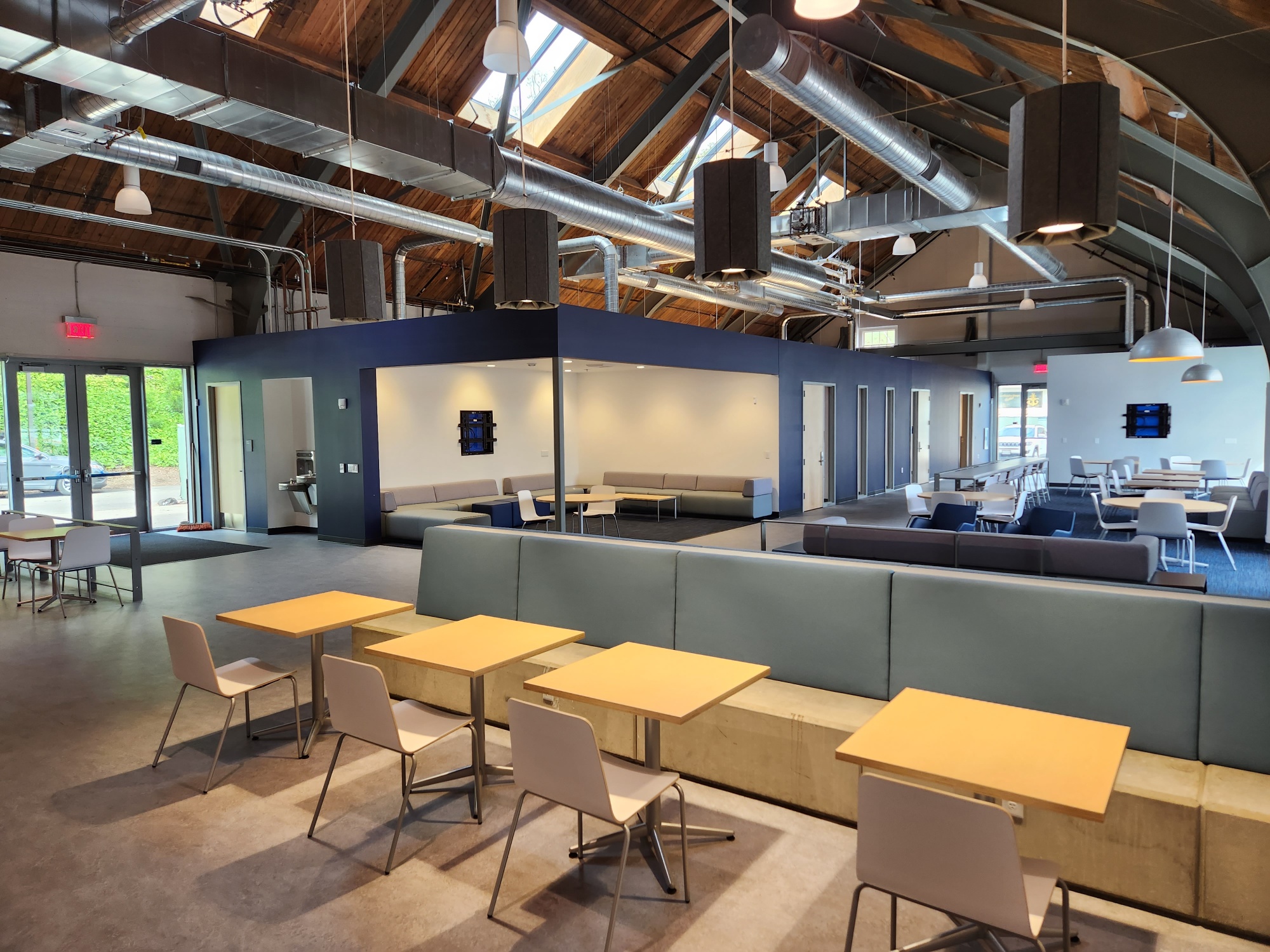 Can you believe this building once housed a swimming pool?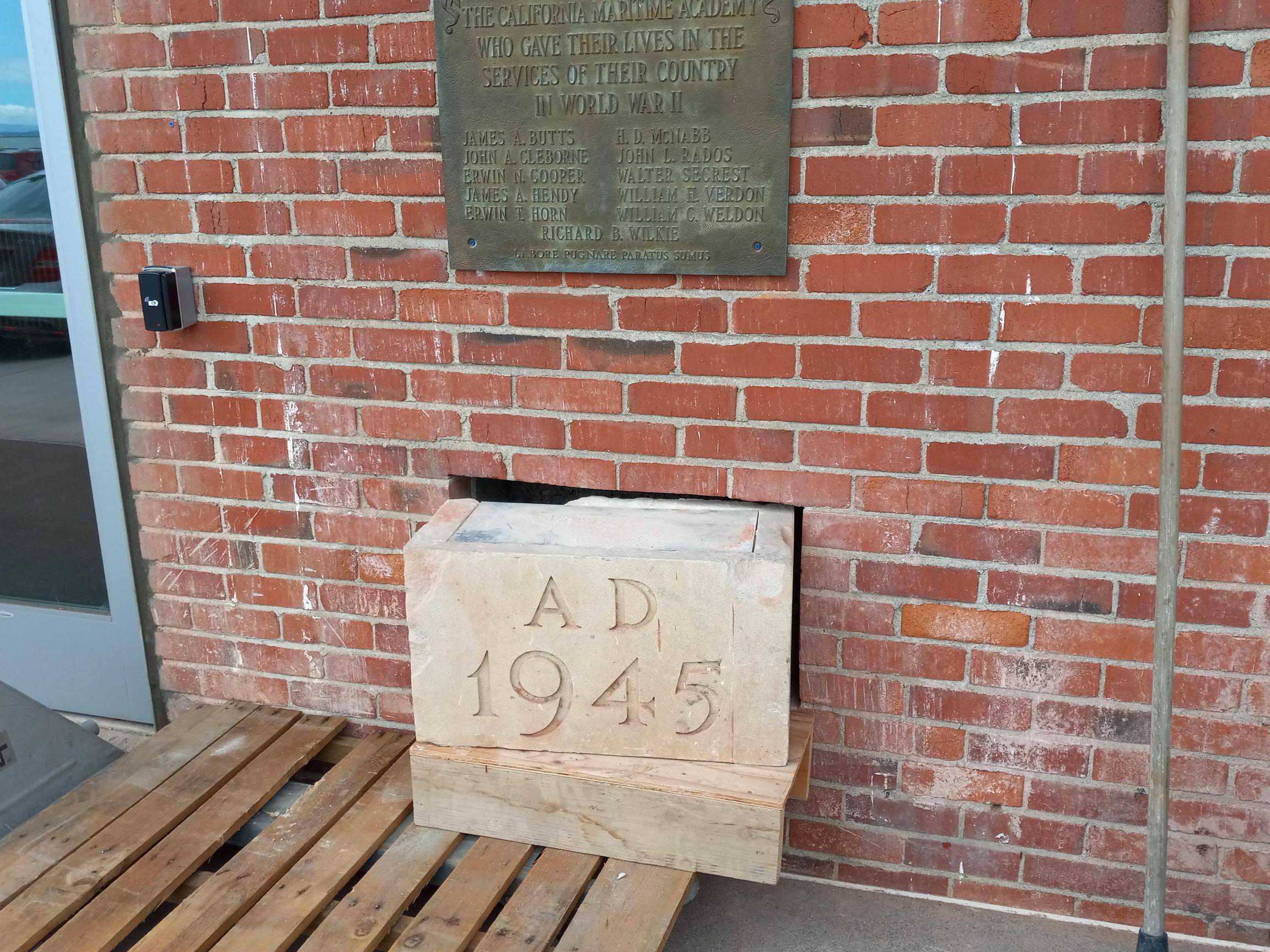 What's inside the cornerstone?
The building's cornerstone contained relics and artifacts placed inside when the building was constructed in 1945. These relics will be placed on display inside the beautiful wooden casework in Mayo Hall's new lobby.
New modern artifacts were placed inside the cornerstone, which will be sealed and re-set into the building for future generations to enjoy.
Mayo Hall History
Mayo Hall is one of the most historic and beloved buildings on the Cal Maritime's campus. It was constructed in 1945 as Memorial Gymnasium to honor our Cadets who perished in World War II defending our country.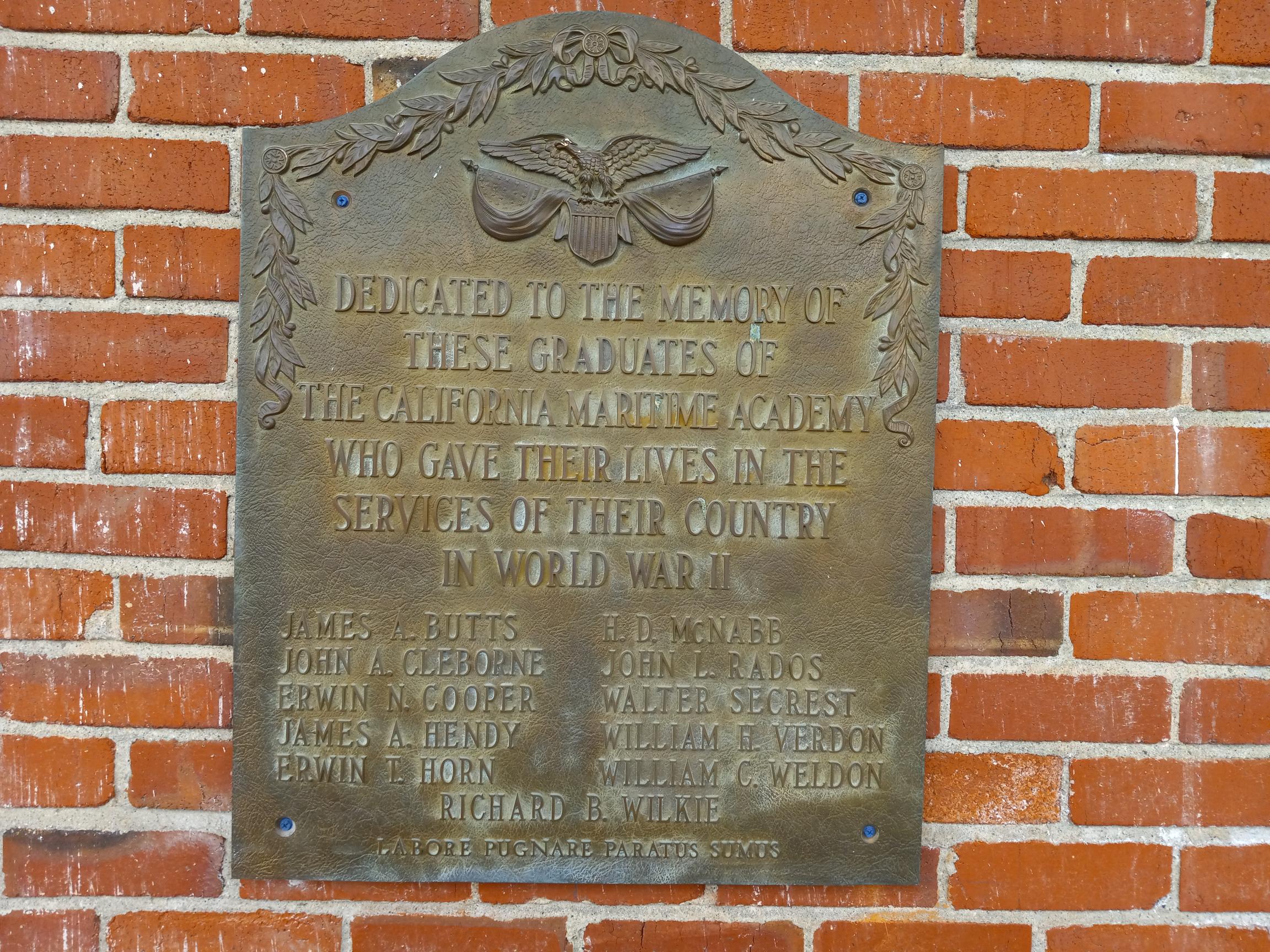 It served as Cal Maritime's main athletics and recreation facility for over 50 years. In 2014, the majority of Cal Maritime's indoor athletics and recreation activities transitioned to Cal Maritime's new Physical Education and Aquatics Center (PEAC). This created an opportunity to reposition, repurpose, and renovate Mayo Hall. The Mayo Hall Renovation & Addition Project combines new functions, programming, and architecture with the historic fabric of the existing building — breathing new life into Mayo Hall and creating a new campus center for student life and services.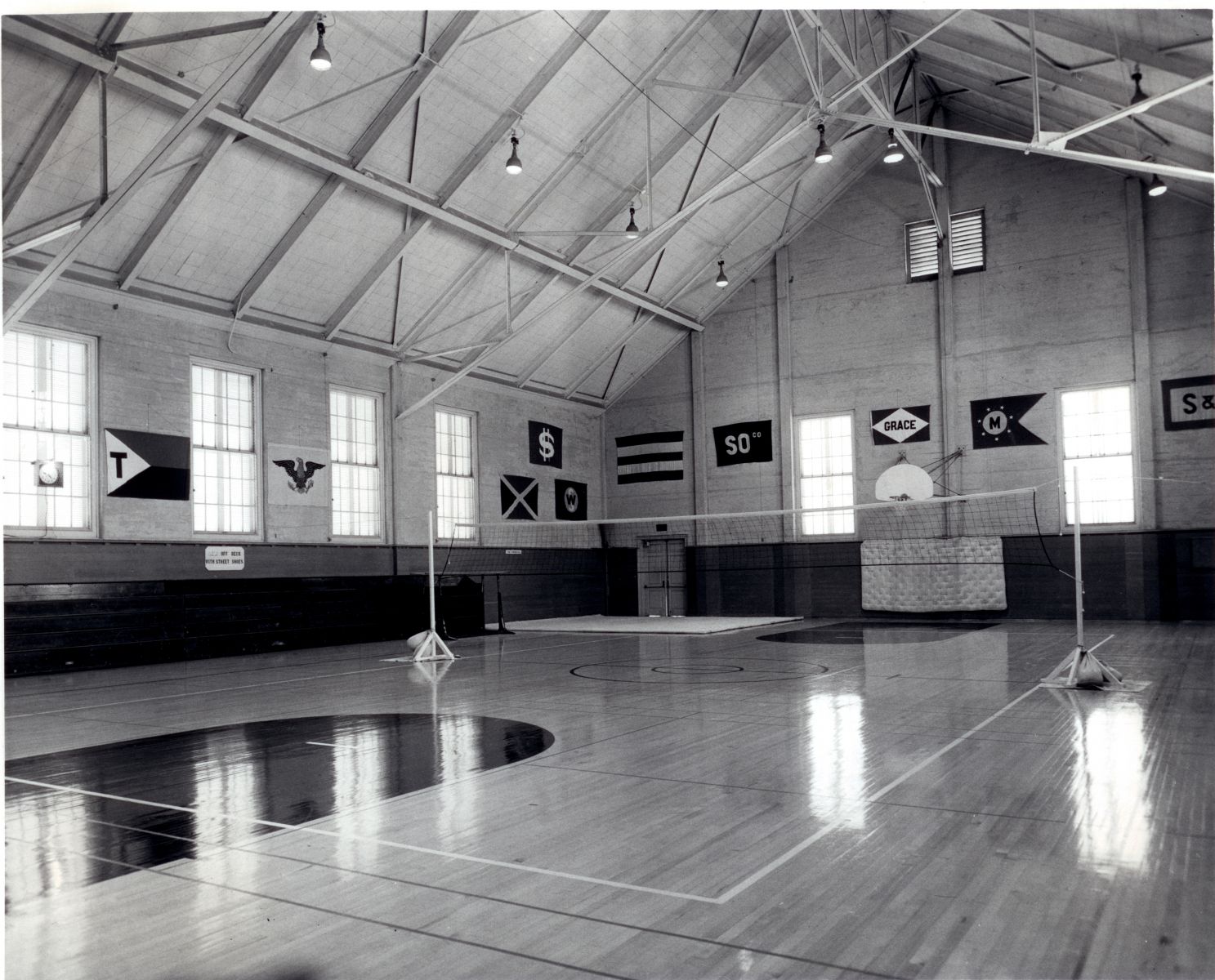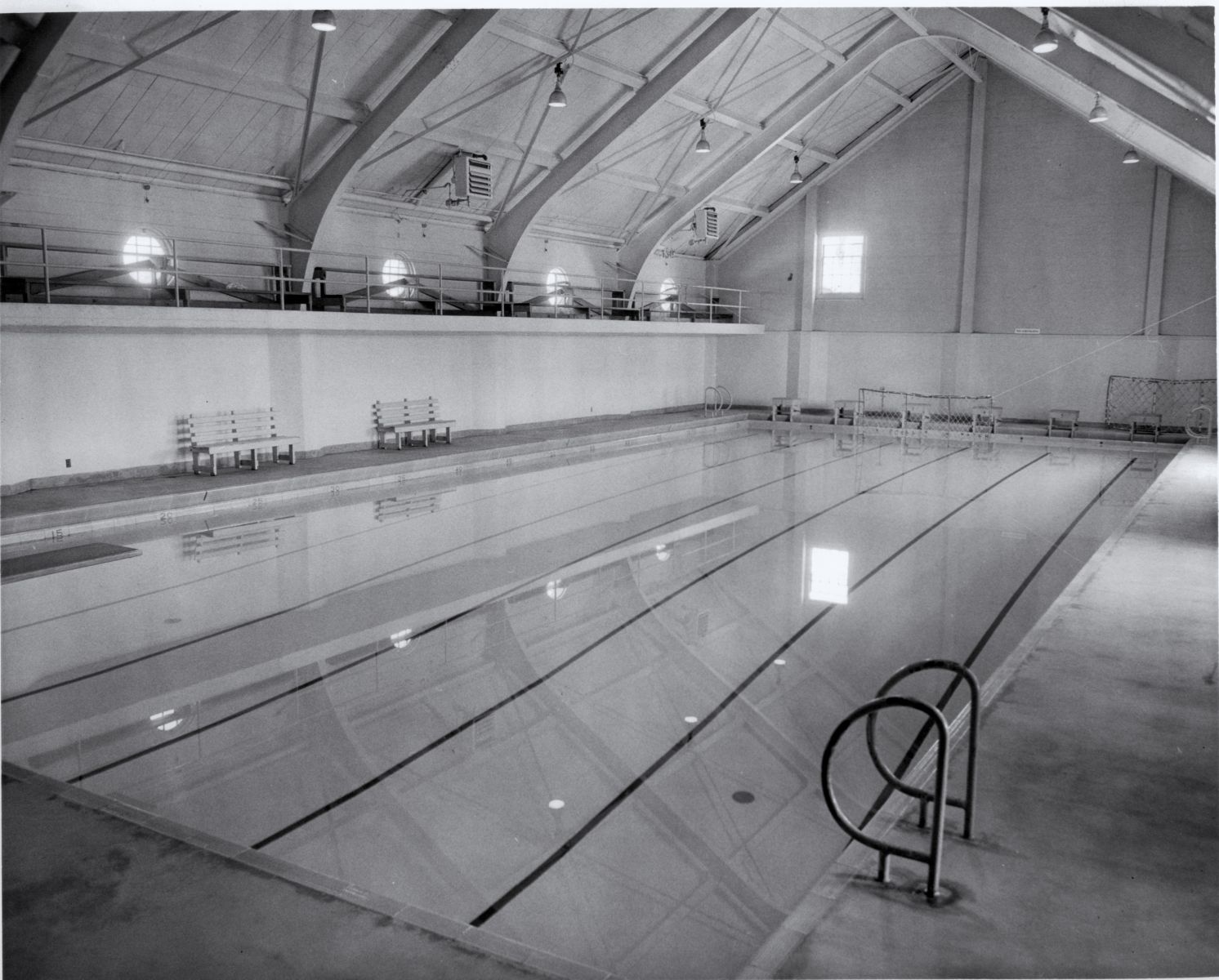 Inside the old 1940s era gymnasium and adjacent natatorium.
The building now houses a mix of student-oriented areas including lounge, study, meeting, and leadership spaces in combination with student services spaces for departments.
The Student Health Center will relocate to Mayo Hall, as will the Registrar's Office, Admissions, Financial Aid, Career Services, and the Veteran's Success Center.
In addition to providing fresh new spaces, the design emphasizes the shared culture of the Cal Maritime community with design elements that include the Wall of Honor, display spaces for Cal Maritime history and achievement, and a plethora of meeting rooms and informal social spaces.
The exterior of the building was modernized while retaining the building's traditional Colonial Revival architectural style with red brick cladding, painted wood windows, and pitched roofs. This design allows the historic character of the original building to maintain its presence and integrity while providing a transition into the modern era.
Funding Source: Primarily State Revenue Bonds (SRB)
Sustainability Target: LEED Gold Certification
Delivery Method: Collaborative Design Build (CDB)
CDB Team Leads: Otto Construction (GC) / WRNS Studio (Architect)/ Forell-Elsesser (Structural Engineer)
Estimated Completion: May 2023