Sexual Assault Awareness Month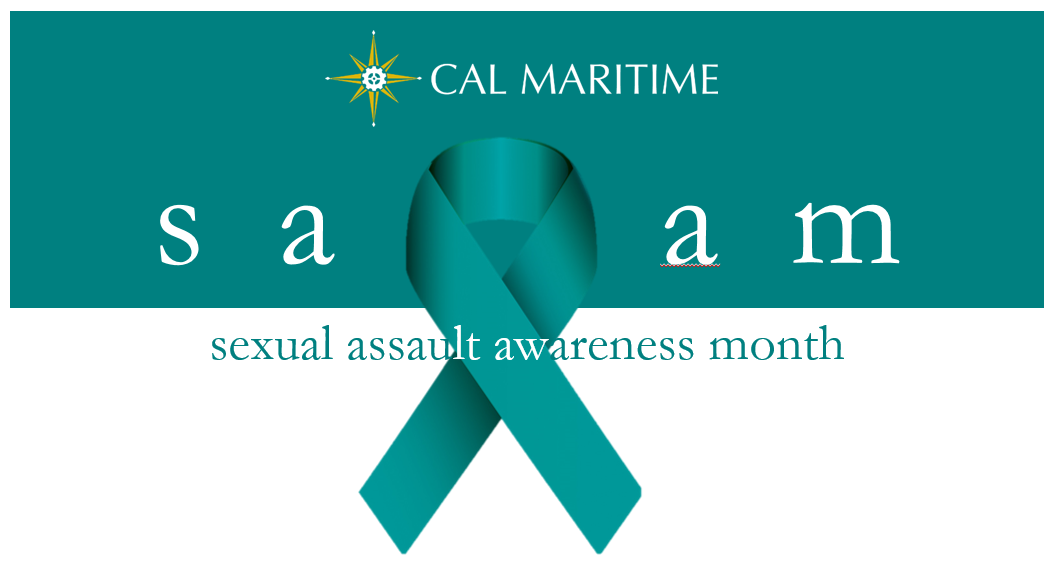 2021 SAAM Programs
April 7

Wear Teal

April 15

Intrusion Show

April 16

Podcast

April 28

Denim Day
Interview with LTCOM Fionna Boyle - Part 2 (4/22/21)
Interview with LTCOM Fionna Boyle - Part 3 (4/29/21)
Related Maritime Executive Article - If April was the only month SOLAS was Discussed
What is SAAM?
The month of April is nationally recognized as Sexual Assault Awareness Month (SAAM), and Cal Maritime remains committed to establishing and maintaining a safe, inclusive, and respectful living-learning campus environment for everyone free of sexual assault and all manner of sexual misconduct. By strengthening our partnerships and alliances with support organizations, and providing the necessary tools, resources and eduation, together we can prevent sexual misconduct on our campus before it happens and ultimately move toward building a culture of sexual respect. This is both an individual effort and a community responsibility --- and it starts with each of us.
Respect for our culture…
Stand up, Speak out, Step in! If you know of anyone who has expressed thoughts and feelings of a sexually negative or violent behavior, don't ignore them. Instead, help them find a counselor or other professionals who can help.
By leveraging Cal Maritime's core values, be a leader in promoting a campus culture of sexual respect and repudiating all forms of sexual misconduct. Learn, engage, advocate, and advance…
Respect for your friends...
Be an active bystander, and get involved. If you think a friend might be at risk for sexual assault, consider it an emergency and contact the police, immediately. In other words, agree to look out for one another --- have each other's back, and don't be afraid to speak up against jokes and misguided opinions about sexual assault. Instead, take the opportunity to educate yourself & your friends about the meaning of consent and sexual respect.
Respect for you…
Like so many other events and activities in your life, your safety begins with you, for example if you're going on a date with someone you don't know, tell your friends the who, what, when, and where --- and stay in regular contact with them throughout the night. (Also, make sure your cell phone is charged so that you have another way of getting home, i.e. Uber, Lyft, taxi.)
In social situations, like a party or at a restaurant/bar, stay alert and attentive to your surroundings; keep your drink with you at all times, and never accept drinks from anyone you don't know.
Listen to your gut feelings. If a situation seems suspicious or you find yourself in an uncomfortable situation, leave immediately, call a friend, and head home. In dire circumstances, get to a safe place and call for help. Plan ahead on who you would call for help and keep their contact handy.
Most importantly, you have a right to say "No", no matter what the circumstance. If you anticipate or experience unwelcomed sexual advances, requests for sexual contact, or other unwelcome verbal, physical, or visual conduct of a sexual nature, this may be sexual harassment. Reach out to Police or dial 911 for immediate help.
Remember: #consentiseverything