Keelhauler Family Fall 2020 Newsletter

Jump to:
Message from Dr. Kathleen McMahon, Vice President, Student Affairs & Cadet Development: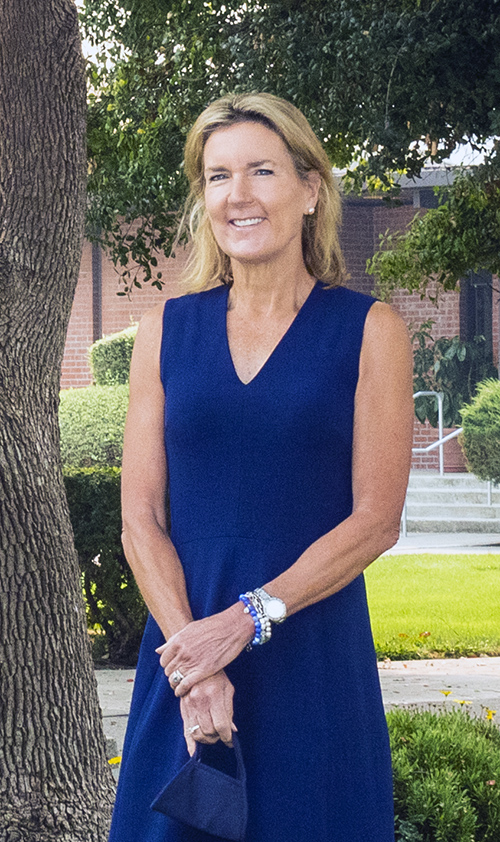 So far so good! I am pleased to share that the fall semester is well underway, and our cadets are adjusting to our "new normal" of campus life with Covid-19.
For those of you I did not meet at Move-In, I am the new Vice President for Student Affairs and Cadet Development. I am so pleased to be at Cal Maritime with our specialized programs, focus on leadership development and unique maritime culture. I came to Cal Maritime after working at many types of universities on both the east and west coasts. I have worked at large publics (UCLA, Cal Poly) and smaller private, mostly residential schools on the east coast. What drew me to this amazing campus is the focus on developing global, ethical leaders. I did my doctoral research at UCLA in Educational Leadership and focused in on the essential elements for college student leadership development.
One interesting fact about me is that I live on campus, so I have the privilege of seeing our cadets a bit more than you would expect, i.e. running in the morning or walking my German Shephard Oliver in the evenings.
I have a deep sense of what you are all going through with a child in college during the pandemic. My daughter is in her sophomore year in college, so I know pretty intimately about what the transition to college is like for you and your family and what kind of adjustments you are all making in this virtual world, which is a challenging place to learn for some.
For those of you with your cadets learning virtually, we just completed a Cadet Care Calling Campaign, where we called the cadets and had a check in to see how things are going for them. We asked about their classes, if they have the technology they need, how they are taking care of themselves and their health and wellbeing, and encouraged them to take advantage of our online, virtual engagement opportunities. We have listed some here and you can check them out yourself!
For those of you with cadets on campus (which is about half of you all), I have been so impressed with how seriously our cadets have taken with health and safety precautions to ensure we all stay safe and can keep our in-person experience happening. They are adhering to wearing their masks, washing their hands, and social distancing. We have started some safe activities for the cadets such as recreation class, work outs at Bodner field, and outdoor movie nights.
My suggestion to all cadets is to find something to get involved with. Clubs rush was just a couple weeks ago and whether cadets are on or off campus, clubs are meeting and finding ways to get together about the things they care about.
We have completed three rounds of Cadet Care Covid testing with 100% negative results! Be sure to check out the voter information listed, where we share how your cadet can vote by mail and drop off right on campus.
Dr. Kathleen McMahon
---
How do you know Cal Maritime has been the right choice for your student?
As of September 14, 2020, summary of the Cal Maritime's 2021 US News' standing:
Top Public Schools - Regional Colleges (West)  #1
Regional Colleges (West)  #2
Best Undergraduate Engineering - No Doctorate  #46 (improved from #68)
"It confirms what we're seeing on our campus—engaged cadets living and learning each day from our talented and deeply committed faculty. Though the Covid-19 environment is a challenging one, our goal of preparing our student body for lives of relevance and purpose remains unaltered."
-Provost and Vice President of Academic Affairs Lori Schroeder
---
COVID-19 Updates
Message from Health & Safety Task Force: We continue to provide updates on COVID -19 via email to your student and posting them, along with other campus responses on the COVID-19 information page. Please continue to remind your student to promptly and carefully read all email messages related to COVID-19.
As of Wednesday, October 14th, we have no cadets in isolation and no cadets in quarantine.
Bi-weekly Covid Care testing was completed on campus Monday, October 12th. All of the randomly chosen 114 cadets and employees tested received negative results. The next date for randomized Covid Care (surveillance) testing is Monday, October 26th.
Reminder: Right now, getting a flu vaccine is more important than ever. Protect yourself and the people around you from the seasonal flu. Shots are available now at the Student Health Center; call 707-654-1170 to make an appointment. Flu and Covid-19 symptoms are often similar—so being protected from the flu may diminish your chances of being quarantined or isolated if you have flu-like symptoms.
A message from the Long-Range Planning Group: Our planning efforts began soon after the semester began and continues. Our plans are being developed with input from across campus with recommendations approved by the Health & Safety Taskforce, the Triad (student leadership), Faculty Senate Executive Committee, and the Cal Maritime Cabinet. Our goal is to get the word out as soon as possible, so the parents, students, faculty, and staff can start preparing for spring.
With COVID dictating how we live our lives, here are some tips on living at home with your college-going (emerging) adult child. Some loving care for when you step in and genius strategy for when to let it pass:
Letting it Pass could mean taking deep breaths and then either walking away or simply validating with "I get it."
With your at-home college student, it's all about managing that distance to be truly effective. If you're burned out on them, remember what you heard on your last flight: Put on your own oxygen mask before helping those around you. Take time away.
When you feel the blame-game might be the next activity at the kitchen table.
When you find out they are or may be making any number of bad choices, much like you at their age. Allow time to pass before visiting those conversations.
Stepping in could mean active listening, encouraging them to bounce ideas or solutions off you, and offer suggestions, but only if invited.
Gen Zers are quite comfortable with asking for help and when you are invited in and feel you have some nuggets to offer.
For those who may be having trouble asking for help or advise, watch for signs like: lurking unusually close by, clinginess, venting general frustration, especially if it's related to school or friends.
When they're procrastinating with meaningless arguments and activities, instead of focusing on school projects.
When the problem is centered on shared space. Each of you must juggle expectations from school and work, likely with limited footprint. Communicate often and openly to plan a schedule to manage space and time.
And finally, always be on a lookout for opportunities for some old school parenting in the form of hugs and cupcakes.
Overall, it is important to remember that walking off in a huff is not the same Letting It Pass and Stepping In is not about taking over or making decisions on their behalf. It is all about demonstrating your confidence in them (let them try their way first) with empathy (understanding and supporting their efforts).
To enjoy Fall to the Fullest, here are some Fun suggestions: Apple Picking; Pumpkin Patches; Paintball; Picnics; Drive-in Movies & Concerts and finally, Tailgating!
For more information, check out the Center for Disease Control (CDC) guidelines for personal and social activities >
---
Cadet Experience: Engagement & Events
All student services are still available to students via email and Zoom
Our Counseling & Psychological Services (CAPS) continue to provide individual & group counselling sessions remotely.

We have Mindfulness Mondays available at 12 noon via Zoom for the entire campus community for stress reduction exercises and connection to the campus community
We also have Let's (Tele) Talk opportunity on Tuesdays and Fridays
Check the CAPS web page for the latest info on the Zoom events and videos.
Division of Student Affairs continues to work relentlessly to imagine and implement ways for our entire student population to engage with each other and the campus. Here are some of the planned events and the list continually grows as we receive input from students:
| | | |
| --- | --- | --- |
| Stem Day for Elementary School Students | All | Virtual |
| Carve your future | All Juniors | Virtual |
| Paint a pumpkin! | All Sophomores | Virtual |
| Fitness and Nutrition by Force Fitness | All Freshmen | Virtual |
| Painting Pumpkins for Spooky Season | All Sophomores | Virtual |
| 10 things to do while bored (Passive Program) | All Juniors | Virtual |
| Bingo | All | Virtual |
| Paint by Number Showdown | All | |
| Activities Road Show: Day @ Scandia/Sacramento | Only Virtual | Meet in-person |
| Activities Road Show: San Jose Area Meet Up | Only Virtual | Meet in-person |
| Registration for Spring: Workshop | All | Virtual |
| Communicate with Art – Domestic Violence Awareness | Campus students | In-person event |
Virtual Career Fair for ALL Students: October 20 & 22, 2020
Election 2020 Ballot Drop
For many cadets this is the first opportunity to vote in a presidential election. Cadets can drop off their ballots in the curbside drop box Oct 29-Nov 3 located at the PeAC. For out-of-towners Solano County has agreed to express mail ballots to home districts.
The library has sponsored a voter education initiative. See a list of events and voter education materials.