Please visit the CSUM web page: www.csum.edu/alert/covid-19/ for updates on COVID-19 status on campus. Please follow all recommended transmission precautions to keep our community safe.
Key Information
The World Health Organization declared the COVID-19 outbreak a pandemic on 3/11/2020. We encourage the campus community to keep informed with facts, avoid panic, and take the advised precautions to slow the spread of COVID-19.
The Cal Maritime Student Health Center is actively monitoring the situation and will provide updates based on guidance of the Centers for Disease Control and Prevention (CDC), the California Department of Public Health (CDPH), and local health departments.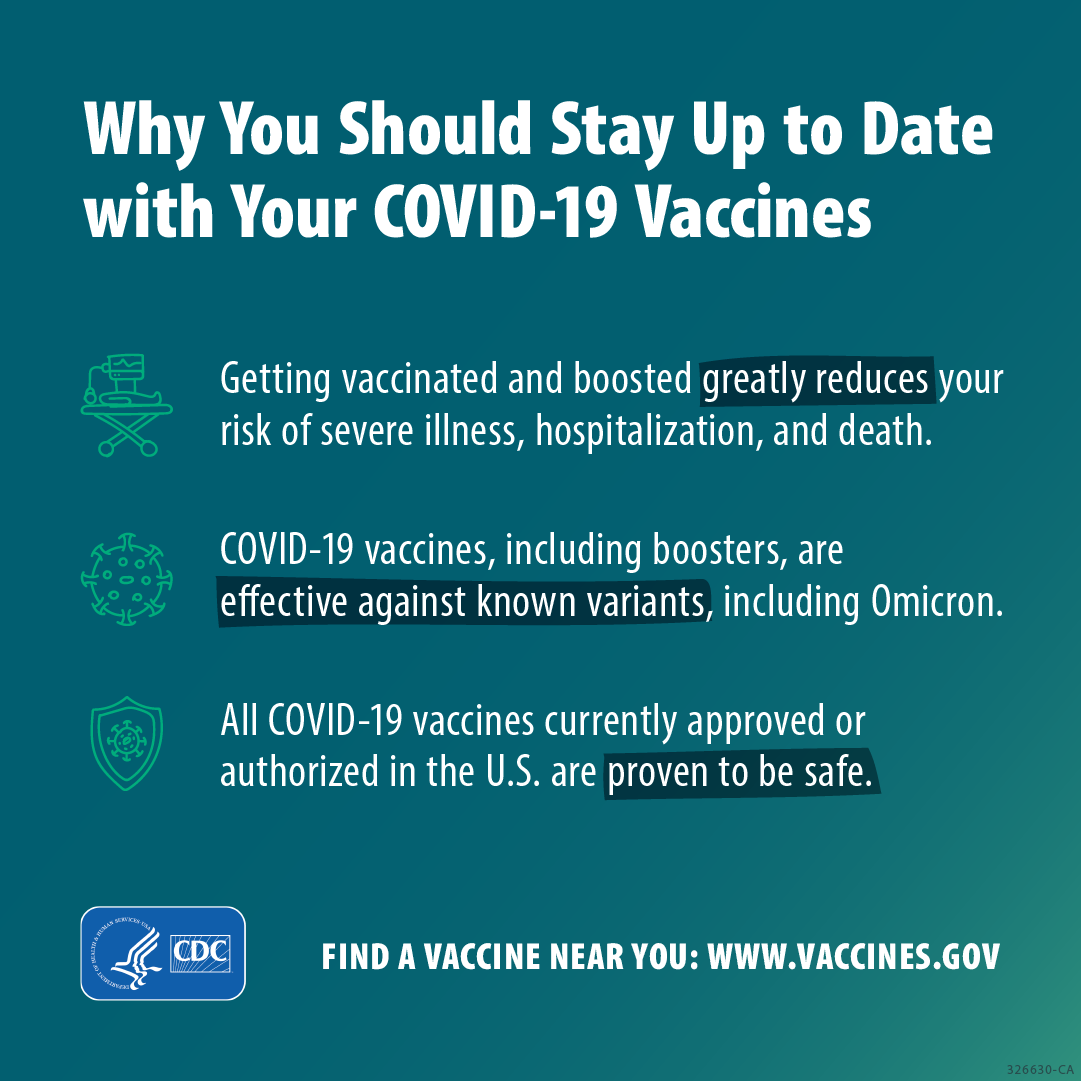 No, however it is strongly recommended.
No COVID-19 testing is required prior to moving into the residence halls.
Following CDC recommendations, everyone ages 5 years and over should get 1 booster after completing their COVID-19 vaccine primary series.
Adults ages 50 years and over or people who are 12 years and over who are moderately or severely immune compromised are recommended to get 2 boosters.
All cadets testing positive for COVID-19 that live on campus will be placed in isolation in a room in Maritime North. The Student Health Center (SHC) is following current Centers for Disease Control and Prevention (CDC) guidelines which recommend isolation for 5 days since symptoms first appeared or since the diagnosis of a COVID-19 infection and recommend wearing a high-quality mask once isolation has ended for an additional 5 days. SHC providers will monitor cadets in isolation and be responsible for removing a cadet from isolation when it is appropriate. Isolation may be longer for individuals with more severe symptoms or ongoing fever. Cadets that live off campus that have a COVID-19 infection, must remain off campus for 5 days following diagnosis or onset of symptoms and must be cleared by SHC providers before returning to in-person campus activities.
Cadets in isolation will receive support from campus resources, including documentation from SHC for any necessary academic or work accommodations.
This protocol is in alignment with the CDC, California Department of Public Health (CDPH) and the Solano County Public Health Department. Information regarding current guidelines can be accessed here: https://www.cdc.gov/coronavirus/2019-ncov/your-health/isolation.html
The CDC is no longer recommending quarantine for indiciduals who my have been exposed to COVID-19. Please contact the SHC if you have concerns about COVID-19, if you have a positive home test, or if you have symptoms and need a COVID-19 test.
Recent studies and data show that vaccinated individuals are protected from severe illness, hospitalization and death from COVID-19.
Information regarding the Omicron variants are constantly being studied to understand how it is spreading and the CDC is updating recommendations for face coverings and other safety measures as we learn more.
Please visit the CDC website for updated communications. Currently the CDC is recommending masks for vaccinated and unvaccinated while indoors in communities with high infection rates.
The CDC has a map with information regarding COVID-19 transmission levels by county.
The U.S. Food and Drug Administration (FDA) has granted Emergency Use Authorization (EUA) for three COVID-19 vaccines which have been shown to be safe and effective as determined by data from the manufacturers and findings from large clinical trials. Millions of people in the United States have received COVID-19 vaccines under the most intense safety monitoring in U.S. history. Getting vaccinated prevents severe illness, hospitalizations, and death. Unvaccinated people should get vaccinated and continue masking until they are fully vaccinated. With the Omricon variant, this is more urgent than ever.
Please visit the CDCs website for further information about the safety of the vaccines.
Call the Student Health Center at (707) 654-1170 and we will be happy to help answer your questions.
Please stay aware of current campus requirements for face coverings and other precautions on campus. These requirements will change as needed to keep our campus community safe.
Solano County Mask Recommendations
Studies show that COVID-19 vaccines are effective at keeping you from getting COVID-19. Getting a COVID-19 vaccine will also help keep you from getting seriously ill even if you do get COVID-19.
It typically takes 2 weeks after vaccination for the body to build protection (immunity) against the virus that causes COVID-19. That means it is possible a person could still get COVID-19 before or just after vaccination and then get sick because the vaccine did not have enough time to build protection.
Yes. CDC recommends that you get vaccinated even if you have already had COVID-19, because you might become infected more than once. While you may have some short-term antibody protection after recovering from COVID-19, we don't know how long that protection will last.
We do have testing available at the Student Health Center. If you have questions about being tested for COVID-19, we can discuss if testing is warranted and help arrange testing. Please call the Student Health Center immediately if you have symptoms or exposure at (707) 654-1170. Information about COVID-19 testing in Solano County can be accessed online at:
Solano County Community Testing Sites.
If you are exhibiting symptoms and are unsure if it is the flu, allergies, cold or COVID-19, we recommend that you call the Student Health Center as soon as possible at (707) 654-1170 for medical guidance.
COVID-19 compared to common conditions
| Symptom | COVID-19 | Common Cold | Flu | Allergies |
| --- | --- | --- | --- | --- |
| Fever | common | Rare | Common | Sometimes |
| Dry Cough | common | Mild | Common | Sometimes |
| Shortness of breath | common | No | No | common |
| New loss of taste and/or smell | Sometimes | No | No | Rare |
| Headaches | sometimes | rare | common | sometimes |
| Aches and Pains | sometimes | common | common | no |
| Sore Throat | sometimes | common | common | no |
| Fatigue | sometimes | sometimes | common | sometimes |
| Diarrhea | Rare | No | Sometimes | no |
| Runny nose | rare | common | sometimes | Common |
| Sneezing | no | common | no | common |
Symptoms of COVID-19 range from mild to severe. Frequently there are no symptoms even though the person is infected and contagious. A smaller percentage of infected individuals will have severe symptoms. The following symptoms may appear 2-14 days after exposure:
Fever
Dry cough
Shortness of breath
Fatigue
Muscle or body aches
New loss of taste or smell
Sore throat
Congestion or runny nose
Nausea or vomiting
Diarrhea
If you develop severe symptoms of COVID-19, this may indicate the need for immediate emergency medical attention. Emergency warning signs include*:
Difficulty breathing or shortness of breath
Persistent chest pain or pressure
New confusion
inability to wake or stay awake
Bluish lips or face
*This is not a complete list of possible symptoms. Please consult your medical provider for any concerning symptoms. Visit the CDC website for more information: Symptoms of the Coronavirus
If you currently have any symptoms or have been exposed to COVID-19, please call the Health Center and we can discuss management and decide if an appointment is necessary. Video and phone appointments are available as well as in-person appointments when necessary. Please call us at (707) 654-1170 for medical guidance.
Students can be seen at SHC if they are a current CSUMA student. We offer basic medical advise and care, if symptoms are severe and further care is needed, we may refer you to a community medical provider.
Current locations that students and community members can contact for care relating to COVID-19 are:
| Community Medical Provider | Phone number |
| --- | --- |
| Solano County Family Health Services | (707) 553-5509 |
| Kaiser Permanente Vallejo | (707) 651-1000 |
| Sutter Solano Medical Center | (707) 554-4444 |
According to the CDC, the virus is spread mainly from person-to-person.
Between people that are in close contact with one another.
Through respiratory droplets produced when an infected person coughs or sneezes. These droplets can land in the mouths or noses of people who are nearby, or possibly be inhaled into the lungs.
According to the CDC, a close contact is someone you have been within 6 feet for 15 minutes or more cumulatively over a 24 hour period.
You can protect yourself by taking the following steps:
GET VACCINATED!
If you are not vaccinated, wear a facial covering and continue social distancing.
Washing your hands often.
Avoid touching your eyes, nose and mouth.
Cover coughs and sneezes.
Stay home if you are sick.
Clean and disinfect frequently touched surfaces daily.
Visit the CDC for more information on how COVID-19 spreads and ways to protect yourself.
If you are feeling overwhelmed and need to talk to someone, you may call us to schedule an appointment with a CAPS counselor at (707) 654-1170. If it is after hours, call (707) 654-1170 and when prompted select "1" to be connected to an advice nurse. Let the provider know that you are calling with mental health concerns. This is available 24/7.
If you are having suicidal thoughts and/or are in a mental health crisis, please call the Suicide Prevention Lifeline at (800) 273-TALK (8255) or Dial the Suicide and Crisis Lifeline 988.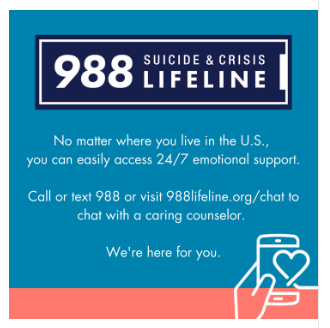 Yes. Counseling and Psychological Services (CAPS) is open throughout the year with via telephone, video, or in-person appointments .