Early Start Program
The Early Start Program prepares admitted first-year students placed in readiness category IV for GE Written Communication and/or Math/Quantitative Reasoning courses.
By enrolling in available developmental-level courses at a CSU campus of their choice during the summer prior to their first fall semester, students improve their chances of successfully earning baccalaureate degrees.
Enrollment costs $191 per unit, plus mandatory $1 fees for the selected campus' health center and student union. Students with an Estimated Family Contribution of $5,500 or less may apply for fee waivers to participate in the Early Start Program.
Please visit the CSU Student Success for the statewide Early Start Program course listing.
Important
Admitted students may receive notice they must participate in the Early Start Program based upon information provided in their initial applications. However, readiness categories may change between application dates and completion of final coursework and testing.
Admissions will update admitted students' readiness categories to reflect multiple measures achieved following submission of their applications and possible conditions met to earn exemption from the Early Start Program.
Please submit transcripts to Admissions as early as possible.
Participants
Only admitted California residents placed in readiness category IV for English and/or math must participate. The CSU recommends but does not require students placed in readiness category III to likewise participate at their discretion.
Non-residents/out-of-state and international students and eligible students participating in EOP Summer Bridge do not participate.
Alternative Courses
Due to its unique summer programming, Cal Maritime does not offer the Early Start Program. However, admitted cadets placed in readiness category IV may fulfill their requirements to participate in the Early Start Program by enrolling in courses at other CSU campuses or available through Westcott Courses, a third-party partner:
Regardless of the option you choose, inform Admissions of your decision before enrolling and submit the certificate presented upon completion to the Office of the Registrar.
Instructions for Selecting Early Start by Campus
Students admitted to Cal Maritime but required to participate in the Early Start Program must finalize their Early Start Smart Page selection by June 10, 2022, and submit grades for their completed course(s) by August 12, 2022.


Step 1: Log-in to your MyCalMaritime Portal account.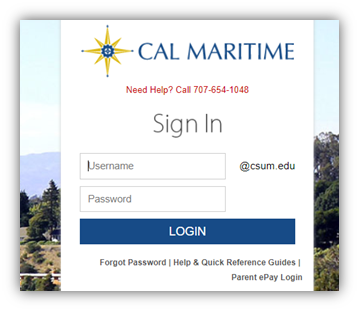 Step 2: Select PeopleSoft - Student Systems.
Step 3: In Student Center, select Academics and then Early Start Program.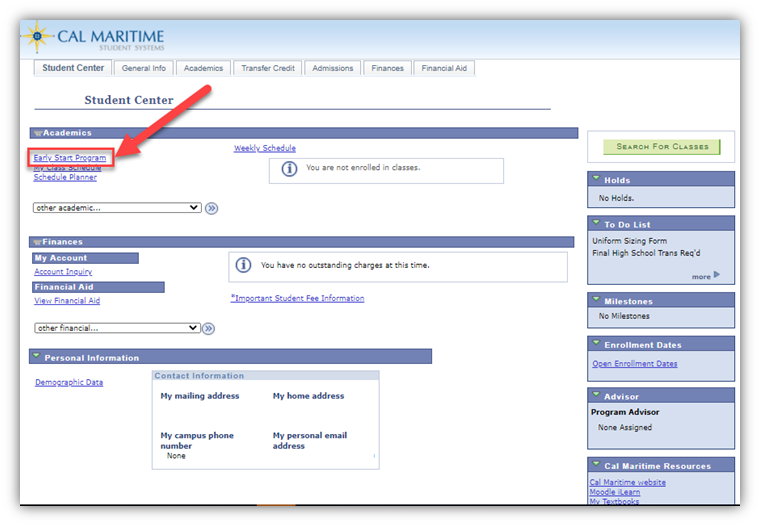 Step 4: Select how you will complete your Early Start requirement(s) this summer:
If you choose a CSU campus, the Early Start Program - Smart Page will alert the campus you selected and contact you with login information.


If you choose alternative courses through Westcott Courses, please contact Admissions directly to inform your counselor of your choice.


If you choose a local community college, you assume responsibility for contacting the campus and registering for your course(s).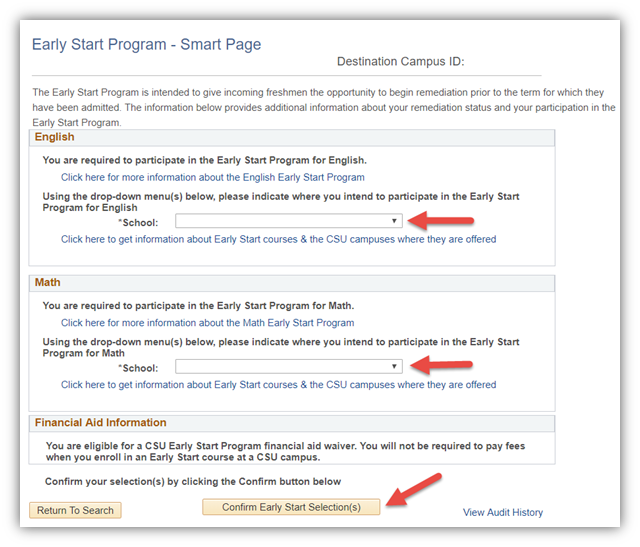 Please contact Admissions at (707) 654-1330 or admission@csum.edu with questions.