MS Transportation & Engineering Management
Apply Today: Applications being Accepted for Fall 2024!
Master of Science: Transportation and Engineering Management

Fully Accredited by the Western Association of Schools and Colleges
Description
An advanced course of study in business and management fundamentals combined with specialized preparation for career advancement in Transportation, Engineering Management, or Humanitarian Disaster Management. Earn an advanced degree that will open new doors for your career! The interactive online learning format makes it convenient to keep up with your courses and access the curriculum anytime from anywhere.
Background
Corporate leaders, industry groups, port authorities and government agencies articulated the need for professionals who have an awareness of global issues, understand the technical aspects of transportation and engineering, and possess advanced leadership and management skills. Cal Maritime worked closely with these groups to develop the first completely online advanced degree that encompasses management within a transportation and engineering context.
Target Audience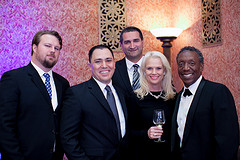 Mid-career professionals in maritime and related fields who wish to further their education and employment opportunities, with a particular emphasis on those wishing to make a transition from sea to shore. Highly motivated students coming directly from undergraduate studies are considered for admission as well.
Features
Innovative Curriculum – Developed, continuously updated, and delivered in close collaboration with business and industry.
Cohort Based Learning – Gives students a collaborative learning environment and the chance to build enduring professional relationships with colleagues.
Outstanding Faculty – Brings together exceptional knowledge and real world experience to provide students with the best of theory and practice.
Completely Online – Provides students with 24/7 access to the program helping them to fit learning into their busy lives and stay on track to completion.
Designed For You - Every student has the opportunity to choose one of three specializations within the program. Your studies will be customized to your interests and career goals.
Fast Completion – Students can complete their graduate degree in as few as 20 months.
No Red Tape! - Once you are admitted to the program you never have to stand in line for textbooks or register for another semester. Everything you need to complete the program is included in one package price. You can focus on learning and completing the program.
Program Format
The 30-hour program (10 courses) is offered completely online through Cal Maritime's Professional and Continuing Education (PaCE) Department. Students are enrolled as cohorts and progress through the program as a group following the prescribed sequence of courses.
Faculty
The program is taught by recognized faculty from the School of Engineering and the School of Marine Transportation, Logistics and Management at Cal Maritime, as well as subject area experts from across the industry. The best of intellectual theory and real life practice combine to provide students with authentic learning experiences.