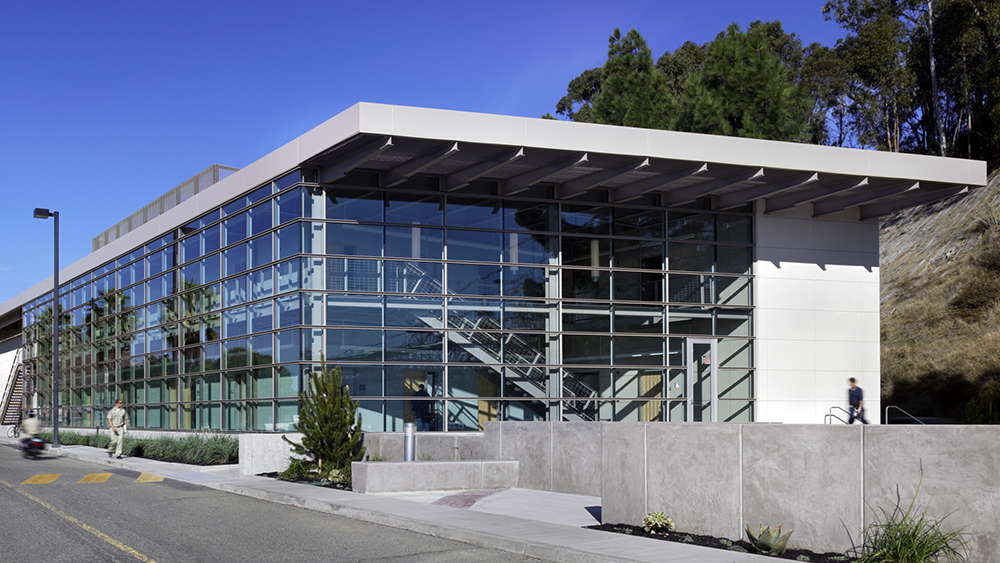 Simply the Best Facility - Anywhere!
In 2008, Cal Maritime announced the opening of its new Simulation Training Facility, one of the most advanced in the world. With two 360-degree projection systems and numerous smaller simulators that can interlink, an oil spill trajectory simulator, a liquid/gas cargo handling simulator, and a crisis management center, the facility creates a strikingly realistic environment for training, research, accident investigation, and crisis management with the ultimate goal of safer navigation, and the preservation of life and the environment.
While simulation mirrors the realities at sea, the new simulation facility comes as close as possible to creating a real life maritime world where visual, practical learning tactics can help transform knowledge into advanced professional leadership skills. All the bridge simulators are capable of acting as separate, stand-alone vessels in a training exercise, each with visual views of the others and capable of communicating and interacting virtually with one another. This technology is a total shift in maritime training techniques of the past. With interactive bridges, multiple constituents can participate in the training, each focusing on their specific roles while working together. Additionally, the hardware used provides the capability of emulating many different propulsion systems.
Cal Maritime Simulators
| | |
| --- | --- |
| Two - 360o View Full Mission Bridge Simulators with TRANSAS NTPRO software* | A Full Mission Gas Turbine Simulator |
| A 225o View Full Mission Bridge Simulator with TRANSAS NTPRO software* | A Part-Task Trainer Steam Simulator with HAVEN AUTOMATION/MPRI software |
| An 8 station integrated bridge electronic systems technology (IBest) Lab with Radar/ARPA/ECDIS Simulators operating with TRANSAS software (with view screens)* | A Full-Mission Diesel Simulator |
| A Multi-Threat/Hazard Crisis Management Center with simulation support provided by the TRANSAS PISCES 2 Crisis Management Simulation System* | A dangerous Liquid Cargo Handling Simulator (LCHS) with LNG capability with TRANSAS software* |
The Simulation Center Facility
The 21,000 square foot, glass walled Simulation Center was designed to showcase the natural light and views of the scenic waterfront landscape of the campus. It houses two large classrooms and two simulation briefing rooms, as well as flexible use conference meeting rooms, simulator instructor stations, and the latest in simulation equipment and software all in one location.
Within this environment, seasoned mariners are presented with complex situations that would be too costly and too environmentally hazardous to replicate on the seas. And training time can be applied toward the US Coast Guard standards of time at sea for merchant marine licensure and certification.
Please contact the Cal Maritime Extended Learning team to discuss your organization's specific training needs. We're ready to help create your next customized training or event in the Simulation Center.
Transportation, Meals & Lodging
Our staff can arrange meals, snacks, and beverage service for your team so that you won't even have to leave the campus. If you are traveling from a distance, the Academy is just a short drive or ferry ride from the Oakland, the San Francisco, or the Sacramento Airports. There are hotel accommodations to suit any budget in Vallejo and nearby Benicia, CA. If you need help arranging your stay or would like information about meals and beverage service contact our staff for assistance.
Contact Us
At Cal Maritime, any of our courses can be modified to meet the exact goals of your company or group. Just contact us and find out how easy it is to tool up for your next challenge.
Veronica Boe, Director
Phone: (707) 654-1156
vboe@csum.edu
Our Capabilities
Bridge Simulation
Multi-Team Simulation
Crisis Management
Diesel Simulation
GMDSS
Liquid & Gas Cargo
Oil Spill Simulation
Radar/ARPA/ECDIS
Steam Simulation
Research & Validation
Design Projects
Environmental Safety