Cruise Preparation
Preparations for Cruises Begin Six Months in Advance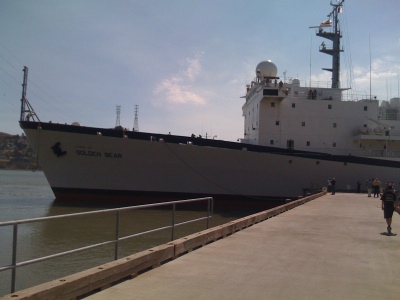 The IT Department began its preparations for the cruise six months in advance of the TSGB's departure. That's because of the complexity of the planning which require IT preparations to be managed as a project. For example, preparations include maintenance on the satellite system, WebCT, instructional software, Follow the Voyage (FTV), a spare parts inventory, printer supplies, lab computer imaging, activation and testing of the satellite system, telecommunication preparations, phone cards, IT staff assignments to cruise, physicals, identification cards, server configuration, student port passes, NS5, three email migrations, and credit card processing. Many of these are projects within themselves.

The cruise preparations project is lead by the Manager of Network Operations. The IT preparation team also includes staff from the Library and the team usually meets on a weekly basis throughout the Spring semester. The Captain and Chief Engineer are also periodically apprised of progress and problems.

The 2008 cruise and subsequent ones have benefited from the new C-Band satellite system. Unlike previous years, the ship had a live, always on connection to the Internet through the satellite. Students were able to place outbound telephone calls from their state rooms for the first time. They also sent and received email messages with attachments in real time. The system performed well with the exception of a few problems which were resolved during the cruise. Subsequent maintenance performed by Vizada have resolved remaining issues. Part of IT's preparations for cruise include activation of the satellite (usually during the first week of March), testing and preventative maintenance.