Name Changes
There are two main types of name changes on campus—legal and preferred name change. Legal name changes occur beyond campus (e.g. via the State or Courts). However, if an individual uses a name or nickname other than their legal name, they can use a "preferred" name except where use of the legal name is required by law.
This page walks through the process and scope of each type of name change.
Preferred Name Change
To add a "preferred" name, navigate to the PeopleSoft Student center from csum.edu/intranet. Follow the steps outlined below:
1. Login to PeopleSoft.
2. On the main page, under "Personal Information," select "Names."

3. Select "Add new name."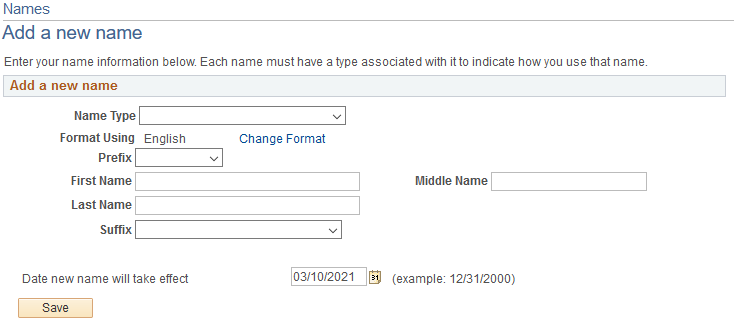 4. Select name type ("Preferred").
5. Enter preferred name information.
6. Save
If no Preferred Name is provided, the legal name will continue to be used as the primary name.
What changes
Cal Maritime is currently in the process of updating its systems to accommodate the Preferred Name feature.
At this point in time, the Preferred Name will be used in the following areas:
PeopleSoft Student Center

Class roster
Grade roster
Faculty center
Advisee Student Center

Active Directory – email (more on this later)

Email display name (e.g. "Golden Beard" <gbeard1@csum.edu>)

EAB (Passport)
Student Health Portal
Clockwork
Starrez (Housing & Residential Life)
Scantron Class Climate – faculty evaluations
*upon request
These systems are in the process of being integrated:
ACHA (Health Center)
Blackbaud AcademicWorks (Alumni giving)
Blackboard Transact ID
Brightspace
CSU directory
CSU ID eduperson
GivePulse (Community Engagement)
Library records
Pitney Bowes (mailroom notification)
PointandClick
RSS (risk and safety)
Tutorfly
Wepa (printing)
NVOD Videotel (STCW training)
Maxient (demerits & extra duty)
HR:

Pre-existing reports
Defensive Driver Training Records
Permission to Drive on State Business

IT-specific systems:
E911
JAMF
Kaseya
Paper Cut
PBX - Phone system
Secure Doc
TeamDynamix
What doesn't change
These systems require usage of the legal name:
S. Coast Guard records
Travel documents

Training Ship Golden Bear manifests
International Experience travel documents

Enrollment verification
Official transcripts/university records
Employment & payroll records (including financial aid)
Email
When a Preferred Name is updated, the student's email display name will automatically change to reflect within 7 business days.
If a new email address is desired, submit a request to the IT Help Desk by sending an email to helpdesk@csum.edu with a suggested date for the change. The former email address will remain as an alias. Any email sent to the old address will be delivered to the new one. All numbers in the email address will stay the same unless requested otherwise. All emails previously stored for a user account will remain.
Example: Alex Smith, asmith1234@csum.edu changes their Preferred Name in PeopleSoft to Cameron Smith. Their email would become csmith1234@csum.edu, with the same password and access to all their emails like normal.
Q. How do I sign into my new email?
A. IT will confirm with you when the change will be made. Once the email change has been made, sign in using the new email as your login.
Q. Will I need to sign back in?
A. You will need to sign back in everywhere you used your prior Cal Maritime email address—online, phone apps, etc.
Port Pass
Port Passes can be changed to reflect the Preferred Name upon request. For an updated Port Pass, submit a request to the IT Help Desk, along with an updated photo if desired. See the following page for more information: https://www.csum.edu/it/services/portpass.html
There is no fee if you turn in your old ID. Otherwise, there will be a $10 replacement fee. We will notify you once it is ready for pickup.
When the incorrect name is used
If the legal name is used in a program not listed above, please inform the IT Help Desk so we can work to address it.
Legal Name Change
Student legal name changes are processed through the Registrar's office. Submit their online form (which will go live soon), along with appropriate documentation showing the former and new names.
Accepted documentation
Required: 2 forms of identification that show the new name. 1 must contain a photo ID.
Court Order (e.g. Decree Changing Name like Form NC-130 in California)
Driver's license
Passport
Marriage license
Divorce decree
California ID
Social Security card
Birth certificate
Military ID
For more information about name changes through the State of California, see: https://www.courts.ca.gov/selfhelp-namechange.htm
Note for student employees
If you have worked or are working as a student employee, you will need to submit documentation to HR as well. They require 2 forms of identification that show the new name. 1 must be the Social Security card.
What changes
Legal name changes will only be updated in PeopleSoft.
If you want this name to update throughout campus systems, add this name as a Preferred Name following the process outlined in the Preferred Name section.
What doesn't change
S. Coast Guard documents

The Coast Guard has a legal name change form, but any former legal names will appear on some documents (e.g. the license).

Travel documents you've already scheduled/procured
What's in a name?
Cal Maritime acknowledges the importance of names in fostering an empowering, safe, and inclusive university experience.
The decision to change a name can be complicated and personal. At Cal Maritime, we support students who want to change their names. Using the correct name when referring to someone is not only a matter of respect, but it leads to a better learning environment and sense of wellbeing.
"Preferred" names often are much more than "preferred;" they are an individual's name, and the appropriate way to refer to them. Using the incorrect name for a person can cause significant harm. We have used "Preferred Name" throughout this webpage only for clarity since that is the term used in PeopleSoft.
If you have more questions, please email Help Desk at helpdesk@csum.edu