Cal Maritime Cadet Emergency Grant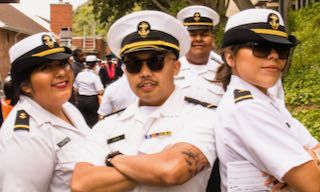 Cadet Emergency Grants supports cadets experiencing a financial emergency or unanticipated expenses, causing financial hardship. Emergency grant funding is designed to provide aid to currently enrolled students who are struggling with a personal crisis or an emergency situation. For some students, the financial impact of a fire, temporary homelessness, an unexpected auto expense, injury or loss of a family member could drastically affect their success. Qualified students are rendered assistance in the form of single, one-time awards. Emergency funding is not intended to provide ongoing relief for recurring expenses and these awards are not loans that students are expected to repay.
Requirements
Must have exhausted all financial aid options including student federal loans
Must be a full-time cadet enrolled in a degree program at Cal Maritime and be in good academic standing
Those with a GPA below 2.0 (CSUM and Cumulative) may appeal to be considered
Record of good conduct
Amount
Maximum of $500. Cadets may be awarded no more than one emergency grant per academic year.
Ineligible expenses include, but are not limited to:
Full or partial student tuition/fees
Legal representation
Parking tickets
Entertainment, recreation, or other non-essential expenses
Financial challenges exclusively related to budgeting with a limited income; must demonstrate a one-time crisis
Cadets currently enrolled in at least six units of coursework, demonstrate an emergency financial need and currently qualify as low income by meeting requirements to receive Pell Grant financial aid for the upcoming semester or by meeting all the requirements for an exemption from paying nonresident tuition pursuant to Section 68130.5 of the Education Code and the income criteria applicable to the California Dream Act application, may receive funds.
Amount
A single, one-time award, the value of which will range in response to the needs of the cadet and the availability of funding.
Eligible expenses include, but are not limited to:
Travel home for illness or death in the immediate family
Homelessness due to loss of housing
Documented theft or damage of books and other essential academic belongings
Unrecoverable loss of transportation to and from school
Sudden loss of childcare to cover academic schedule period
Fire or theft, or to mee other personal safety needs
Application Process:
Completed the Qualtrics application. There is one application for both funding sources and the committee will determine eligibility.
Submit supporting documentation via this Microsoft Form.
Committee will review (allow two to five business days for a decision).
Grant selection: The Cal Maritime Emergency Grant Committee (Dean of Cadets or designee, University Advising representative, Office of Financial Aid representative and other Administration & Finance representative) will review application and make their recommendation to the Vice President of Cadet Leadership and Development.
The Division of Cadet Leadership and Development, in accordance with applicable University rules and policies, administers this program. Funding for these emergency grants come from the generous donations of alumni and friends of Cal Maritime, as well as the California State of University System.