Whether you are packing your own bags for Orientation 2022 or preparing to send a family member we wish to give you a warm welcome.
This site is designed to be an easy way to find all the information you will need. For new cadets, you will visit here often to get up-to-date information, schedules, and download materials. For families, you will get arrival information and a schedule of family events.
These pages will be updated throughout the summer, so please refer to them regularly.
We are excited to see you and wish you safe travels.
New Students Move-in & Family Day: Sunday, August 21, 2022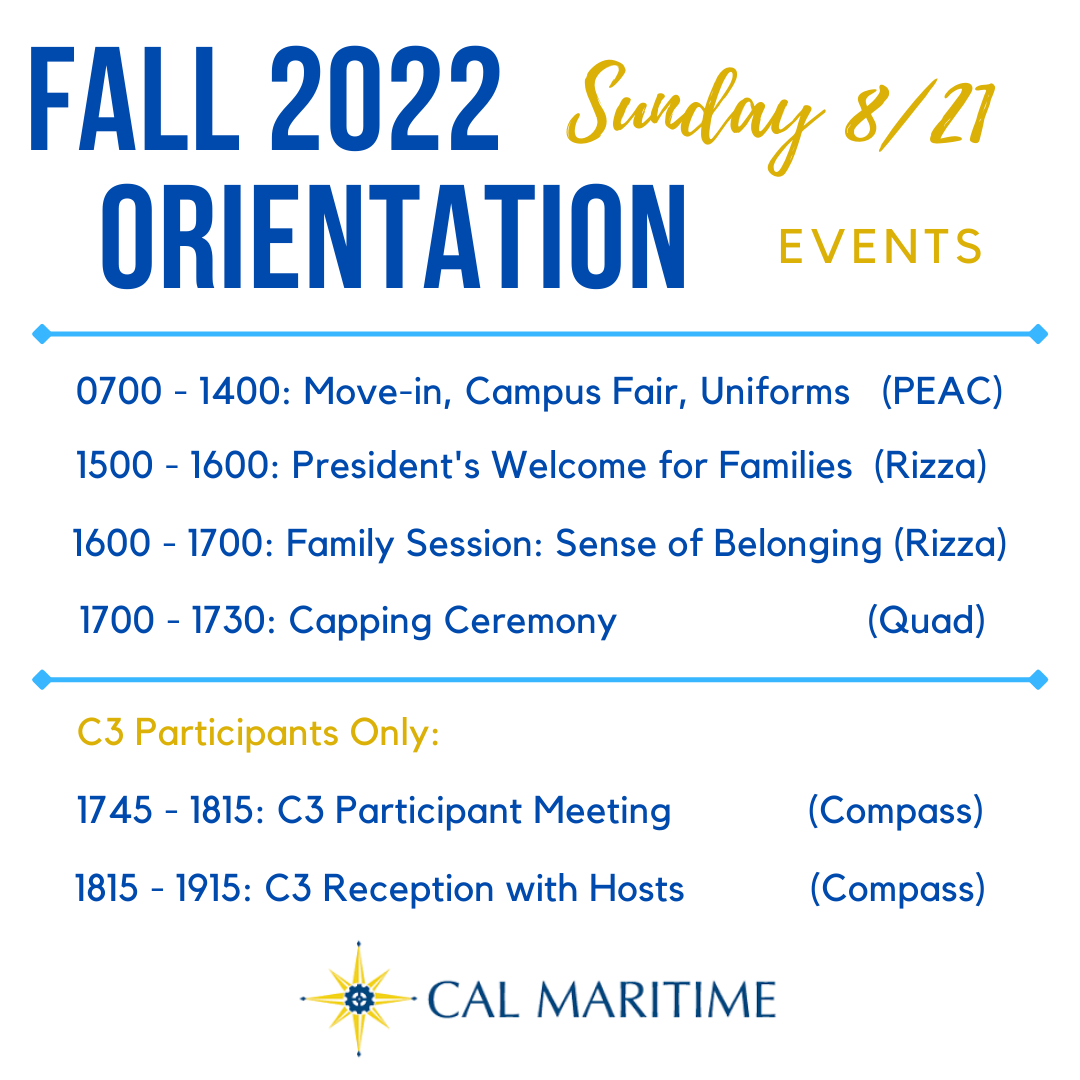 Orientation Week: Monday, August 22-27, 2022
Vaccination Requirements and COVID-19 Info
On behalf of the entire campus, I want to welcome you to the Cal Maritime community. We are planning an exciting orientation program for all of our incoming cadets, and we will be contacting you shortly with updates and news via your Cal Maritime e-mail. In the meantime, I want to provide you with the following highlights:
August 21: Move-in and Family day
August 22-27: In-person orientation (required for all Fall 2022 admits)
August 29: Classes begin
Families are welcome to accompany their Cal Maritime cadets to campus and help them settle in their residence halls.
We know that you will have many questions, and we will do our best to keep you informed throughout the summer. We will be posting all the information about orientation, and other details, on our Orientation webpages. You can always contact us directly at orientation@csum.edu.
Finally, the academic calendar for 2022-23 is available here. Additional dates and details will be added as they become available.
I know that the past couple of years have dramatically impacted students and their families. Please know that the health and safety of our cadets is Cal Maritime's continues to be our number-one priority as we prepare for your arrival. We are excited to see you soon and help you start the next chapter of your life at Cal Maritime.
Stay tuned for more details!
Go Keelhaulers!
Sincerely,
Dr. Kathleen McMahon
Vice President, Cadet Leadership and Development
Greetings from the Training Ship Golden Bear!
With the Fall semester on the horizon, I am excited with the knowledge that you will soon join our Corps of Cadets. The transition and transformation you will experience is significant and fellow cadets, faculty, staff, and administration are dedicated to supporting your journey.
I am incredibly humbled and honored to work with all of you, to see your leadership in action, and continue to set a high bar of excellence associated with Cal Maritime. Extensive planning is underway across all departments to facilitate your arrival. When questions come up, please reach out so we can make sure you have the information you need to bring your whole self to orientation.
The framework for your leadership development at Cal Maritime includes leading yourself, leading others, and changing your environment. Each of you has a unique leadership style that we will explore and enhance together.
The Corps of Cadets is nearing its centennial mark - 100 years of outstanding contribution to California and the Pacific Rim. Similar to the classes of cadets before you, from the day you arrive to the day you graduate, you will be responsible (and we will be alongside you) for shaping an inclusive, meaningful cadet experience.
Enjoy the summer and I look forward to seeing you in August!
As of July 28, 2021, Cal Maritime will require all cadets, staff and faculty to certify that they are fully vaccinated against the coronavirus. The deadline for certifying your fully vaccinated status is August 31st, 2021. For further information see the Message from the President.
August 20, 2021
To Cal Maritime Cadets:
I am writing to update you about some changes to Cal Maritime's plans for fall quarter. We are excited for you to join us and want to ensure everyone is healthy and safe as we begin the semester. Under the CSU policy already communicated, everyone who will physically be on campus at any time during the fall semester must either fully vaccinate and confirm with Health Services their vaccination status or receive a medical or religious exemption. This means that cadets must be in compliance with the policy by the time they physically arrive at campus or risk exclusion from university activities.
– Cadets not complying with the CSU policy will not be permitted to move on campus and may be disenrolled from their classes. The deadline to notify us of your vaccination status is August 31.
If you have not notified us of your status, you will not be permitted to move into the residence halls and may be disenrolled from classes.
– Fully vaccinated means that 14 days have passed since the final dose of vaccine. Cadets who have received at least one dose but are not fully vaccinated may come to campus pending proof of full vaccination status. Partially vaccinated cadets should send their first shot status with Health Services. In addition, partially vaccinated and cadets who declare a medical or religious exemption must present a negative test from a test taken at a medical office in the last 72 hours before arrival to campus, and test weekly until fully vaccinated. They are also required to wear a mask at all times (including outdoors) until fully vaccinated. Failure to complete the process and become fully vaccinated will be deemed non-compliance with the policy.
– If you are partially or fully vaccinated but have not yet informed the university of your status, submit documentation of your vaccination information to Health Services at healthcenter@csum.edu or if you qualify for a religious exemption, please contact Disability Services at scase@csum.edu, and Health Services for medical exemption. This must be done as soon as possible, or you may be disenrolled from classes. Cadets who have exemptions must wear a mask at all times, bring a negative Covid test result taken within 72 hours of coming to campus (submit to Health Services) and submit to weekly testing.
Per President Cropper's letter on August 18 everyone must mask indoors, except when doing so would be unsafe (for example when working with chemicals that require respirators or other protective face coverings) or impractical (for example, while eating or showering, or when alone in a private room or office with the door closed). Masks are required in the residence halls in common spaces as well.
In closing, thank you for your patience and diligence as we adjust our policies to keep everyone safe while also ensuring that we deliver the highest-quality education. We are so excited for your return to campus and will be relying on each one of us to keep our campus safe and healthy.
Kathleen McMahon, Vice President for Student Affairs and Cadet Development
Dr. Grace Chou, MD, Health Services Director
Hello and congratulations on your acceptance to Cal Maritime!
As an incoming cadet for the 2022/23 academic year, we would like to extend a special invitation to you to join our Cadet-Community Connection program. We are in our 10th successful year of this unique program and hope you will consider joining us!
If you are not already aware, the Cadet-Community Connection is based on similar programs offered at the Naval Academy, as well as the academies of the other branches of service. Of course, Cal Maritime is not a military academy, but our president, Admiral Tom Cropper, originally presented the idea of having a similar type program on our campus in order to help provide some additional support to all of our incoming freshmen, as well as transfer students.
Our program will offer you an opportunity to have a local family connection, since you will be too far away from home to get back there often/quickly/easily … OR, because you just want to connect with some folks to help you get to know the local area!
Community Hosts – caring residents from the local community -- will provide friendship, understanding, encouragement and a sense of family as you meet the challenges associated with a demanding first-year. In essence, these Hosts can be your "home away from home" but keep in mind, you will not live with your Host.
Through interaction with your Community Host, you will discover more about Vallejo and experience the many positive aspects that our town, Solano County, and the Bay Area have to offer.
Learn more about the program and even submit an online application to be matched with a Community Host by clicking on the following link: https://www.csum.edu/connection
The deadline for Fall applications is July 15th, but please submit ASAP so we have ample time to process!
Questions can be directed to:
Cadet-Community Connection Coordinator: JoEllen Myslik
707-654-1412